Fantastic Beasts is the answer to all your Potterverse prayers #SpoilerFree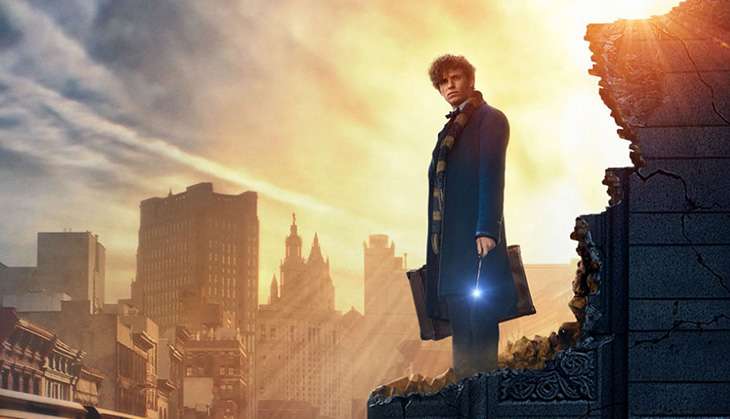 I'm a JK Rowling fan who has read all of her work. Be it the Harry Potter series in itself, its accompaniments, the latest play Cursed Child, Casual Vacancy, her Robert Galbraith novels, even the short essays on Pottermore that keep popping up so often - I've lapped up every single one of them.
And mostly, I've grudgingly accepted disappointment. Because, even though you've probably heard this a billion times, a Harry Potter fan never quite outgrows the magic. We're all still quite attached to the books that brought the reader out in the laziest of us.
But I wish I could say, "We grew up but Harry stayed the same". That didn't happen. Rowling took our treasured childhood friend who could have stayed in the pages as The Boy Who Lived and turned him into a man. A man with a wife, a job, and three children.
Also read - Rowling talking about Fantastic Beasts is all the magic you need
It then became almost natural for us to grow up and look towards Harry and his friends to weave some magic into our mundane adult lives. A task that Rowling arguably failed at with the Harry Potter and the Cursed Child debacle.
And this, one imagined, was because Rowling doesn't write for adults. Casual Vacancy was a glorified flop, at best. Rowling as Robert Galbraith rekindled some hope with a solid detective in Cormoran Strike, before she completely extinguished it with Cursed Child.
Fantastic beast of a film
The film Fantastic Beasts and Where to Find Them serves as a wonderful anti-climax to this recurring disappointment. For, despite being deeply embedded in the wizarding world we're all so familiar with, the film is satisfyingly real. Satisfyingly adult in all its complexities.
It is interesting, though, that a script written by Rowling, trumps most of her recent writing. And if one were to look into the whys, it's possibly because Rowling's stage was already set, she just had to call for action.
The failure of Cursed Child is Fantastic Beast's success. While the former desperately attempted to stretch out tired, old characters from Potterverse, thereby leaving less space for the relevance of magic; the latter goes back 70 years from Harry's time, takes place in a different country (1920s America) and has fresh characters, just as likeable as the trio from the books. The possibilities, then, become endless. And Rowling has seized them all.
Rowling had all her background research is in place, much thanks to the years she spent writing the 7 Harry Potter books we grew up with. With Fantastic Beasts, she made a movie of a footnote about the author of her book by the same name - Newt Scamander (Eddie Redmayne).
Rowling is finally playing to her strengths. With the space to reintroduce us to a whole new magical world within the same universe - in this case inside a suitcase - she has, with the ease of waving a wand, brought back the magic. Magic rooted in politics, magic that survives war, and magic that reminds us that one can still hope for some magic.
Also read - Potter fans livid that Johnny Depp's been cast in Fantastic Beasts
No-maj, did you say?
By moving the narrative to 1920s America, Rowling and director David Yeats had the option of carbon copying the story formula she already had in place with the London narrative. Instead, they chose to remove frills, introduced new, unique creatures, and, right at the outset, presented the reality of conflict - between the wizards and the no-maj (non-magical, American term for muggles).
The coinage of the term no-maj, though much ridiculed, is in itself indicative of the establishment of the parallel reality Rowling brings in with this film. Colloquialisms are always derivatives of the social fabric in which people view their surroundings.
No-maj, a word so simple it's almost crude, also represents the American wizarding outlook towards the non-magical. Instead of the harmless, almost bumbling 'muggle', the 'no-maj' has agency, is a threat, and is acknowledged for what it's not. The no-maj is the other, a socio-political threat capable of causing real damage to the wizarding community.
The no-majs in Fantastic Beasts aren't oblivious, and their half knowledge only makes them fanatic - mirroring the world we're in today. Believers of witch-burning and skeptical to the core, a no-maj has no match in the Londoner muggle.
Complexity of adulthood
The story of Fantastic Beasts introduces us to Newt, his baker no-maj friend Kowalski (Dan Fogler), a young adult Credence Barebone (Ezra Miller), Magical Congress of the United States of America (MACUSA) employee Tina (Katherine Waterston) and her legilimens (mind-reader) sister Queenie (Alison Sudol).
That they're mostly single, sexual, twenty-somethings isn't what makes this film 'for adults'. It's their united understanding of the darkness - physically represented in the film as Obscura - within every human that brings this story closer home.
The film places the agency and the ability to submit ourselves to the darkness entirely in our hands - a classic Rowling move. But, unlike in the original Potterverse, it wraps it in subtlety and has no all-knowing Dumbledore-like voice teaching it to us.
Also read - First trailer of Fantastic Beasts is out. And yes, it's magical
Fantastic Beasts follows a shared history between the magical and the no-maj, also unlike Potterverse. While Harry Potter's world, though it comes into being much later, is shrouded in secrecy and isolation, the interaction of the two communities in Fantastic Beasts is far more believable.
They're both reeling from the aftermath of the First World War, insecure, guarded, and most of all, scared of human suffering.
The beauty of Fantastic Beasts is that Voldemort here is not one man, it is the ghost of a war-ravaged society.