Daxin Bajrangi is the hero you need to watch out for at NOMAD film fest
Asad Ali
| Updated on: 10 February 2017, 1:47 IST
One little girl is surrounded by an entire class of students. As the students walk around in a circle, in the background, the teacher exhorts everyone to shout "chor hai! chor hai!" (she's a thief! she's a thief!)
That's one of Daxin Bajrangi's earliest memories when asked about that moment of epiphany which put his - and his community's - entire existence into brutal context. The little girl was his sister. She had to leave that school after the incident left her deeply traumatised.
Bajrangi belongs to the Chhara community, which comes under the larger classification of De-notified Tribes (DNT) in India. The community carries with it the tag of a thieving lot of nomadic people. Why? The answer has its roots in 1871 - that's when the British Government in India had "notified" certain communities as "criminal tribes" thus giving birth to the Criminal Tribes Act (CTA) of 1871.
According to this Act, close to 150 notified castes - "hereditary criminals' - were to be kept under strict surveillance in certain settlement areas only. These were mostly tribal communities who resisted the British in any measure. From Bhils who fought the Crown in Khandesh, Konds and Sabors of Odisha to the Chharas and a host of others - the Act criminalised their entire state of being.
Equal discrimination for all
"It wasn't just me. All DNT families had to face such behavior and social stigma on a regular basis. Dafers, Pardhis and other communities were regularly targetted. Three or four police stations used to conduct joint raids on our homes early morning on a daily basis. They'd barge in and arrest whichever men they wanted," says Bajrangi as he recollects his years growing up as "Criminal Tribe" kid.
"In school, if one happened to be from my community in particular, then you'd be made to sit on a separate row in the classroom. In fact police routinely rounded up kids as well. Every kid seeking school admission mandatorily needed to reveal their backgrounds. Police used to check those records to seek us out," says Bajrangi. He's in the middle of 'Vimukti Divas' preparations but speaks with great clarity about his past. There are no painful details blurred by time, no atrocity forgotten.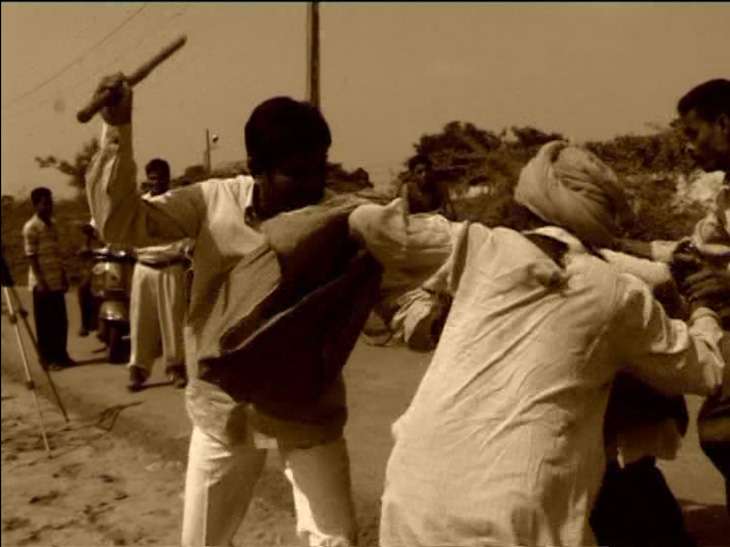 Still from Daxin Bajrangi's film Fight For Survival
The CTA was repealed across India on 31 August 1952, hence the Chhara community observes August 31 as 'Vimukti Divas' (liberation day). It's their actual independence day. Sadly, ever after their 'de-notification', the communities were controlled under the 'Habitual Offenders' Act. Which meant that society still viewed them with suspicion and misplaced fear.
Even education and social mobility is no deterrence for deep-seated prejudice. Bajrangi finished his college education in 1997 from Ahmedabad and went on to complete his Masters from the University of Leeds with a Ford Foundation fellowship in 2010. That doesn't count for much though, as Bajrangi realised later.
In 2007 Bajrangi was on his way home from a UN conference where he spoke on the DNT status in India. "The police stopped me. Asked my name and caste. The minute they heard I was from Chhara community, my bags were taken apart in the middle of the road. It was such an irony that I just came from the US where I spoke on DNT issues."
Bajrangi & Bollywood
One wonders how the police would react if they knew Bajrangi is almost done with his debut Bollywood project. "I have directed a film. It's called Sameer and is slated for an early January release. Viacom will in all likelihood release the film. I've cast Zeeshan Mohammed in the lead (Tanu Weds Manu fame), and there's Seema Biswas (played Phoolan Devi in Shekhar Kapur's Bandit Queen) and Anjali Patil too." The film, says Bajrangi, is about violence in the state and how that affects citizen-state dynamics.
The fact that he's on the verge of a proper Bollywood debut is no less than a remarkable achievement given his circumstance. Bajrangi though, feels he could have attained a lot more.
"For economic growth, your social background matters a lot. Coming from the community I did, there were restrictions, not to mention the fact that I had no godfathers," rues Bajrangi and says that, "had I been a Patel or any other "upper" community I could have achieved a lot more at a younger age. I am 42 and I'm making a Bollywood debut, which I think is late."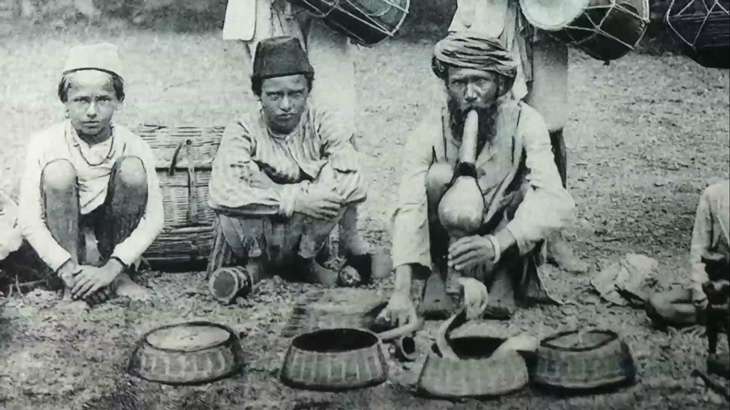 A Still from Fight For Survival
The NOMAD Film Festival
Filmmaking isn't an interest Bajrangi developed later in life though. He was always interested in movies from a very young age. "I must have been ten or eleven when I used to bunk school and go watch films in the video parlours," recollects Bajrangi. "And by the time I was fourteen or so, I decided I wanted to be a filmmaker."
Bajrangi started young with whatever he had - a basic camera and a strong urge to create something. So by the time he was 16 or 17, Bajrangi had started making small short films. "They were very basic," he says and adds, "I was a big fan of films like Sharaabi and Sholay. But what truly fascinated me was the kind of film that focused on the social realities of our times."
Bajrangi went on to assist National award-winning filmmakers like Rakesh Sharma (of Final Solution fame, a documentary on the Gujarat riots).
Two of Bajrangi's films are getting screened at the first-ever NOMAD film festival. It's being called the first film festival focusing on films around the issues of DNT communities.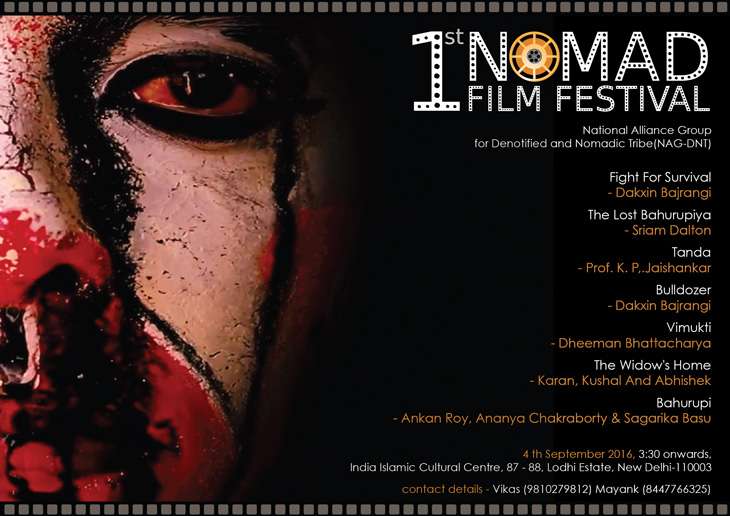 A poster of the NOMAD film festival
Organised by the National Alliance Group for Denotified and Nomadic Tribe (NAG-DNT), it starts on 4 September. Besides trying to generate discourse around the plight of the DNT community, the festival also pays homage to Mahashweta Devi - who had been a flagbearer for DNT rights in the country.
"She was a rebellious energy, but a rebellious energy that was non-violent," says Bajrangi about the late Mahashweta Devi, who was more than an icon to Bajrangi - and hundreds of DNT individuals. "I have been closely associated with her and learnt a lot from her. Whether it's arts or literature, she taught us the value of non-violent resistance."
Bajrangi on his films
One of the films by Bajrangi getting a screening at the NOMAD fest is Bulldozer. "I made this film when people's houses were getting demolished by the Ahmedabad Municipal Corporation around the 2004-08 period. It's essentially about the housing rights of the DNT people," explains Bajrangi.
The film's backdrop is Maninagar - PM Narendra Modi's constituency in Gujarat before he became Prime Minister. "I am aware of that," says Bajrangi firmly, "But there are close to 200 families that were affected by the demolition. In April 2011 the Supreme Court had said that the affected should be provided land accordingly." But, reveals Bajrangi, no proper land allotment has been made by the government five years on. "Some petitioners have even died. The land that was given was about 100 metres from Ahmedabad's dumping ground. People would die if they live there anyway."
The second film by Bajrangi getting a screening at NOMAD is aptly titled Fight For Survival, based on the status of the snake charmers' community. "The practice was banned in the 90s but the government didn't think for a second about how to rehabilitate snake charmers," says Bajrangi and narrates a brutish incident: "In 2004, a 65-year-old madari was picked up by an animal health activist. The madari was taken away and kept in a dog-cage at a shelter with five other guys. You couldn't even move your head there. They kept a monkey right on top of their cage which urinated over them over the course of the night." It was "an Ahmedabad-based animal health activist, Rahul Saigal" who nabbed the madari, along with other madaris, with the help of forest department officers near Gota and Dehgam, Ahmedabad. "A renowned Baroda-based international animal activist, Snehal Bhatt went so far as to say that the madaris should just be beaten up."
Has he ever regretted his identity? On those nights when the police raids happened, on days his friends and family were humiliated? "Never. I have never been ashamed of my community, always been proud in fact. All the discrimination I have faced has taught me a lot."
Prod him if he's ever had to resort to any illegal activity himself, Bajrangi says he has. "The point however, is that in our Chhara community, you'll see what we call educated criminals. People who've somehow managed to study but the state still doesn't make any attempt to give them jobs and get them into the mainstream. They're trapped in the vicious circle of criminality and no one seems willing to give them a shot."
Also Reads
Caged in Kanpur: how 'criminal' tribes are fighting to get their due
How a nomadic Maharashtra tribe built itself a farming village