1966-2016: Dilip Kumar-Saira Bano celebrate 50 years of togetherness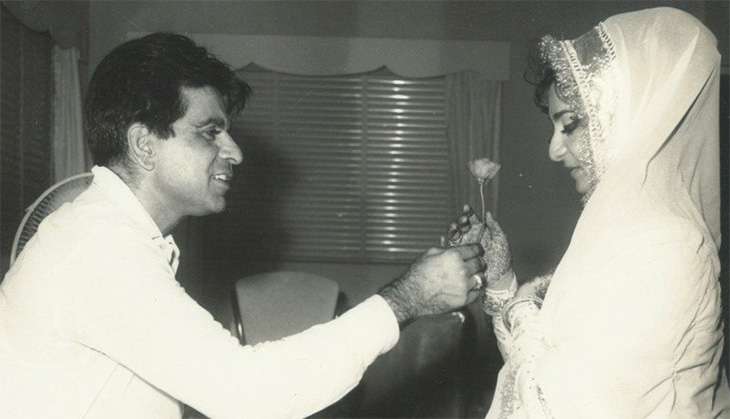 Bint-e-mehtab ho garduon se utar aayi ho
(You're a daughter of moon, who's come down from the heavens)
Celebrating 50 years of togetherness and that too in the world of films is rare.
Tragedy King of Bollywood Dilip Kumar and his actor wife Saira Bano had a quiet dinner at home with close friends and family to celebrate their journey of togetherness that began in 1966.
Saira Bano was not keen on a celebration, given Dilip Kumar's health, but she gave in when people close to the family told her that this event deserved a celebration.
Asif Farooqui, a close friend of the family, who attended the celebratory dinner, tells Catch, "Saira Bano did not want to celebrate because of Sahab's (Dilip Kumar's) illness but we told her how could you do that? Such a big event needs to be celebrated."
"Normally 50th anniversaries are rare - they are even more so in the film industry," Farooqui lets outs a chuckle.
Dilip Kumar and Saira Bano celebrating their 50th anniversary
Friends & Family
No one was invited to the dinner - whoever is close to the family just joined in. Dilip Kumar was happy to have people around him.
"Sahab speaks very little now. When we asked him how did he feel on his golden marriage anniversary, he said, 'achcha lag raha hai'."
Dilip Kumar, who turns 94 in December, has been dealing with age-related problems as well as Alzheimer's. Earlier this year he was hospitalised for treatment of an infection.
Though not wheelchair bound anymore, he walks around with a bit of help.
Saira Bano's friends from films Fareeda Jalal, Baby Fareeda and her grandniece Sayyeshaa Saigal, who is debuting in Ajay Devgn's upcoming Shivaay, were present at the dinner.
So were Dilip Kumar's brother Ahsan Khan and Saira Bano's brother Naqi Ahmed.
Celebrations are hardly ever complete in this household without the special biryani that is prepared by their cook.
"Yes, there was biryani..." laughs Farooqui.
Dilip Kumar recovering well, will be discharged in a few days
Twitter Feed
On Dilip Kumar's official Twitter account, the day began on a rather filmi note with shair-o-shayari and old photos from the couple's albums posted to create the nostalgia.
Taskeen-e-dil-e-mahzoo na hui...
(The heart did not find solace until I met you)
"A love that lasts half a century is a love that lasts forever," read one of the tweets by whoever handles the actor's account.
In a video, Saira Bano thanked everyone for their wishes.
"We are overwhelmed. We are above all blessed. What more can we say to all the dear and precious friends, fans and well wishers from across the country and world.
"Ours has been a blessed relationship. Fifty years of sharing and learning, of giving and taking, of caring and loving.
"I have often been asked how our marriage has remained pure for so long. The secret is that both Sahab and I have always received the blessings of the merciful Allah."
We wish the couple health, happiness and more years of togetherness.
Happy Birthday Dilip Kumar. But, why is he not celebrating his 93rd birthday?