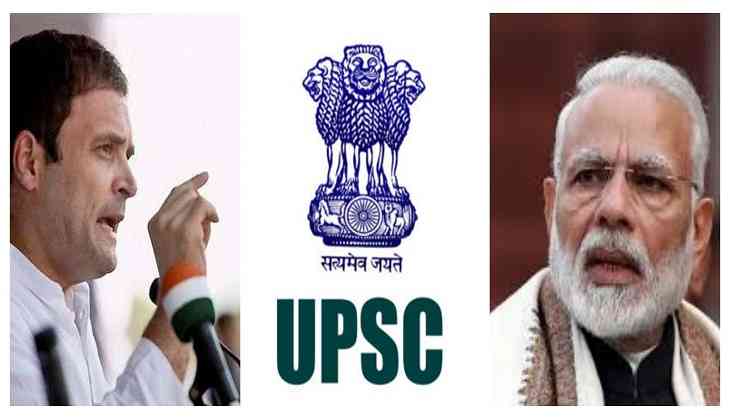 Rahul Gandhi attacked on PM Modi for the canges in UPSC recruitment process
UPSC students going to witness the major changes in the recruitment process for getting selected in Civil Services. As the central government has made this proposal to make the changes in the selection process of Civil Service examination.
According to the reports, Prime Minister's Office (PMO) has asked the responsible department for the Civil Service recruitment process that check whether the services can be allocated after the completion of foundation course.
Here's what kind of changes to be introduced in the recruitment process asked by PMO:
• The PMO has desired to the specific department who is responsible for the recruitment process that service allocation to probationers, who are selected on the basis of the examination can be made after foundation course, as per the communication sent by the Personnel Ministry to different cadre-controlling authorities
• The departments have been asked by the PMO that to examine the feasibility of giving due weightage to the performance in the foundation courses. According to the reports of PTI, the candidates will get the service allocation and cadre allocation on the bases of Indian service officers combined score obtained in the civil services examination and also marks in the foundation course.
Well, the oppositions can't miss any opportunity to slam the government, especially, when it comes to Rahul Gandhi. Yes, Congress President Rahul Gandhi spoken over this matter on the micro-blogging site and attacked PM Modi over the UPSC cadre allocation proposal.
Gandhi took to Twitter and wrote, 'Rise up students, your future is at risk! RSS wants what's rightfully yours. The letter below reveals the PM's plan to appoint officers of RSS's choice into the Central Services, by manipulating the merit list using subjective criteria, instead of exam rankings.'
However, Personnel Ministry official said in a recent PTI report that all the departments who involved in the recruitment process, have been asked to give their feedback on the proposal to allocate other central services like the Indian Revenue Service (IRS) and Indian Telecommunications Service (ITS) among others.
Watch Video:
Also read: UPSC Recruitment 2018: Commission invite applications for 55-year-old candidates; apply and get salary above 1 lakh