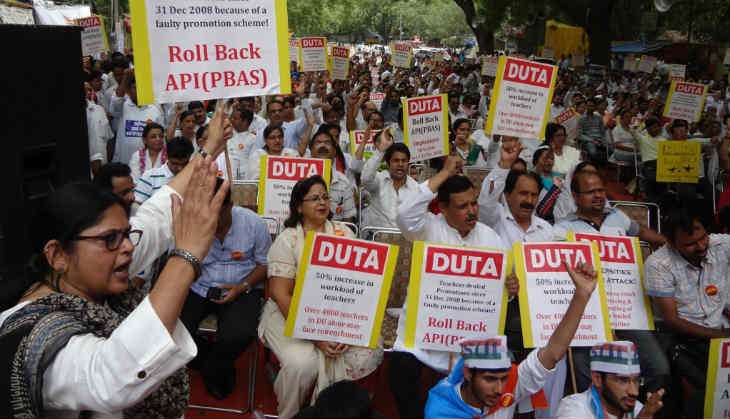 Post University Grants Commission's announcement to roll back the working hours of teachers, Delhi University Teachers' Association (DUTA) on Thursday, decided to evaluate the papers of final year students and four-year undergraduate programme (FYUP) batch.
However, DUTA will continue its agitation for roll back of API and continue to boycott evaluation of answer scripts of the first and second year students (non-FYUP batch). The protesting teachers will also boycott all aspects of the admission process and staff council committees.
Final year students and FYUP batch can expect their results to be brought out within a week.
"There are around 56,000 final year students and 56,000 FYUP students. That's a large number and we don't want them to suffer," Abha Dev Habib, Executive Council member of DUTA, told Catch.
Thousands of teachers attended the DUTA General Body at Khalsa College, which was followed by a march on campus.
"It is, however, unfortunate that the Government had decided to continue with the API-based promotion scheme (PBAS), despite its proven adverse impact on teaching, learning and research, as well as the service conditions of teachers by large scale denial of promotions for the last eight years.
"In the face of country-wide opposition to the API (PBAS), articulated by the DUTA as well as the AIFUCTO and FEDCUTA, the Government had earlier promised to reconsider it, and had set up the Nigavekar Committee for the purpose. However, it has done just the opposite by not only continuing with the API system but also by adding additional negative features. The DUTA stands resolutely opposed to this anti-academic promotion policy that has an adverse effect on the quality of education and is driving talent away from the profession," stated a DUTA release.