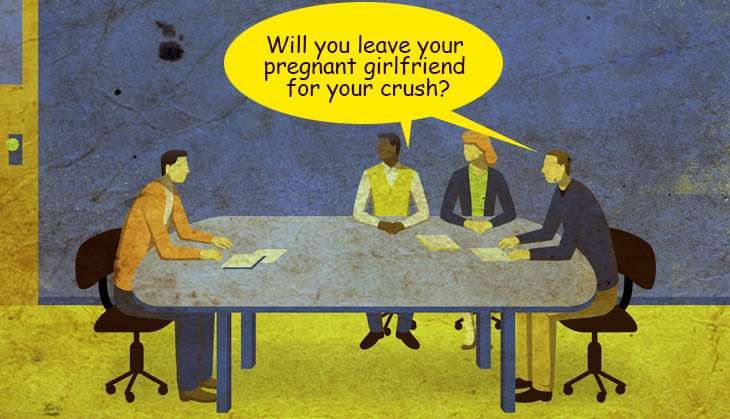 Who hasn't been through interviews? All that nervousness, all that preparation. Arranging and re-arranging your documents, practicing your expressions in front of the mirror. Checking on your body language. Trying out different methods to find the one which will create a good first impression on the interviewer. Picking your best formal outfit for the big day. You've been there, you know the drill.
Some interviews go as planned, others go terribly out of hand. And then, there are the interview stories that are almost too funny to be true. Here are some hilarious real-life interview accounts, in the words of interviewees themselves. These accounts, posted on Quora, have been reproduced from the original post:
Interview 1
Interviewer: Suppose you meet your crush after a long gap and both of you will eventually fall in love and your girlfriend is now pregnant. So how will u handle it now..??
Guess I told enough to keep your curiosity glued to my answer as I m gonna write a bit of background from which this question was derived.
It was during my final year of engineering when Indian navy was at our college for recruitment drive through university entry scheme. Now before the recruitment process could even begin , the officers were really pissed at a section of students (including me) for turning bit late to the venue and we were allowed for he recruitment drive only after much persuasion and a formal apology. (this shows the level of discipline in Indian navy)
Now the recruitment was to take place in two interview rounds with each round filtering out the majority of candidates. Considering the number students and relative constraint of time, it was decided to split the students among three naval officers who would interview each student individually in the first round and students selected from it would be interviewed by the three of them together in the second round. I thought myself to be lucky when I got to know that I was allotted to an officer who was relatively young among the three (mostly he was around 30).
The process of the 1st round was such that we would be given a random topic that was to be prepared in around 4-5 minutes and must deliver a speech on it before the officer for about 3 minutes which would be followed by some random gk based questions.
Finally my turn arrives and I got the topic of abortion(in favour of or against) and was startled at hearing it since I was deficit of points that would justify my stand (later I found myself to be lucky even on this as I got know that a friend of mine who was interviewed just before me was actually given a topic on masturbation).
After mustering some of the points , I finally entered the room where the officer was seated and started talking against abortion by citing certain moral ,cultural as well as health hazards. At a certain point of my talk, the officer asked me to stop (may be he was bored of my lecture :p) and thereafter started an unusual interview conversations which goes like this
Officer: do you have a girl friend ?
Me: No sir (though I was amused by the question but answered it embarrassingly as I had no gf :p )
Officer: why not ? (asking it with a face as if it was a crime to be single)
Me: Sir, I just need to focus only on my career right now (both of us knew I was bluffing and he gave me a wink for it )
Officer : Do u have any crush ?
Me : ofcourse I had many sir.
Officer: what was her name other than any celebrities ? (I thought why the hell does he want to know this )
Me: her name is X sir.
Officer : suppose you meet your crush after a long gap and both of you will eventually fall in love and your girlfriend is now pregnant. So how will u handle it now..?? (though was astonished hearing the question but I maintained my calm to give him my reply )
Me: I would not involve in pre-marital sex sir.
Officer : what if it happens with mutual consensus ?
Me: in that case, I will make sure to use protection sir.
Officer : No . But it happens so spontaneous that you forget to use any protection and she ends up pregnant after few days.
Me : Sir, now I dont have any choice other than marrying her .
Officer : but her parents wont agree to your marriage proposal (I was really annoyed by the quick flow of arrows at me and decided to end it )
Me : Sir in that case she dont have any other choice other than going for abortion (now he was happy to hear it as I insisted in favour of abortion which I was advocating against few minutes back)
Officer : Look now you are in favour of it while u argued against it few minutes back. why sudden change of track..?
Me : Sir I would still stick to my previous arguments but you are manipulating the situation to be in your favour where I was left with no other option other than abortion .
At this juncture , he was pretty much impressed by my level of confidence and continued the interview with some other general questions like israel-palestine issue, syria crises etc which I answered them happily and was allowed to exit the room.
As the results of the 1st round were announced , I was surprised to be in the list and faced the second round against 3 officers and the one who interviewed me in the first round was relatively calm and was encouraging me throughout the 2nd round which I nailed it as well.
Later I realised that he was only testing my calmness with those stressfull questions and I was happy that the first interview of my life was a success and a much memorable one.
Interview 2
I had cleared the 2 rounds of written tests for Samsung. Then came the technical interview. It was already 11 pm and i was feeling very sleepy.
The interviewer started asking me some questions which were very easy and so i answered them.
Then he asked me if i had studied mobile network technology as a subject. I told him i did. He started asking me questions and i didn't give a single answer. He asked why am i unable to answer, i replied that i hadn't studied as the semester exams were 2 weeks later. So i would have studied them 1-2 days before the exam. Hence i am unable to answer the questions.
He laughed and said he that this was the same response he had given during his college placement interviews.
After that came the HR interview.
I was holding the documents folder in my left hand. When i sat down, the HR asked me if i liked football. I said yes and told him i supported Manchester United. At that point he smiled and extended his right hand to him. I thought he was going to shake hands for my answer. I also extended my hand to shake his extended hand.
He annoying said "Bhai, give me your documents /certificates folder, not your hand....i support Chelsea and hate Manchester United"
After i gave him the folder i started mentally counting the number of seconds i have to sit in front of him before i could escape.
My ordeal ended after 10 minutes and i knew i had screwed up. So without waiting for the results i rushed back to the hostel and went to sleep.
The next morning a friend of mine informed me that I was selected . :P
Interview 3
A MNC recently visited our campus, it was my turn for HR round.
Interviewer:-Are you willing to relocate
I:Yes
Interviewer:-Which would you prefer Lucknow or Guwahati?
I:I would prefer Lucknow ( a wild guess )
Interviewer:-Why so?
I:Coz Guwahati is a cold place. ( I blanked out and almost forgot where those two places where and my interviewer turned out to be a Major from Military)
Interviewer:-But Lucknow is colder than Guwahati.
(I was dumbsruck)
I:I heard food of Lucknow is good.
Interviewer:-What food ?
I:Sir,Biryani is great over there I heard.
Interviewer:-But Hyderabadi biryani more fine.You would know better as you are from here.
Interviewer:-Where did you hear all these?
Dumsruck again.Back to back questions.
I:Sir ,Dawat-e-Ishq movie trailer.
Ps:But I later realised that it wasn't the movie but a foodie group in facebook,where previous night I read a article about kinds of biryani's.
Interview 4
Nazrul Haque: The incident happened during campus placements in AMU.
Job profile: Software Engineer
Interviewer: What is the maximum number of slices you can obtain by cutting a birthday cake with only 3 cuts?
Candidate: **After much thought (applying groundbreaking Euler equations)**
Sir, the answer is 6. Three cuts vertically down.
Interviewer: Well, you are wrong. You can obtain 8 pieces. First cut will be horizontal, through the center of the cake, followed by two vertical perpendicular cuts, leaving you with 8 pieces in total.
Candidate: ** With a sheepish smile**
"Sir, Par sabko upar wali cream nahi milegi"
( Sir. But then, you won't let everyone have the crown cream! )
Interviewer: ** Shocked ** ** Takes out a 20 rupee note**
"Take this. You will get a pastry in the canteen. Do enjoy the cream!
By the way, thanks for applying."
The incidents have been quoted from Quora.