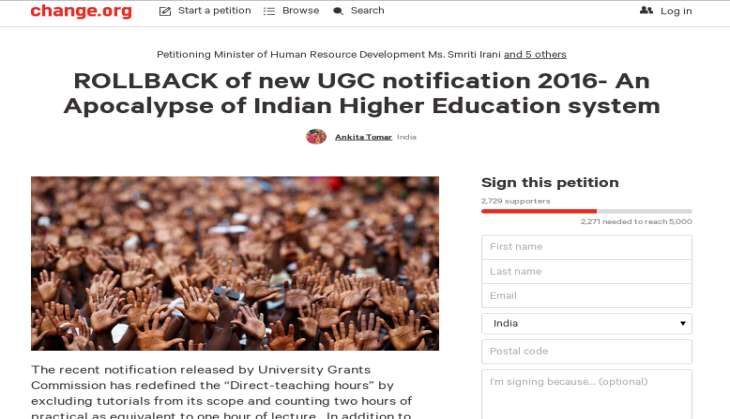 In the light of the recent UGC gazette notification which ordered an increase in the direct teaching hours (DTH) of professors, Ankita Tomar - an ad hoc faculty at Shri Ram College of Commerce (SRRC) - has filed a petition on Change.org challenging the UGC order.
The petition - which is called ROLLBACK of new UGC notification 2016- An Apocalypse of Indian Higher Education system - has already attained over 2,500 signatures online (as of 6pm on 15 June).
The petition will be forwarded to Union minister of Human Resource Development, Smriti Irani, Minister of State for Human Resource Development, Dr Ram Shankar Katheria, and three ministry officials Noopur Jhunjhunwala, Vijay Gupta and Vinay Sheel Oberoi.
The petition calls for a complete rollback of the notification, stating that it will lead to 5,000 university teachers losing their jobs. The petition also says the notification will degrade the quality of education and will have an adverse impacts on the scope of academic research.
Also Read: 5000 DU teachers at risk of job loss: DUTA
"The most important motive behind filing this petition was to draw the attention of general public towards this issue. The media have failed to give appropriate amount of coverage to this issue. I hope the petition will be able to garner enough attention" said Tomar - who says she has been severely affected by the gazetted notification.
"We used to have 1 tutorial for the 5 classes held every week. This 1 tutorial would be taken in 5 batches, which brought the tutorial to lecture ratio to 1:1. With this notification we would have only 6 tutorials 6 tutorials for 16 classes held per week which is very inconvenient for both teachers and students" said professor Sanjaya Bohidar of the SRCC. 5,000 young teachers in Delhi will be rendered jobless, he added.
Also Read: Delhi University's bright young educators face an uncertain future