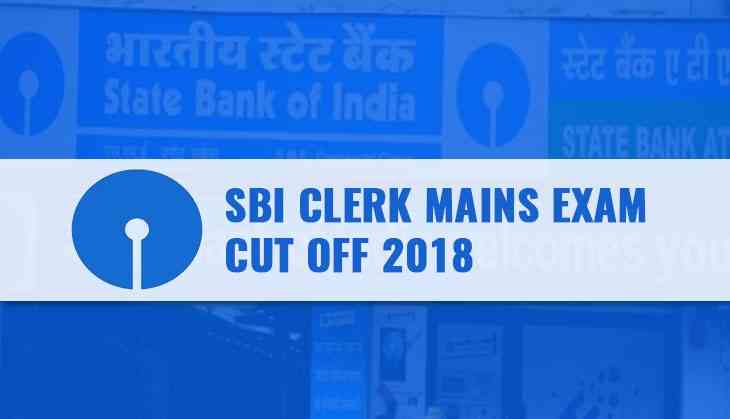 The State Bank of India finally conducted the exam of Junior Associate examination on 5th August at the various exam centres. SBI Clerk mains examination was conducted in two shift. The first shift of the examination was held between 9:00 am to 11:40 am while the second shift was conducted from 2:00 pm to 4:40 pm on the same day.
However, candidates who have marked the wrong answer to the question then their one-fourth mark will be deducted.
This year, the paper consisted of 190 questions and candidates have to solve the question paper only in 160 minutes. SBI has given the option of bilingual to the candidates to attempt the exam i.e. in English and Hindi languages, excluded English language section.
If you have also appeared for the SBI Clerk examination and waiting for the cut-off then we are here to give you this year expected cut-off.
Before looking at the expected cut-off, let's have a look at the questions that you have faced in the Junior Associate mains examination along with their answers:
1. Which countries will host the 2026 FIFA World Cup?
2. LIC share bought by which of the following bank?
3. On which date, Statistics day is celebrated?
4. What is the theme of 2018 World Environment Day?
5. LRS" Stands for?
6. SAARC HQ located in which country?
7. Bhumi Pednekar bagged the best actress at Dada Saheb Phalke award ceremony for which movie?
8. "Digital Gold" feature is launched by which company?
9. The editor of Rising Kashmir newspaper was shot dead?
10. What is the Shell company?
11. Where is the Headquarter of AIIB located?
12. Assumption Island is located in which county?
13. Indira Sagan dam is located in which Indian State/City?
14. The two day 'Kabir Mahotsav' in UP organized by which ministry?
15. . Lok Sabha passes Bill to create National Sports University in which Indian State?
16. ASEAN film festival was held in which country?
17. Rs. 5000 crone given to which scheme under micro irrigation fund?
18. Telenor India acquired by which company?
19. Pilibhit wildlife sanctuary is located in which Indian State?
20. Who is the captain of the Indian women hockey team?
21. Which institute launches Bharat Inclusive Initiative?
22. The Victorian Gothic and Art Deco is situated in which city?
23. What does "L" stand in PLMA
24. Ajay Thakur is associated with which sport?
25. The first organized census on Indus dolphins shall be carried out by which State?
26. What is the full form of CBLO?
27. PMVVY (Pradhan Mantri Vaya Vandana Yojana) pension limit extends to?
28. What is the Full form of COMCASA?
29. Which is the umbrella organization for digital payment?
30. Malabo is the capital of which country?
31. Informal summit held in which city of Russia?
32. International Organization for Migration HQ is located in which Country/City?
33. International Conference of communication and technology held in which country
Check out the answers to the above questions:
1. USA, Canada & Mexico, 2. IDBI Bank, 3. 29th June, 4.Beat Plastic Pollution, 5. 6. Kathmandu, Nepal, 7. Toilet Ek Prem Katha, 8. Paytm 9. Shujaat Bukhari 10. A non-trading company used as a vehicle for various financial maneuvers or kept dormant for future use in some other capacity, 11. Beijing, China, 12. Seychelles, 13. 14. Ministry of Culture, 15. Manipur, 16., 17., 18. Airtel, 19. Pilibhit district, Uttar Pradesh, 20. Rani Rampal, 21. IIM-Ahmedabad, 22. Mumbai, 23. , 24. Kabaddi, 25. Punjab, 26. Collateralized Borrowing And Lending Obligation, 27. Rs. 15 Lakhs, 28. Communications Compatibility and Security Agreement, 29. NPCI, 30. Equatorial Guinea, 31. Sochi, 32. Kathmandu, Nepal, 33.
Now, have a look at the second shift questions:
1. Where is the headquarter of OECD?
2. Pat' atu thermal Power plant is located in which Indian State?
3. When is World Micro, Small and Medium-sized Enterprises (MSMEs) Day day celebrated?
4. What does 'C' stands for in CAGR?
5. Nabard to expand its long-term lending to how much amount in FY19?
6. At which place, AIIB Meeting got held?
7. What is the theme of Yoga Day 2018?
8. HU and Dam is built across the Mahanadi River in which state?
9. Dudhwa National Park is situated in which state?
10. Where is the Headquarters of Asian Development Bank (ADB)?
11. What does "L" stand for in LSR?
12. Where will be 5th International conference on human excellence on Yoga (2019) held?
13. Lusaka is the capital of which country?
14. Kishor I amonkar died recently, associated with which field?
15. India lends how much amount to Seychelles for defence?
16. What does 'E' stands for in SAWEN?
17. AIIB will invest how much amount into NIIF for boosting infrastructure projects?
18. IRDAI committee to review the regulations pertaining to Insurance Marketing Firms (IMF) head by whom?
19. Skoch award 2018 awarded to which ministry?
20. What is the Venue of ICC women's world cup T20 2018?
Check out the answers to the questions:
1. Paris, France, 2. Jharkhand, 3. 27th June 2018, 4. Compound, 5. Rs 80,000 crate, 6. Mumbai, 7. Yoga for Peace, 8. Odisha, 9. Uttar Pradesh, 10. Manila, Philippines, 11. Liquidity (Liquidity Stress Ratio), 12. Uttarakhand, 13. Zambia, 14. Classical Vocalist, 15. Rs. 100 Million, 16. Wildlife (South Asia Wildlife Enforcement Network), 17. Rs. 200 Million, 18. Suresh Mathur, 19. Ministry of women an children welfare, 20. West Indies
Now, have a look at the expected cut-off for the SBI Clerk Mains examination 2018:
| | | |
| --- | --- | --- |
| Sr. No. | Category | Expected cut-off |
| 1. | General | 95-105 |
| 2. | OBC | 85-95 |
| 3. | SC | 70-80 |
| 4. | ST | 60-70 |
Check out the Analysis of the SBI Clerk Mains examination:
General/Financial Awareness:
The overall section was moderate. Most of the questions were asked from the Banking Awareness, Financial Awareness and Current Affairs of the last 3-4 months, including General awareness.
General English:
The overall section was of moderate level.
Quantitative Aptitude:
This section was based on calculation and also time-consuming for the aspirants. The section was moderate to difficult.
Reasoning ability and Computer aptitude:
The section was moderate-difficult and also lengthy. There were no questions from Computer Aptitude and also no questions have been asked from syllogism.
Also read: SBI Clerk Shift 2nd question 2018: SBI clerk mains exams some memorised important questions not to miss