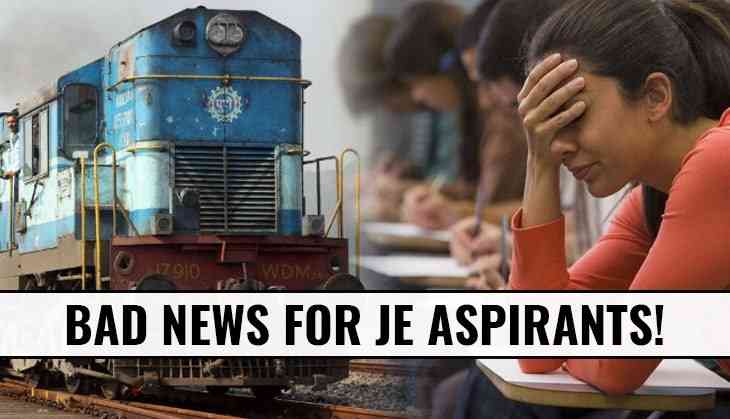 It must be a shocking piece of news for candidates who are going to appear for the RRB JE examination for the RRB Bhubaneswar zone. As the Railway Recruitment Board has canceled the first stage Computer Based Test which was likely to be conducted between 28th May to 2nd June 2019.
According to the official notification released by RRB Bhubaneswar, 'Due to technical problems, the 1st stage CBT is hereby canceled in the following center under the jurisdiction of RRB Bhubaneswar from 28.05.2019 to 02.06.2019.'
"The candidates who are scheduled to appear the 1st Stage CBT in the above center from 28.05.2019 to 02.06.2019 will be rescheduled. The revised date, time and venue of the CBT will be intimated to them through SMS as well as email and will also be published in the website of RRB Bhubaneswar," the notification said.
Candidates who have their RRB JE CBT 1 exam at 'St. Xavier International School-2, Raghunathpur, Nandankanan Road, Bhubaneswar, Odisha–754005, (Near Nandankana Police Station) is canceled by the RRB.
Further details about the exam will be notified to the students via SMS.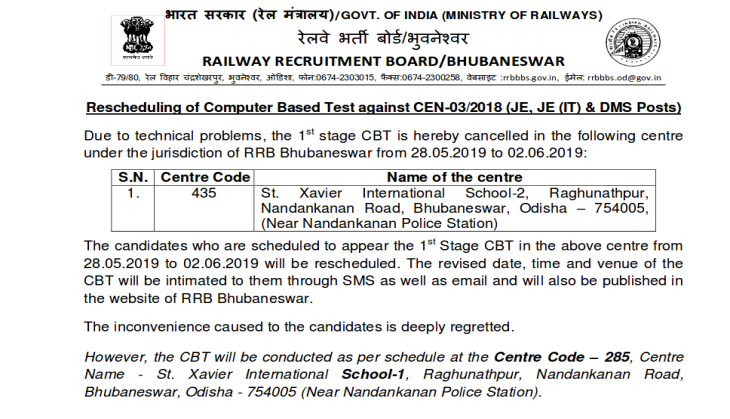 Not only Bhubaneswar, but RRB has also canceled the RRB JE CBT 1 exam for other zones also due to technical problem.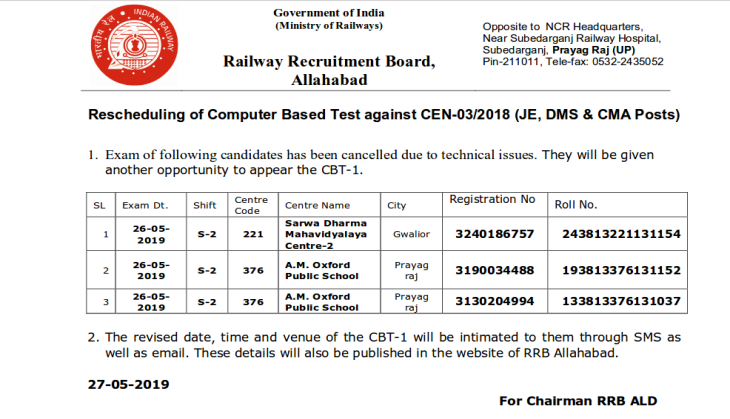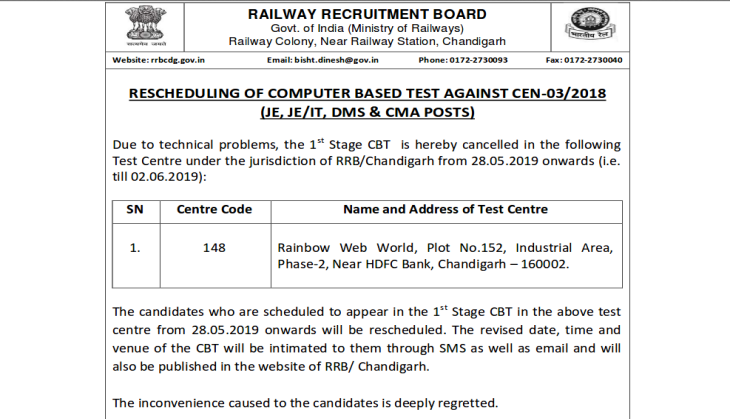 This year, 13487 vacancies has been released by RRB for the positions of Junior engineer, junior engineer (information technology), depot material superintendant (DMS), and chemical and metallurgical assistant (CMA).
Over 25 lakh students applied for the RRB JE CBT 1 examination which has begun from 22nd May across the nation.
To know more details about the RRB JE CBT 1 exam, candidates can check the other regional websites of Railway Recruitment Board:
Here's the list of official region-based websites:
Bhubaneshwar (rrrbbbs.gov.in), RRB Bilaspur (rrbbilaspur.gov.in), RRB Chandigarh (rrbcdg.gov.in), RRB Chennai (rrbchennai.gov.in), RRB Gorakhpur (rrbguwahati.gov.in), RRB Siliguri (rrbsiliguri.org), RRB Thiruvananthapuram (rrbthiruvananthapuram.gov.in, RB Ranchi (rrbranchi.gov.in), RRB Secunderabad (rrbsecunderabad.nic.in), RRB Ahmedabad (rrbahmedabad.gov.in), RRB Ajmer (rrbajmer.gov.in), RRB Allahabad (rrbald.gov.in), RRB Bangalore (rrbbnc.gov.in), RRB Bhopal (rrbbpl.nic.in), RRB Guwahati (rrbguwahati.gov.in), RRB Jammu (rrbjammu.nic.in), RRB Kolkata (rrbkolkata.gov.in), RRB Malda (rrbmalda.gov.in), RRB Mumbai (rrbmumbai.gov.in), RRB Muzaffarpur (rrbmuzaffarpur.gov.in), RRB Patna (rrbpatna.gov.in)