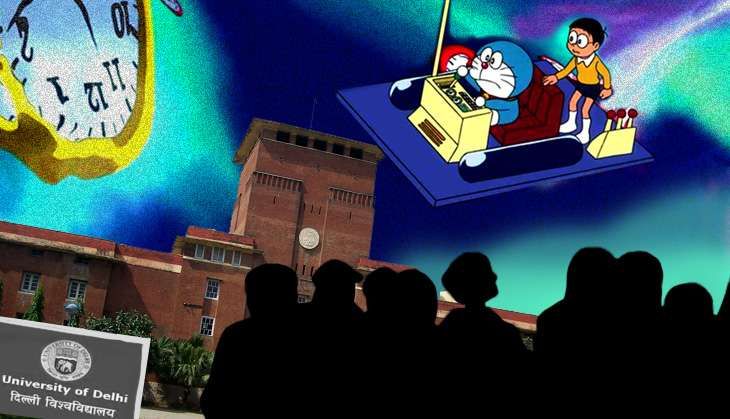 In October 1999, 23-year old Rudrashish Chakraborty joined the English Department at Delhi University's Kirori Mal College as an ad-hoc lecturer. Fresh out of college, Chakraborty dreamt of joining the ranks of professors and lecturers, dedicating his entire life to academics.
Seventeen years and one promotion later, that dream seems to have vanished.
"I was made a permanent faculty, an Assistant Professor, in January 2005. And that's it. There's been no movement after that," says Chakraborty, now 40.
Catch spoke to several Delhi University (DU) teachers and found out that there hasn't been a single promotion among academicians in the entire varsity since 2008.
"There has been no promotions for teachers in the last eight years, thanks to the changing University Grants Commission (UGC) rules and impossible Academic Performance Index (API) criteria," says Abha Dev Habib, who teaches at Miranda House.
"DU has about 10,000 teachers. Apart from the 500 professors who are no longer eligible for promotions as they have been promoted the requisite three times, every other teacher has been affected. The Associate Professors in colleges have seen no promotion for 20-25 years of their career," says Chakraborty.
According to the protesting teachers, these are the number of affected teachers:
Ad-hoc teachers looking for permanent jobs: More than 4,000
Assistant Professors looking for promotions as Associate Professors: Nearly 3,000
Associate Professors looking for promotions as Professors: Nearly 2,500
Overall, an astonishing 5,500 teachers have been denied promotions in last eight years while more than 4,000 teachers are looking for job security (total 9500).
Where can I hire time machines?
Shailesh Kumar Diwakar, from the Political Science department at Ramjas College, has a similar story to narrate."I joined in May 2005 as an Assistant Professor. After five years of teaching, we are supposed to get one promotion. In 2010, I became eligible and applied for a promotion, based on UGC rules set in 1998 known as Merit Promotion Scheme," says Diwakar. He was granted senior grade promotion.

The same year, in June 2010, the UGC formulated new regulations for promotion of teachers which includes APIs and Performance Based Appraisal System (PBAS). In 2013, DU Executive Council decided to adopt these Career Advancement Scheme (CAS), based on UGC 2010 regulations, but in retrospective.

"DU introduces this notorious policy in 2013, with effect from 2008. Under the new rules, we are supposed to produce papers and research work published in 2008. How can I go back in time and write new papers? This has clearly been devised to deny promotions," says Diwakar.

Diwakar later received a notification from DU stating that his senior grade promotion, granted earlier, will be governed by CAS 2010 scheme. In other words, his promotion was rendered ineffective. He now has to produce documents mentioned in API index in retrospective.
Teachers across the country have been appalled at the new API index that asks them to go back in time to get promotions.
"For a moment, let us put aside the fact that how difficult it is to meet the API criteria. Now tell me, where can I get Doraemon's time machine or any other gadget that can take me back in time so that I can publish the required papers and collect my API points?" asks Deo Kumar, an Assistant Professor in the Hindi Department at Rajdhani College.
Kumar is one of the many professors affected by DU's 2010 CAS.
Also Read: Beware! Here are India's 22 fake universities
"In one stroke, the promotion of teachers was taken back to a retrospective date when the API/PBAS system was not even in place. Now teachers are being asked to go back in time through a time machine and acquire points retrospectively for promotion, which is impossible," says Chakraborty.
Why are teachers differentiated from other government employees?
Delhi University teachers, like many other central government employees, are governed by the Sixth Pay Commission. Yet, unlike their counterparts in civil services and government departments, teachers have been denied the benefits of the Sixth Pay Commission.
"Time-bound promotions are the norm in the government sector. All bureaucrats are governed by this. University teachers, however, have been denied this career mobility for the past eight years or so. We are also the only community that is penalised with stringent service conditions with each pay revision," says Dr B Mangalam, Associate Professor, Department of English, Aryabhatta College.
Explaining the protesting teachers' situation, Chakraborty says, "While minimum pay in pay band was defined for all categories of employees and other categories of teachers, the younger teachers in the category of senior lecturers were denied this benefit of pay fixation. Not a single teacher in this category got any promotion since 31.12.2008, which is when the sixth pay revision was notified. For the first time, in the history of independent India, not a single promotion took place for the employees -- the intended beneficiaries of a pay revision -- after the pay revision was notified."
Also Read: Top 10 upcoming Indian universities to watch out for
Through the irrational API / PBAS system, government is quantifying the different components of teaching-learning process, allege teachers.
"The human relationship between the teachers and students will become the first casualty in this process. It's ironic that while the teaching professional requires the most qualified personnel, teachers always get a raw deal when it comes to comparable services in terms of emoluments and promotion. Absence of good teachers in colleges and universities would lead to a fast dismantling of a public-funded university system providing quality, equity and access to higher education. The teaching profession will neither get good teachers nor can it retain the good ones already teaching if promotion is denied to them for years," says Chakraborty.
Privatisation of higher education, a political motive?
"The larger game plan is far more alarming. Irrespective of ideological positions, all governments in recent times are eager to privatise higher education, devalue its curriculum, undermine in-house expertise and rope in corporates or foreign funding or worse, forcibly adopt/impose such models that deny substance to the degrees earned by our students," says Dr Mangalam.

"DU teachers have been kept on the edge by introduction of the Semester system, FYUP (four-year undergraduate programme), its rollback, CBCS, freeze on jobs, new curriculum drafted without faculty consultation and a horde of see-saw notifications. It has taken the bombshell of a massive 55% grant slash to wake up and agitate over their long denied promotional avenues," she adds.

The Merit Promotion Scheme was introduced by the UGC in 2000, when the National Democratic Alliance government (NDA-1) was in power. Around this time, UGC increased the working hours for teachers, which was later withdrawn amid massive protests.

Then, between 2008 and 2010, under the United Progressive Alliance (UPA) government, the Ministry of Human Resource Development revised the pay scale of teachers and introduced promotions based on API/PBAS. Delhi University adopted the API system in 2013, with effect from 2008.

The UPA also introduced the four-year undergraduate programme (FYUP). In 2014, the new NDA government rolled back FYUP, but instead incorporated Career Advancement Scheme (CAS).

"After the rollback of FYUP, former DU VC Dinesh Singh, in sheer vendetta, rolled back the date of application of CAS 2010 not to 2010 but illegally to 31.12.2008,"says Chakraborty.

Also Read: Move over IITs & IIMs; these 2 universities are India's answer to Harvard & Stanford

According to Diwakar, all the successive governments are intent on privatisation of higher education. He alleges the government's main focus is on primary, secondary and skill-based education, so that the nation can create more workers than critical thinkers.

But slashing funds by 55%, UGC has no choice but to cut jobs. This forces teachers to shift to private universities.

"Behind the free market of education, there's the government's iron fist and policy makers and it is forcing students and teachers to flee to private universities. Don't force us, equip us so that we can compete globally. The government's role is not to ensure profitability of private universities but to ensure equitable access to higher education for all its citizens," says Diwakar.

"Under all this, comes the news of the 7th Pay Commission, with promises of higher wages. We are dreading this. God knows, what new rules are in store for us," asks Habib, a member of the Delhi University Teachers' Association.

Also Read: Move over IITs & IIMs; these 2 universities are India's answer to Harvard & Stanford
UGC & DU response
On 15 June, the United Grants Commission (UGC) rolled back the working hours and restored the direct teaching workload to 16 hours per week for assistant professors, 14 hours per week associate professors and 14 hours per week for professors. It also assured academicians that there will be no retrenchment on account of Academic Performance Index (API) and workload.

The issue of API has still not been resolved.

Catch also got in touch with current new DU Vice Chancellor Yogesh Tyagi requesting comment on the issue. Tyagi, who took charge of office in February 2016, said, "I just heard about this issue. We will get back on this in sometime."