Jamia Millia Islamia Vice Chancellor Talat Ahmad accused of:
Financial irregularities of Rs 2.39 crore
Scrapping SC/ST quota
Outsourcing entrance-portal work without inviting tenders
Irregularities in his own appointment
Irregularities in appointments of 6 key varsity positions and 8 faculty members
Irregularities in 2014 admission process of Jamia\'s media school
Last week, the Ministry of Human Resource Development (MHRD) initiated a probe against Talat Ahmad, the Jamia Millia Islamia's (JMI's) Vice Chancellor.
While Ahmad feigned ignorance about the probe, sources at MHRD and JMI confirmed that two teams from the ministry have been collecting documents from the varsity's offices, trying to build a case against the VC.
Ahmad's ignorance is, frankly, surprising. Obaid Siddiqui, a former director of Jamia's famed media centre, had already approached the Delhi high court in 2015, demanding inquiry against the VC on charges of financial and administrative irregularities.
The HRD Ministry is expected to investigate at least six of the 13 allegations levied by Siddiqui.
As an impending probe seems unavoidable, Ahmad has been quick to play up JMI's 'minority' institute status - a move aimed at both defending his actions and diverting attention from the serious charges against him.
This, however, falls flat as the HRD Ministry has been coming down heavily on several central university VCs, most of whom were appointed during the UPA regime.
1. Financial irregularities of Rs 2.39 crore
One of the primary accusations against the VC has been spending huge, unauthorised amounts of money on three occasions.
The VC spent Rs 26 lakh on hosting the National Assessment and Accreditation Council (NAAC) team. Defending this, Ahmad said the institute's guest house was under-renovation. He added, "We arranged for them (the 16-member NAAC team) to stay in nearby Surya Hotel. We also arranged for transport for the university representatives from different departments (department heads, deans, etc). Rs 26 lakh is not that big an amount - food, care and transportation of 16 senior people easily comes down to Rs 26 lakhs. We have already submitted the calculations to MHRD and clarified it."
He's also been accused of spending Rs 1.54 crore on renovating the VC's office without the Planning Board's approval.
It is interesting to note that Rs 54 lakh was already spent on renovating the same office during former Jamia VC Professor Mushir-ul-Hasan's tenure, while Rs 4.38 lakh was again spent on renovation during the tenure of former VC, Najeeb Jung. This information was provided in an RTI query.
"This is absolutely wrong. Not just the VC's office, but the entire complex was renovated which includes development of roads," said Ahmad, when Catch asked him about the accusation.
Ahmad has also allegedly diverted the UGC grant of Rs 59.5 lakh for IT infrastructure for Master of Mathematics Education for other purposes without UGC's approval.
"These allegations are also wrong. Money was spent accordingly and as per UGC (rules). The complainant (Obaid Siddiqui) too was party to all this. At that time, he was with the institute," says Ahmad.
Also Read: No promotions for DU teachers in 8 years. 'Can we get a time machine to fix things?' ask educators
2) Scrapping SC/ST quota
In a blatant violation of the Constitution of India, the VC did away with SC/ST quota in the appointments of teaching and non-teaching staff, without informing the MHRD or SC/ST commission. When Catch confronted Ahmad, he said, "Jamia is a minority institute/university. The status by the Minority Commission is approved by the Parliament. MHRD is not here to decide which is a minority institute."
JMI's 'minority' institute status was granted the by National Commission for Minority Educational Institutions (NCMEI) in 2011. Currently, there are six petitions pending in the High Court challenging Jamia's 'minority' status.
"Factually speaking, the so called 'minority' character of Jamia is merely provisional as the matter is yet to be adjudicated by the high court," says Atyab Siddiqui, former chief legal advisor of JMI and current advocate in the Supreme Court.
Atyab adds that Jamia had submitted two affidavits - one claiming that Jamia is not a 'minority' institute but a 'secular institution', a stand taken by the university during the tenure of Mushir-ul-Hasan. About three years later, Jamia submitted another affidavit claiming that Jamia is a 'minority' institution.
"Jamia itself is confused on whether it is a minority institution or not, after submitting two affidavits diametrically opposite to each other," he adds.
Based on the 'minority' status, Jamia has also implemented about 5% supernumerary quota which is in violation of HC and Supreme Court judgments.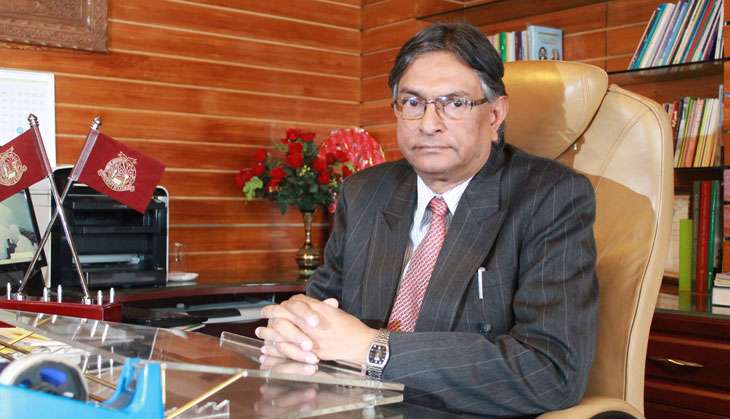 3. Outsourcing work without inviting tenders (more financial irregularities)

The VC, allegedly, outsourced entrance test portal-related services to Computer Maintenance Corporation Ltd (CMC), a subsidiary of Tata Consultancy Services, without inviting tenders. Sources in JMI said the VC's close relatives are employed in TCS and the varsity apparently paid several crores for this deal.

"In the university system, no tenders are invited for examinations. These are all confidential jobs. There was a committee who looked at two - three vendors and later approved CMS. There's nothing like 'calling tenders' in this case," says Ahmad.

When we pointed out that several central institutes like IIMs do invite tenders, he said, "See, this (JMI) is a Central University. Delhi University, too, does not take out tenders for conducting exams. Because this is all confidential."

Yet, on 4 January, 2016, JMI did invite tenders for developing an entrance test portal, contradicting the VC's aforementioned statements.

Sources at JMI said that Learning Spiral Pvt Ltd won the tender bid for entrance work for all subjects, except engineering. CMC is still handling the work for engineering courses.

Also Read: Move over IITs & IIMs; these 2 universities are India's answer to Harvard & Stanford





4. Irregularities in appointment Professor Ahmad

Professor Ahmad joined JMI as the VC on 29 April, 2014. His appointment letter was issued by the HRD Ministry at the time of National Elections 2014, when the Model Code of Conduct was operational in the country.




5. Irregularities in appointments of key postions

Allegations over irregularities of appointments of six key varsity members and eight faculty members, violating several UGC rules have also emerged.




6. Irregularities in admission process

In July 2014, just 12 students (who cleared the entrance tests) were offered seats in PG Diploma in Acting at Jamia's media centre. Out of this, just eight students took admission. The course had a total of 20 seats on offer. So, 12 seats remained unoccupied. However, the VC offered admission to 12 more students who had not cleared the examination.

Explaining this, the VC says, "It is a self-financed course. We don't get any money from the UGC. If there are not 20 students, we can't run the course. The course needs to self-survive."




MHRD Probe

MHRD spokesperson confirmed to Catch that the ministry has sought an approval for investigation from the President of India against all the above mentioned charges. Currently, a team from HRD ministry is collecting all finance-related documents from the varsity, sources added.




Also Read: Shocking! J-K minister says 60% class 8 students can't read class 2 books