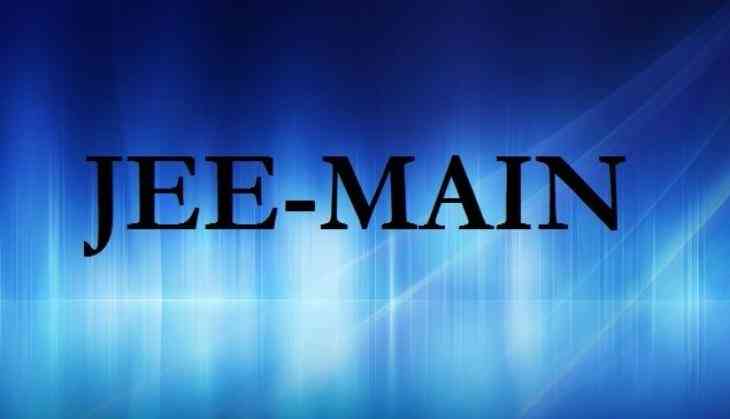 JEE Main exam aspirants have finally got their results on the official website of the National Testing Agency (NTA) on 29th April 2019. Candidates who were left to check their scores can visit the website at jeemain.nic.in.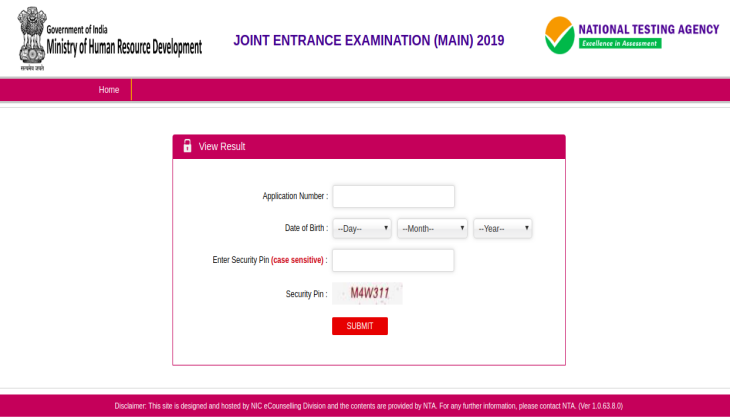 NTA conducted the two papers for the JEE Main. Paper I was held in January and Paper II was in April respectively.
The JEE Main 2019 April exam was held on April 7, 8, 9, 10 and 12 across the county and abroad. NTA conducted the Computer Based Test (CBT) for which 9,58,619 candidates registered for the examination.
This year, there are 24 candidates who have got 100 NTA score in January and April session 2019 in Paper- 1(B.E./B.Tech.).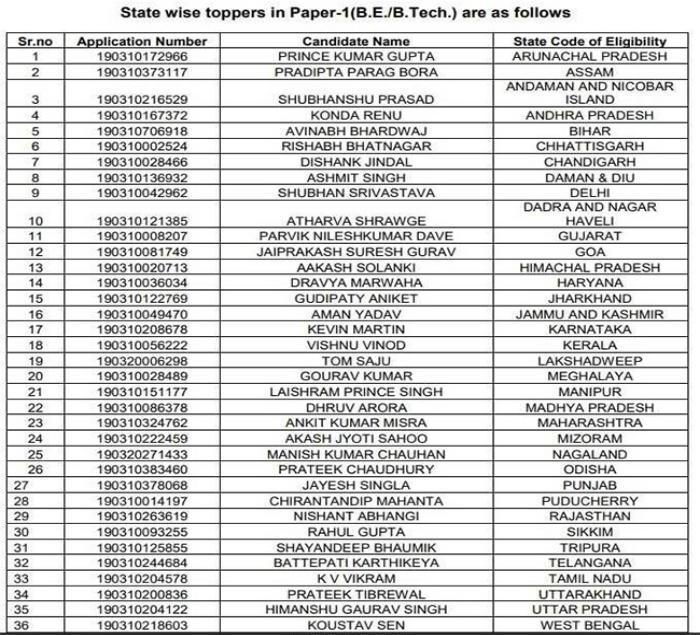 Here is the list of 100 NTA scorer state-wise:
Prince Kumar Gupta-- Arunachal Pradesh
Pradipta Parag BoraAssam
Shubhanshu Prasad-- Andaman and Nicobar Island
Konda Renu -- Andhra Pradesh
Avinabh Bhardwaj-- Bihar
Rishabh Bhatnagar-- Chhattisgarh
Dishank Jindal-- Chandigarh
Ashmit Singh-- Daman and Diu
Shubhan Srivastava-- Delhi
Atharva Shrawge-- Dadra and Nagar Haveli
Parvik Nileshkumar Dave-- Gujarat
Jaiprakash Suresh Gurav-- Goa
Aakash Solanki-- Himachal Pradesh
Dravya Marwaha-- Haryana
Gudipaty Aniket-- Jharkhand
Aman Yadav-- Jammu and Kashmir
Kevin Martin-- Karnataka
Vishnu Vinod-- Kerala
Tom Saju-- Lakshadweep
Gourav Kumar-- Meghalaya
Laishram Prince Singh-- Manipur
Dhruv Arora-- Madhya Pradesh
Ankit Kumar Misra-- Maharashtra
Akash Jyoti Sahoo-- Mizoram
Manish Kumar Chauhan-- Nagaland
Prateek Chaudhury-- Odisha
Jayesh Singla-- Punjab
Chirantandip Mahanta-- Puducherry
Nishant Abhangi-- Rajasthan
Rahul Gupta-- Sikkim
Shayandeep Bhaumik-- Tripura
Battepati Karthikeya-- Telangana
KV Vikram-- Tamil Nadu
Prateek Tibrewal-- Uttarakhand
Himanshu Gaurav Singh-- Uttar Pradesh
Koustav Sen-- West Bengal
Also read: JEE Main Result declared! Website crashed; here's how to check your score now