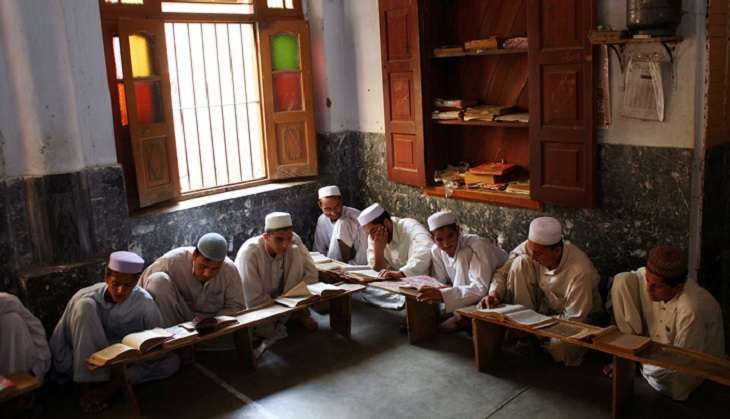 The Narendra Modi government has nearly tripled its expenditure on modernisation of madrasas in the last financial year (FY), with Bihar, Uttar Pradesh, and Madhya Pradesh emerging as the biggest gainers.
The total expenditure on madrasas in 2015‐16 was Rs 29,450.74 lakh, up from Rs 10,789 lakh in 2014-15, Prakash Javadekar, Union Minister for Human Resource Development, said in a written reply to Asaduddin Owaisi's query on madrasas in the Parliament. This is the highest allocation ever under the Scheme for Providing Quality Education in Madrasas (SPQEM), launched in 2009-10. These funds were allocated during Smriti Irani's term, the former HRD minister.
The number of modernised Madarsas has gone up from 11,654 in 2014-15 to 20,727 in 2015-16, signalling an overall increase of 77.85%.
Among the states, Bihar witnessed a significant increase in the number of madrasas identified for modernisation. The state has 1,127 madrasas in 2015-16, up from 80 in 2014-15.
Poll-bound Uttar Pradesh recorded the highest number of madrasas identified for modernisation - 14,974. This was followed by Madhya Pradesh with 3,288 identified madrasas.
During the 11th Plan, the government implemented the SPQEM under which financial assistance is provided to encourage traditional institutions like madrasas and maktqabs to introduce modern education in subjects such as science, mathematics, social studies, Hindi, and English in their curriculum through support for teachers, books, teaching, learning materials, and computer labs, informed Javadekar. The HRD minister also informed that a number of steps have been taken to spread awareness about SPQEM in all states.
"The SPQEM is a demand driven Scheme and depends on the viable proposals from the State governments," said Javadekar in his response.
Hyderabad MP Owaisi had enquired about the implementation of Madarsa Modernisation Programme in the country and further details around it.
The Anomalies
The funds allocated towards the madrasa modernisation programme in 2013-14, under the UPA government, stood at Rs 18,273.38 lakh.
In 2014-15, under the Modi government, the allocated funds dipped to Rs 10,789 lakh, which was then tripled in 2015‐16 to Rs 29,450.74 lakhs.
Same goes for the number of madrasas identified for mordernisation in each state as represented in the table below. Several states witnessed a dip in the total numbers FY 2014-15, followed by an increase in the previous financial year.
Number of Madarsas Modernised
Edited by Aishwarya Yerra