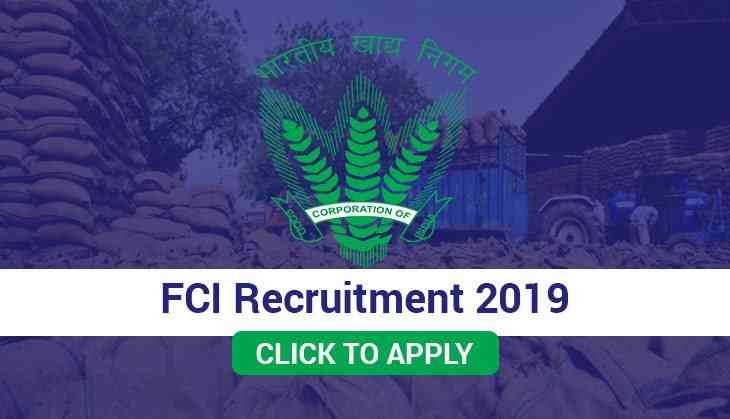 The Food Corporation of India (FCI) will be going to close its recruitment window for its 4103 vacancies that were released in the month of February for various posts.
Interested candidates can apply for the vacancies before the application window closed.
As per the notification, the application window for the recruitment of FCI will conclude on 30th March. Applicants should submit their application form through a prescribed format on the official website of FCI at fci.gov.in.
However, the application process for the vacancy was started on 23rd February 2019.
Check out the vacancy details:
There is a total of 4103 posts released by the Food Corporation of India (FCI).
Know zone-wise posts details:
North Zone: 1999
J.E. (Civil Engineering): 46
J.E. (Electrical Mechanical Engineering): 30
AG-II (Hindi): 22
Steno Grade-II: 43
Typist (Hindi): 16
AG-III (Technical): 286
AG-III (Accounts): 287
AG-III (General): 256
North East Zone: 291
Steno Grade-II: 8
J.E. (Civil Engineering): 2
AG-II (Hindi): 1
Typist (Hindi): 4
AG-III (Technical): 3
AG-III (General): 112
AG-III (Accounts): 22
AG-III (Depot): 131
South Zone- 540
J.E. (Civil Engineering): 26
J.E. (Electrical Mechanical Engineering): 15
Typist (Hindi): 2
AG-II (Hindi): 15

AG-III (Accounts): 48

AG-III (Technical): 54
AG-III (Technical): 54

Steno Grade-II: 7
East Zone: 538
J.E. (Civil Engineering): 26
Steno Grade-II: 9
Typist (Hindi): 12
J.E. (Electrical Mechanical Engineering): 10
AG-III (General): 106
AG-III (Depot): 61
AG-III (Accounts): 87
AG-III (Technical): 224

AG-II (Hindi): 2
West Zone: 735
J.E. (Civil Engineering): 14
Steno Grade-II: 9
Typist (Hindi): 4
J.E. (Electrical Mechanical Engineering): 9
AG-II (Hindi): 4
AG-III (Technical): 153
AG-III (General): 124
AG-III (Accounts): 65
AG-III (Depot): 353
Important dates to remember:
Last date to apply: March 30
Admit card will available on the website for download: 15 days prior to announced date of examination
Date of Online Test: Tentatively in the month of April/May, 2019
Also read: IGNOU Recruitment 2019: Jobs for Consultant posts! Apply for 60,000 salary before 8th April