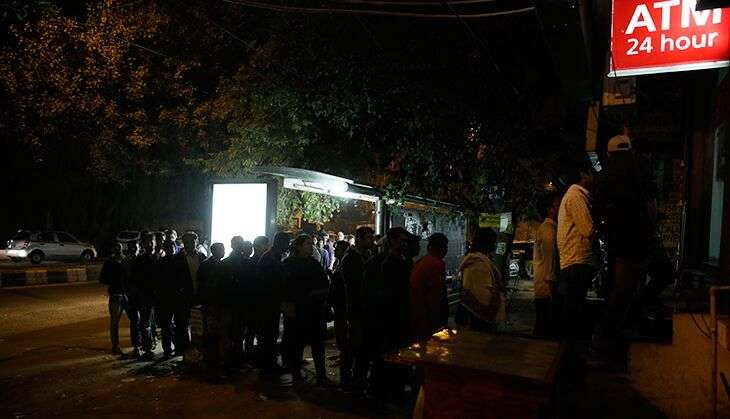 Long queues in front of ATMs inside campuses have been a common sight this week. "Lines in front of ATMs within the institute are huge. Instead of studying for exams, most of the students are queuing up, wasting a lot of time to withdraw money," says Shreeyesh Menon, a third-year Mechanical engineering student of IIT Bombay. In pics: Coping with cash crunch
Students from across the country are feeling the pinch of the Centre's demonetisation move. Catch spoke to a number of students who are either appearing for the semester-end or mid-semester exams or are scheduled to appear for these exams soon.
Online and Offline transactions
At the Indian Institute of Foreign Trade, New Delhi, most MBA students appreciate the government's move to curb black money. However, some also voiced their concerns about the lack of liquid cash.
"It's definitely a positive move but armed with inconvenience. None of the ATMs near our campus has any money. For now, we're resorting to online transactions for bill and utility payments," says Sumit Pujara, a second-year MBA (International Business) student. Pujara said he planned to queue up with his fellow classmates in front of ATMs soon.
However, at IIT Bombay, even online transactions are becoming an issue. "Most students would go for Cash on Delivery (CoD) option. But now, both Amazon and Flipkart have stopped CoD orders," says Menon.
The situation is no better at Jamia Milia Islamia, Delhi. "Those who stay on their own, out of the campus, are feeling the pinch. There's no money left. It's effecting our daily needs. Some of us even had to borrow money to buy food. ATMs too are out of cash. And the ones that have cash have long queues in front of them. Where should we go?" asks Khalid Hasaan, second-year student of Post Graduate Diploma in Computer Applications at JMI.
At Jamia too, several students are appearing for mid-semester exams. "We're planning to request the authorities to arrange a mobile ATMs or special counters in our institute," said Hasaan.
Who's the target of demonetisation?
"The target group affected by this move is kind of wrong," says Ayushi Sharma, PhD student - Marketing at IIFT.
"The ordinary man, common man, are all facing problems. The rich are not queuing up in front of ATMs. They have other means to convert their black money into assets. I may not be affected by the move. But people around me are affected. The vegetable vendor, the milk vendor - every vendor operating on liquid cash has been hit badly. Moreover, rumours of fake currency being being issued are already doing rounds," she adds.
"We are not subject matter experts. So can't comment on the long term effect. But in general, we're all dealing with inconvenience," says Menon from IIT Bombay.
A political or economical move?
Students appear to be divided over the Centre's demonitisation move.
Nadeem Ansari, a second-year student of Masters of Social Work, calls it a political move. "The Centre should have first stopped Rs 1,000 and then Rs 500 or vice versa. Stopping both the notes together is affecting students, especially the outstation candidates. Moreover, why can't the Centre take similar action on cigarettes and alcohol? The demonetisation is a purely a political move, not economical one," he says.
But Saurabh Gupta, second-year MBA student at IIFT, is all praise for the move. "This is a good move. A move in the right direction," he says.
Edited by Blassy Boben