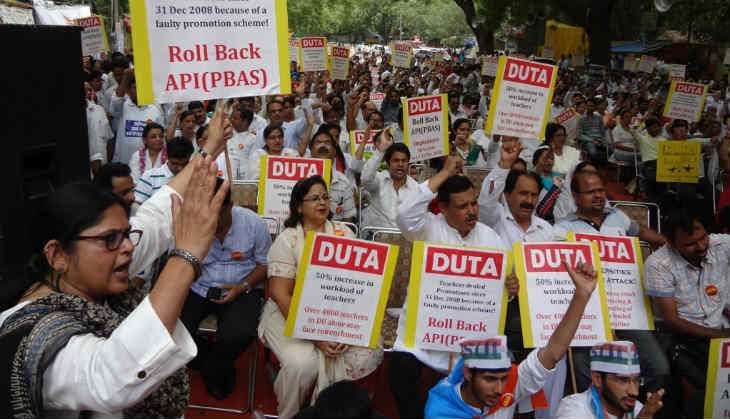 Dr Laxman Yadav has been working for Zakir Hussain Delhi College as an ad-hoc faculty of Hindi for the last six years. A gold medalist in his Masters course, Laxman who has completed his Mphil, PhD and also qualified the JRF- NET was expecting to be made permanent in the faculty very soon.
But then the University Grants Commission (UGC) released a gazetted notification in May increasing the working hours for professors from 14-16 hours to 22-24 hours. This resulted in the posts for professors going down by almost 50%.
5000 DU teachers at risk of job loss: DUTA
Laxman is among those 5000 professors who face the risk of losing their jobs and had assembled at Jantar Mantar on Tuesday to participate in a Satyagraha held by Delhi University Teachers Association (DUTA) to protest against this notification.
"We have already lost the jobs anyway. With the working hours increased this way, why would we be required?" he asks.
For Yadav the job is more than a career. It is a source of livelihood on which he and his eight family members depend. "I have two sisters to marry off and I am the sole bread-earner in my family. And now here this notification has left us nowhere," he says.
Yadav is not alone. There are worse cases.
Dr Raman Kumar Singh of Vivekananda College - Delhi has been working as an ad-hoc faculty of history for the last 15 years.
Asked about why wasn't he made permanent yet, he says that is the system. "We were never worried about being permanent."
To him this announcement has come as a deep shock, and in his own words, he is left "deeply stressed" about the happenings. At 48, the father of two has no other career options. "How will I take care of my family? How will I educate my children? I can't even afford to live in Delhi without any source of income" he complains.
Amid this stress, Dr Singh still manages to speak about the effect of this on the education quality.
"Professors won't be able to give time for personal tutoring. The quality that DU is known for will no longer exist," says Singh who just completed his post doctoral research with the Indian Council of Historical Research.
He says that after availing teachers' service for so many years, the government has just decided to close doors on their face.
There are also cases like young Narendra Kumar. Kumar who comes from a poor Dalit family from Bihar, completed his BA and MA from Hindu college in Hindi, after which he completed his MPhil and PhD. Unlike Yadav or others, he wasn't a faculty but had spent all his educational years with aspirations of becoming one. Now Narendra is left dejected.
"I can't even apply for other jobs. Wherever I go, they say I am over qualified," he says.
Mohammed Sabir, another faculty, says "This comes after the 55% budget cuts in education sector. Now that they can't pay for the teachers' salary, they have decided to bring this notification so that ad-hocs teachers like me can be done away with."
Many also say that this will leave them with an option to join private universities. But teachers say that they do not find it convenient.
Ravikant Sharma teaches foreign language to journalism students at a Amity University. He says that private universities do not leave much option for a teacher or student to think beyond producing employees for the corporate sector.
"The working hours are stressful which affect a teacher's interest in innovative teaching and research," says Sharma.
He says that the UGC notification is a way in which the government wants to direct faculty to take up jobs in private universities.
"The private universities do not follow any pay commissions. There is no guarantee on how much we will get paid. Plus there is no space for protest or dialogue like we have here" he says pointing towards the protest venue, "There are no teachers or students associations."
Rama Naga, general secretary of Jawaharlal Nehru University Students' Union, say that this notification will lead to students from backward social and economic backgrounds being left behind in the education process as the increased workload on teachers will result in students not getting the extra tutoring or help from teachers.
The Satyagraha saw many teachers, students and politicians complaining against what they called the dictatorial attitude of the government towards the universities.
Also Read: Dear Smriti Irani, a 15-hour workday is not feasible
Thousands of teachers got together at Jantar Mantar on 14 June to carry forward the agitation against the UGC Gazette Notification of May 2016. AIFUCTO and FEDCUTA office bearers as well as teachers representatives from JNUTA and IGNOUTA also expressed their anger at the anti-education policies of the government.