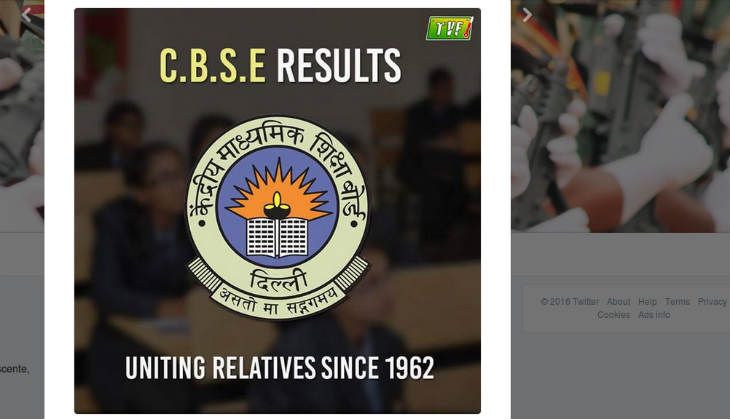 The results of the CBSE Class 12 examinations 2016 were declared on 21 May. Sukriti Gupta from Montfort School Delhi, topped the exams, having scored 497 marks out of 500.
Twitter went into overdrive over the Class 12 results. #CBSE began to trend from about 11 am, immediately after the results were declared.
While some tweets trolled Sukriti and other toppers, other tweets poked fun at the CBSE and the Indian education system.
The memes were out in full swing, with many taking on relatives and family members.
Also Read: Delhi girl Sukriti Gupta takes #1 spot with 497 marks
Here are some of the funny tweets:
#CBSE students.
Sitting in front of their laptops right now. pic.twitter.com/SVnVKGXv2T

— Sorabh Pant (@hankypanty) May 21, 2016
Who is more concerned about your results! #CBSE #cbseresult pic.twitter.com/EgjG6zXx8Q

— Johnny Bravo (@khanakram421) May 21, 2016
#CBSE क्लास 12th टॅाप करने वाली Sukriti Gupta के marks Eng 99 Maths 99 Physics100 Chem. 100 Computer 99 मतलब लड़की गणित मे कमजोर है। 😂😂

— दीमाग से पैदल ! (@DeemagSePaidal) May 21, 2016
The number of girls that scored higher than you.
In your building.
On your floor.#CBSE. pic.twitter.com/vzQDIthwJA

— Sorabh Pant (@hankypanty) May 21, 2016
#CBSE #cbseresult #CBSE2016 Total 83.05% Students successfully passed the exam this year. pic.twitter.com/SXY6Gc6HeG

— Shivam Bhatt (@_ShivamBhatt) May 21, 2016
Parents: How much you scored in #CBSE
Sukriti Gupta: 99.4%
Parents: But.. Dettol has 99.9%... koi nahi next time zada mehnat karna

— Sand-d Singh (@Sand_In_Deed) May 21, 2016
"Remember kids, marks don't matter. Just don't lose the bloody final mark-sheet." #CBSE pic.twitter.com/Pw3shK3deC

— Aisi Taisi Democracy (@AisiTaisiDemo) May 21, 2016
Behind Every Sukriti Gupta there is a deactivated facebook, twitter and whatsapp account!! #CBSE #CBSE12thTopper #cbseresult

— Incredible India (@An_Kush7) May 21, 2016
Abhijit Sawant seen advising toppers on how to tackle one-day fame#CBSE #cbseresult

— Baaje (@Aisa_hi_Hu_Mein) May 21, 2016
Sukriti Gupta got full marks 500/500 in #CBSE 12th boards. Bas teacher ne 3 marks shagun ke cut kr liye isliye final marks 497/500 hue

— Aa Gaya Raees 😎 (@NextToSRK) May 21, 2016
Reaction : When a relative comes at home just after the declaration of #CBSE results . pic.twitter.com/qxLge6YkTi

— Divyanshu (@jetsroy) May 21, 2016
Breaking ka breaking news! No student will be declared PASS/FAIL unless Ashish Ketan and Ashutosh check their marks! #CBSE

— ArnabV/sKejriwal (@arnabgoswamiji) May 21, 2016
Now the administration at DU will make the first cutoff at 99.6 just to stay ahead #cbseresult #CBSE

— padh lo (@BabuZizzou) May 21, 2016
Comedian Vir Das tweeted a special message dedicated to the students:
There were some insightful tweets too:
Thanks to the #CBSE results trend in the last decade, high time we change the expression from "Sharmaji ka beta" to "Sharmaji ki beti"!

— Rashi Kakkar (@rashi_kakkar) May 21, 2016
#CBSE I hope you got good marks,if not then don't worry about the Indian phrase "Log kya kahenge",
life is more precious than that.

— Asgher Imam (@asgher_imam) May 21, 2016
Here's a look at the CBSE Class 12th toppers (Top 3 Positions):
1. Sukriti Gupta - 497 marks
Montfort School, Ashok Vihar, Delhi
2. Palak Goyal - 496 marks
Tagor Public School, Pehowa, Kurukshetra, Haryana
3. Somya Uppal - 495 marks
St Theresa's Convent School, Karnal, Haryana
4. Ajish Sekar - 495 marks
PSBB Sr Sec School, KK Nagar, Chennai, TN
Also Read:
Top 10 upcoming Indian universities to watch out for
Beware! Here are India's 22 fake universities