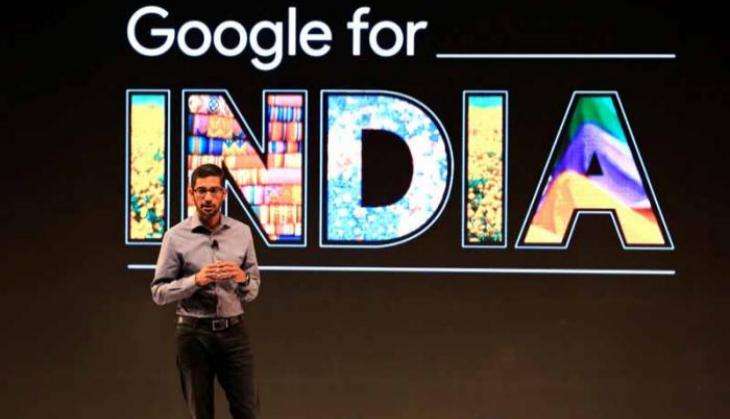 On Thursday, in front of over 3500 students at IIT Kharagpur, Google CEO Sundar Pichai remniscinded about his journey in college, including the time he called someone Abey Saale.
"As a freshman, couple of weeks into being here I came from Chennai. I had learnt Hindi in school but never spoke much. Just listening to other people, I thought that's how you address people. One day there was someone in the mess, and I had to call him, and I called him Abey Saale. In my first couple of weeks I thought you call people that way. Next thing, I know folks in the mess were quite upset, and they closed down the mess temporarily," said Pichai.
Pichai, currently in India on work and personal visit, took open questions from students at an open-air theatre in the campus. The discussion was moderated by InfoEdge CEO Hitesh Oberoi.
He recalled the time when he met his wife Anjali on campus: "I met Anjali at IIT-K and she was my classmate. Just to go get someone at the girl's hostel, you had to walk in the front and request someone to call them. And they'd go in and loudly say - Anjali, Sundar is here. It wasn't exactly a pleasant experience," he said.
When asked about favourite Bollowood actress, Pichai responded with Deepika Padukone.
About his interview with Google, he said, "I interviewed at Google on April 1, 2004, which is April Fool's Day. Google had just announced Gmail and it was invite-only. But people weren't exactly sure if it was a April Fool's joke. So, I remember doing my interviews during the day and people kept asking me what do you think of Gmail, but I didn't have a chance to use it and I thought it was a April Fool's joke."
"My first three interviews, I couldn't answer well because I hadn't used the product. In my fourth interview when someone asked me have you seen Gmail and I said no, he actually showed me the product. And then the fifth interviewer asked what do you think of Gmail and I was able to answer then," he added.
Then there was a rapid fire round, where the Google CEO said that he likes to spend time with his kids who are 13 and 9 years old.