Why millennial footprints matter more than any other generation's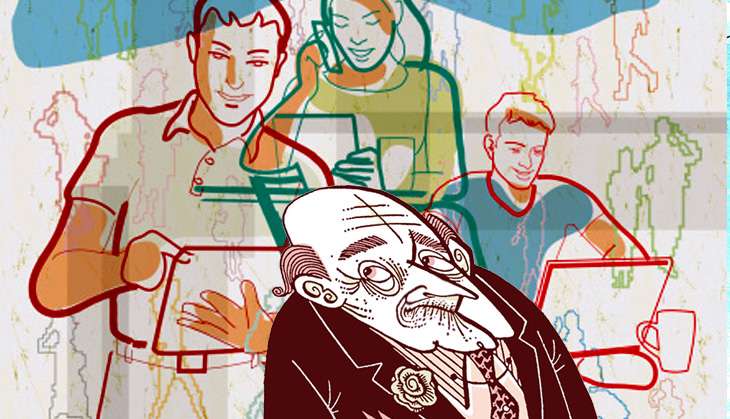 Call them the I, Me, Myself Generation, the Always Online Generation, Generation Next or Gen Y -- the fact is it is impossible to ignore Millennials who seem to be taking over the world, one role after another.
For the uninitiated, Millennials are those born after 1980, and India will be in their palms or pockets by 2020. A milestone that's just three years away.
Fifty percent of India's population is under 25 years of age and 65 percent is under 35 - which means by 2020, India will become the youngest country in the world with an average age of 29 years. In contrast, China's average age will be 37 and Japan's 48.
There have been several attempts to deconstruct this generation and obviously none have been easy. The Baby Boomers (1946-64) see them as ruthless value killers. Gen X-ers (1965-80) dismiss them as shallow and selfish.
A new generation takes over every 30 years and the reigning generation always looks at the next with a great deal of suspicion. But the generational shifts take place smoothly and swiftly with each new generation outperforming the previous one.
For proof, we have to only back at the lives of those who lived in the Stone Age.
Yet there is a whole lot of noise around Millennials. Is it because they are superbly talent? Or is it because they are too young to take over and that hurts the older generations? Or are they really the carriers of a special gene pool?
Catch spoke to Subramanian S. Kalapathi - himself a Millennial - who spent time with scores of Millennials to understand their world. His effort resulted in a book - a manual of sorts to understand the world of Millennials, what makes them tick, how to deal with them in a workplace, how to extract work out of them, how to work with them.
Blood, sweat, toil & tears - the amazing stories behind Indian startups
The Millennial Deal
Kalapathi noticed the noise about Millennials as a weak signal some three to four years ago. He began to research the subject. As an older Millennial himself he was surprised at both the level of autonomy and responsibility that was endowed to trainees who joined the IT industry a decade ago. Of course, he noticed this trend not just in IT but across other industries as well. This opportunity helped him build self confidence and take risks.
This was 2006.
A decade later, Millennials, according to him, are exploding with energy and winning across diverse fields, propped up by their managers, mentors, investors, and a host of professionals.
"While there was (and still is) a lot of debate on what is similar or different about Millennials, contextual differences aside, most senior professionals agree on the fact that there is a transformation underway -- as it usually happens when a new generation enters the workplace every 20 to 30 years. Only this time, the sheer scale of young professionals wanting to learn, grow and make a difference at work is perhaps unprecedented in recent history," Kalapathi tells Catch.
Kalapathi says there are plenty of similarities as well as differences with the previous generations. In fact, there are differences within the older Millennials and the younger Millennials too.
"Take for instance the fact that Millennials are digital natives - they grew up in a world where technology and the Internet have always been a central part of their lives. But not all Millennials have experienced the power of digital technology in the same way. Another aspect to consider would be that Millennials have grown up in relative abundance compared to their elders.
"Hence, finding meaning and purpose in what they do becomes an unstated need. Also, older Millennials (those born in the 1980s) may perceive the world around them very differently from younger Millennials (those born in the 1990s) who may have a different take altogether. These nuances have to be taken into account."
The Millennial Mark
Generational diversity at workplaces is obviously not new. What is new is that Millennials are holding fort everywhere.
"Generational diversity has always been around, perhaps what is different is the scale of generational diversity that's predominant today. We have members of three to four generations operating side by side, and in several industries, Millennials are already the single largest cohort," says Kalapathi.
"Because of this, aspects related to management constructs such as motivation, culture, innovation, digital technology, collaboration, learning and leadership tend to get accentuated. This is also the focus of the book (Millennials, Exploring the World of the Largest Living Generation, Penguin Random House), which explores the new world of work through these seven lenses. Leaders of pioneering organisations may have begun to take note of this shift, and have put in place structures that enhances intra and inter-generational engagement."
Millennials are said to make up over half of the world's workforce in the next five years - so will the world be a better place in their hands?
Kalapathi thinks so.
"In many organisations today, especially in the services sector such as IT, close to 80 percent of the workforce is already composed of the Millennial cohort. We also have several youngsters taking up leadership positions early on in their careers, not to mention the many Millennial entrepreneurs who have built bold, disruptive, digital-first organisations in the last decade. If the recent past is any indication, perhaps the future is something to look forward to."
The Millennial Misses
Ask Kalapathi about the drawbacks of this generation and his answer makes you think he is overly protective of his generation.
"The drawbacks typically emerge from the context of operation. For instance, Millennials may be termed as impatient, but this may be a factor of them wanting to learn and grow. Or at times they may be labelled as irreverent, but this may be the result of a mismatch in what they value versus what other generations may deem as important," he offers.
Kalapathi adds that the quality of the narrative has improved over the last several years to more constructive realms, to how we could bring out the best in Millennials and enhance inter-generational collaboration.
Though his book is being described as the first comprehensive take on Millennials, Kalapathi forgot to study the role of gender in the world of Millennials. It is widely believed that gender stereotypes will not end with Millennials.
"This wasn't really something I was looking to study through the course of my research, but I hope someone picks up on this thread and does a deep-dive," says Kalapathi.
Easy on Millennials
His soft spot for Millennials comes to the fore once again when told that this generation is known to be easily stressed and many are unable to cope in their excessively competitive climes.
"Again, this is related to the context of operation - with 24x7 connectivity available today, Millennials have been referred to as the Always Online (AO) generation. Many employers are cognizant of this reality and strive to put in place mechanisms that enable work-life balance, which ultimately leads to an improvement in productivity."
Asked to list traits that set Millennials apart from earlier generations, Kalapathi says, "Many Millennials are quick to adapt to change, are unafraid to experiment, want to learn and grow, seek out diverse challenges and opportunities, and are looking to make a positive contribution, especially when circumstances are favourable. These aren't all necessarily traits that set them apart and there are plenty of examples of members of older generations displaying these characteristics as well."
Welcome Gen Z
Kalapathi explains why his book is different from the scores written before.
"First, the prose is in clear, lucid text, which makes it simple to understand and easy to relate to. Second, it doesn't claim to have all the answers - but asks some pertinent, pointed questions which I hope will advance the narrative on the subject of Millennials in the right direction. It has a positive psychology angle to it - which is all about how do you bring out the best in Millennials, and other generations," he says.
"Third, it looks at the world of Millennials through some pertinent theoretical constructs, the seven lenses - motivation, culture, innovation, digital technology, collaboration, learning, and leadership. Fourth and perhaps most important, it aims to stay away from stereotypes, cliches and quick-fixes, and lays out the broad context that Millennials operate in, before diving into the case studies."
Ask him if values and ethics matter to Millennials as it did to earlier generations, he says, "I think they do, and in fact I believe they matter a lot. No generational cohort operates in isolation, and in fact, the best performing Millennials look up to members of older generations to seek inspiration and learn about values from them."
Kalapathi's ode to Millennials is perfect.
But I have to let the readers know that Kalapathi was quite unlike the "Always Online Millennial" when I approached him for an e-interview. It took him three days to send in a reply. Without an apology for the delay. A Baby Boomer would have remembered to do that. Also the Gen X-er.
Fingers crossed about how the next generation - Gen Z - would be. We can only hope it betters the Millennials on this turf, at least.
Guess who is adding to Partition Literature? Third-generation Indians