These women kicked cushy jobs to become dancers, chefs & stand-up comics
Neeti Palta had everything going for her. A perfect career. A perfect husband. A perfect life. But something inside her kept nudging her to kick the job of senior creative director at one of India's top advertising agencies because it wasn't her true calling.
Her true calling - being a stand-up comic - made her family cringe. They couldn't imagine their daughter being a comic. Her father was shocked: why would she want to do this "bhandpanti"?
But Neeti was insistent. She even paid the price for her idiocy. Her savings started to dry up. The price of a regular cup of coffee pinched her. She herself started doubting if her decision was "a fit of overconfidence". Or was she "an impostor who had been found out!"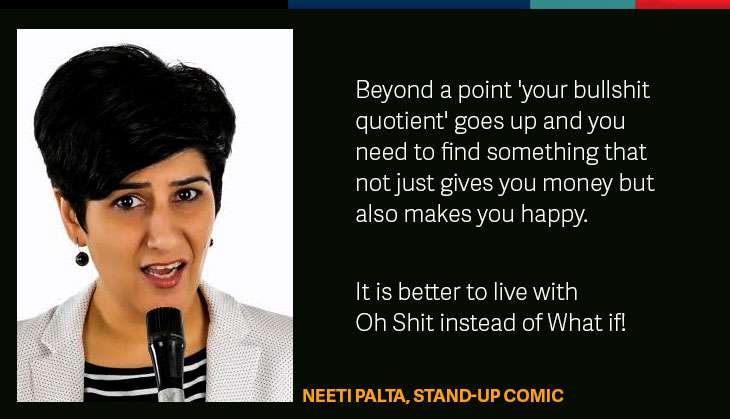 Then came her first paid gig from a corporate - "for a princely sum of Rs 5000". Today, Neeti has her hands full with corporate gigs and other shows.
Neeti has clearly had the last laugh. Her husband is proud of her. And her father is now an ardent fan of her craft.
Dare to Fly
Penguin Random House's Dare to Be is a documentation of 14 stories of women who gave up their corporate jobs, who put their comfortable lives at risk - to swim against the tide.
The authors of the book, Rinku Paul and Puja Singhal, themselves quit their corporate careers to pursue passions that were close to their hearts. The book is also a result of this passion - to inspire women to follow their hearts. To take the plunge.
All stories in the book inspire, but some break your heart.
Also read - Sex Object: a book that reminds you that you never stop being just that

Like, for instance, the story of Kanika Tekriwal. The CEO of JetSetGo, Private Jet Concierge Services, who was diagnosed with cancer when she turned 22. The doctor told her she had four months to live, but Kanika decided to defy the doctor's prognosis by ridding her body of cancer cells.
Before she was diagnosed with cancer, her conservative Marwari family in Bhopal was keen to get her married. But that didn't seem much of an option for them a year later with "well-meaning relatives mourning her lack of marriageability as a survivor of a deadly disease".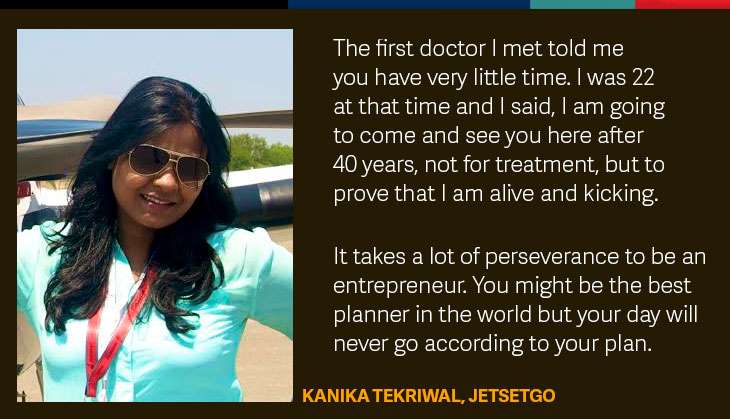 Kanika remained unperturbed and headed to Delhi. The plan was crystal clear in her head. She just had to convince people - mostly men - of the viability of running a private jet concierge service.
Setting out to execute her plan after testing the market sufficiently, the initial phase, she recalls, was tough. She makes no bones about the fact that she was laughed at and ridiculed. One night she cried herself to sleep because a potential client mocked at her naivete in assuming that people would book jet planes online.
There were several other instances when she encountered the proverbial glass ceiling in the highly patriarchal world of aviation. One day, as she walked into a meeting slightly late, somebody asked her for a cup of coffee!
A few years down the line, Kanika's JetSetGo has emerged as the first-of-its-kind private
jet concierge service that works like an online marketplace making jets available to passengers. Her company also works in the area of medical evacuation, air ambulances and helicopter arrangements. She has been featured in BBC's list of 30 under 30 young women entrepreneurs and then again in BBC's list of 100 most inspirational women in the world.
That's a success story just waiting to be emulated.
Woman to Woman
India ranks a low 70 among 77 countries covered in the 2015 female entrepreneurship index brought out by the Washington-based Global Entrepreneurship and Development Institute, which measures the health of the entrepreneurship eco-systems.
Therefore, these stories matter even before. So do the words of advice from these women of substance who want fellow women warriors to break the barriers. To listen to their inner voice. To give in to their passions and not worry about the world. Here are a few things they had to say: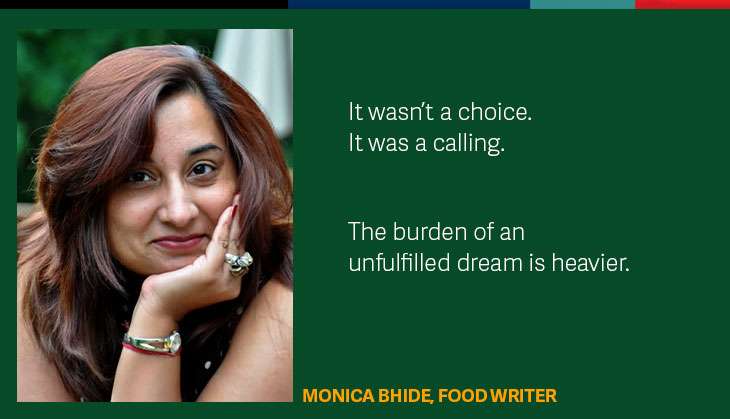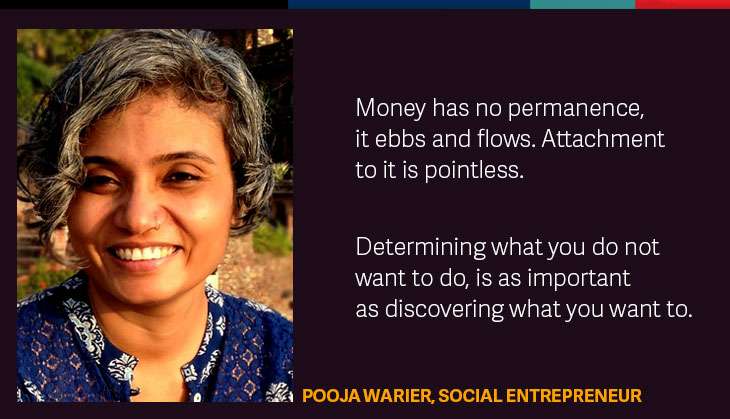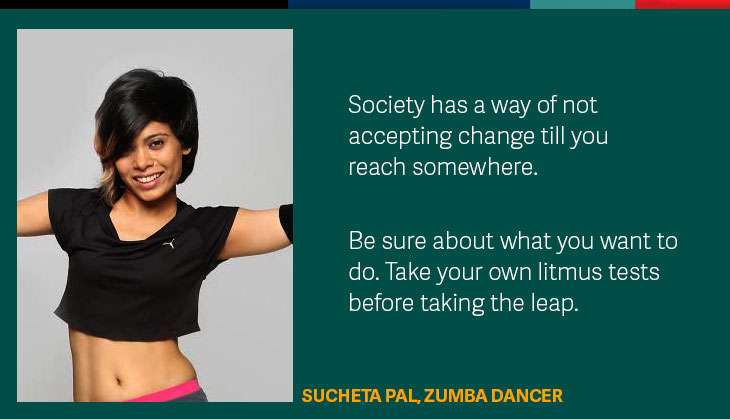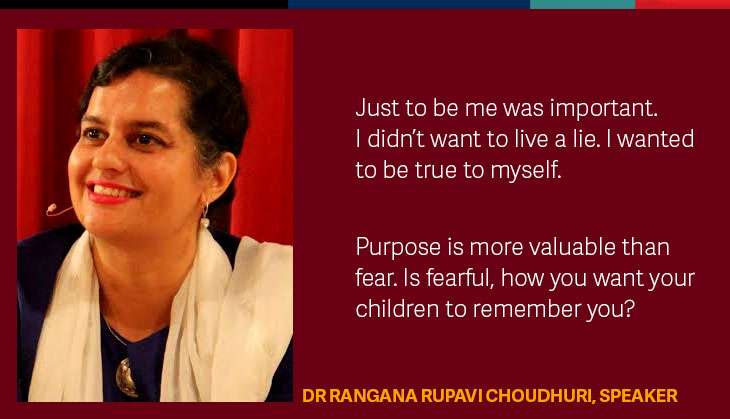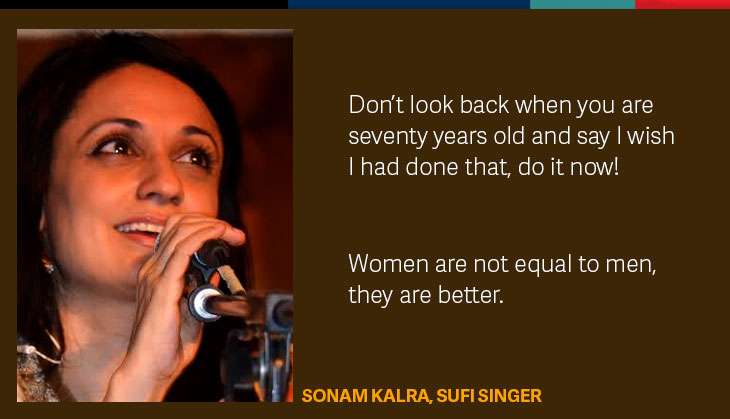 The book isn't a sociological treatise or a business case study, but it should put to rest the fears of those women who worry about not having enough female role models around to tread on the road less travelled.
Also read - Hot Feminist is a book no-one should read. Especially feminists