Storyboarding India: 'Nawabs, Nudes, Noodles' is an epic Indian ad journey
Once upon a time, not too long ago, India was populated with women who served their famished children Maggi noodles in two minutes, washed the tough stains off their husbands' shirts with Surf (and a smile), and then applied Moov pain relief ointment to get on with more work.
The men fought the baddies in a VIP Frenchie with a glamourous girl by their side, or decided to be "men of action" by puffing away at a Charminar, Four Square or Red and White cigarette, or just lived the good life in Bombay Dyeing suits - chasing cars and helicopters in James Bond-inspired moves.
That was the time when India waited for postmen to deliver letters, for the rains to stop before it could place a "trunk" or long-distance call, when swapping TV channels was not a luxury, when old-world values mattered, when patience was a virtue.
Nawabs, Nudes, Noodles attempts to look at this India through 50 years of advertising. For Ambi Parameswaran, the author, India's story is also the advertiser's story. Through 100 advertisements or so that he studied, Parameswaran shows how India has changed and evolved - from the time it was glued to its bulky black-and-white TV screens to this era of digital advertising.
Of course, it has not been an easy journey, given India's diversity and complexity. But the good news is India is changing. And mostly, for the better.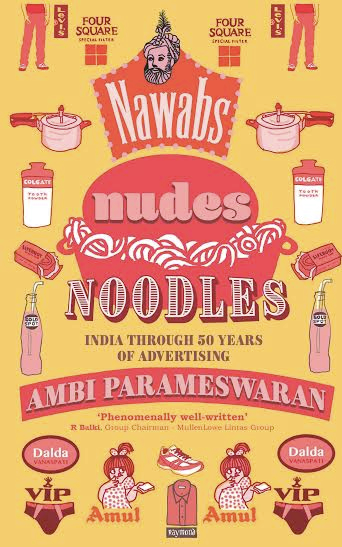 India That Was
It was the 1980s. The advertisement that caught the nation's attention showed brawny men playing football in mud and then showering with Lifebouy soap singing, "Tandurusti ki raksha karta hai Lifebuoy, Lifebuoy hai jahan, Tandurusti hai wahan (Health is protected by Lifebuoy. Where there is Lifebuoy, there is health)."
This health song was also the winner's song.
Colgate took this logic a step further. A brawny winner at an akhara bites into a sugarcane stalk and cries out in pain. His sister gently tells him: "Badan ke liye doodh aur badam, lekin daanto ke liye koyla? Bhaiya, kabhi kabhi dimag ki bhi kasrat karni chahiye." (For your body you consume milk and almonds but you clean your teeth with coal dust? Brother, at times you should also exercise your brains, not just your body).
"Here was a brand that decided to use the Indian man's fascination with bodybuilding to its advantage by presenting its toothpowder in an interesting context," writes Parameswaran.
That was also an era when smoking was not-so-injurious to health. Those who smoked lived life kingsize.
The Red and White cigarette brand gave the traditional smoking ads a new twist. Their men were not just brave, handsome, rich (and God's gift to women) - but were also good humans. Men who did good deeds, but didn't care about the rewards. The catchline - "Hum Red & White peene walon ki baat hi kuch aur hai" - was a killer.
The Winds of Change
By the 1990s, the waves of liberalisation were opening up new opportunities for young India (read men).
"They now had to find a balance to their life. Is it work or family or both? Is it money or fame or none? It is friendship or the pursuit of material goals? The (Raymond) suiting brand managed to resonate with the new emerging ethos of upper-class Indian males," writes Parameswaran.
So did the ad for Ariel. Two young men are enjoying a quiet evening when something spills over the tablecloth and it gets stained. The guest panics. But the host takes charge, removing the stain with Ariel - a new detergent powder which can remove the toughest stains - and sets the tablecloth back before his wife gets home.
The ad made everyone sit up because it showed a man, the head of a household, washing clothes.
Suddenly there were many such ads - men making coffee for women - their wives, their lovers. Or men passing around soft drinks at a party. Or Paan Parag.
The Bold & the Beautiful
It was 1995. Then top models Madhu Sapre and Milind Soman posed nude with a python wrapped around them for a Tuffs Shoe advertisement. They were booked for obscenity.
Three years earlier, the Kamasutra condom ad had actor Pooja Bedi and model Marc Robinson in a shower. The ad challenged conservative Indian sensibilities and TV channels refused to broadcast it.
Around the same time men started discovering their vanity and the metrosexual man was born. Fairness creams and other products directed at women - such as soaps and powders - were being used by men on the sly.
In 2005, Emami took a chance and launched 'Fair & Handsome' for men.
"The Berlin Wall of skincare between men and women fell with a big crash," Parameswaran writes.
Taking a cue from Emami that launched Fair & Handsome, Godrej - in a first - decided to position its hair colour for both men and women.
By 2010, men were not just making coffee, but cooking for their wives and family and making popcorn for their kids.
Parameswaran quotes a study by Satyam Viswanathan to put the ever-changing role of men in context, "Indian masculinity is being pulled in three different directions, by the weight of traditional expectations, the pull of modern ways and the growing wave of emergent Indian feminism."
Whichever way, the Indian man had decided to finally get off the couch - albeit reluctantly - and make himself useful around the house.
Nawabs, Nudes, Noodles
The book is an anecdotal account of how India has changed through the world of advertising.
"The book is not a history of Indian advertising, neither is it a collection of the best ads produced in India. It is a look at India through 50 years of advertising. It is true that some of the ads have stayed in pubic memory, but not all," says Parameswaran.
The book draws its title from the days Nawabs (remember Nawab Pataudi?) modelled for suits, to how nudes were used in advertising leading to a court case that ran for 14 years, to noodles - probably the most successful non-Indian food item that was in the news for the whole of last year.
Parameswaram's book is as much a discovery of India through advertisements as it is also a discovery of how the fabric of the ad world has changed.
"The ad scene 50 years ago was a small industry dominated by English-speaking club-going gentry. They saw advertising as a serious business transacted in board rooms and club restaurants. But all that has changed. First, it was the influx of MBAs from top business schools. This happened in full swing from the early 1970s to the early 1990s. Then came the influx of the HMT ('Hindi Medium Types'). They changed the industry as well," says Parameswaran.
The Collective Memory
Remember the angry little boy who leaves home but returns when the postman tells him that his mother is frying jalebis in Dhara oil? Remember when "thanda" meant Coca-Cola? Or when "2 minutes" meant Maggi Noodles?
"It is difficult to predict which of the currently hit ads will last in public memory... In those days we only had one or two TV channels and those occupied a centrestage in middle class homes. So what we saw impacted us hugely. Today we are pressed for time and the choices are many," says Parameswaran.
His personal favourites from the days of yore are the "Doodh Doodh, Piyo Doodh" ad and the "Kuch Khaas Hai Cadbury" ad - in which a fan dances with abandon on the cricket ground. In recent times, he enjoyed watching the Ambuja Cement Great Khaali ad.
In between there were the Vodafone Zoo Zoo ads, which he liked.
"Zoos Zoos are a great branding property and the agency/client are trying to stretch them into new offerings. When we do this we always suffer through comparison. Almost always people think the old ads were better. But I think they have done a smart thing by extending the life of Zoos Zoos."
Yet, he is not sure if any of these will last in public memory.
And it is scary to think there may not be a collective memory 50 years from now.
Collective memory, however, should not be a reflection of our collective creativity.
"I will not say that we were more creative then and have become less creative now. I think creatively we have evolved to become pan-Indian. But media fragmentation has had its price on our collective memory," says Parameswaran.
"For an ad to be liked it has to appeal to both the emotional and the rational side of our brain...If you buy a brand for purely rational reasons you will never be happy. If you buy it for purely emotional reasons you will never be satisfied," he says.
Which India?
Ours is the land where the old and the new coexist, the traditional and the modern walk hand-in-hand, the local and the international feed off each other. There isn't one India or a pan-Indian identity that the ads can target - and hence it is not easy to make that perfect ad.
But the lines are becoming sharper.
Parameswaran quotes the FCB Ulka ManMood Study of 2014 to understand the evolving Indian man. ManMood studied men in the age group 18 to 44 - single and married, parents and non-parents. Here's what it found:
Sandwiched generation (35 plus) - lives responsibly but regrets it.
You are only as good as the money you make.
Value of values is decreasing steadily.
Husband-wife relationship is a relationship of equals. Men forced to play active role in household affairs, even if they resent it.
The new convention of parenting: Children as assets to children as liabilities
Money is valued for what it can do rather than for what it is
Vanity, thy name is man
No wonder then that the future is the #ShareTheLoad ad that boldly took on our patriarchal society - with the father apologising to his daughter both for his inability to help with household chores and her husband's seemingly naive role in reinforcing the cliche that a woman's place is in the home - where her work is never done. The father goes back home and decides to help his wife with household chores.
India's half-a-century long journey in advertisements has been arduous. But the good news is India is changing. At least in the ads.
Edited by Joyjeet Das