Spotlight review: a must see hard-hitting newsroom drama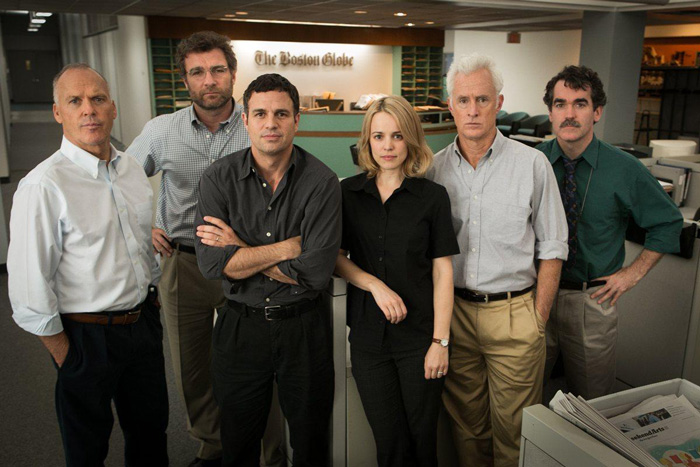 We're at a time when print media is coming dangerously close to extinction where 24/7 news cycles have overtaken good old-fashioned investigative journalism.
Which is why Spotlight is a perfect reminder of how valuable uncovering the truth is. It's based on a true story - TheBoston Globe's Pulitzer Prize-winning months-long investigation into sexual abuse by priests that went on for years with the complicit silence of the Catholic Church.
Considering the subject matter, you'd think this would be a depressing affair.
But director Tom McCarthy and his co-writer Josh Singer make sure that movie focuses on presenting the facts as they are without excessive amounts of emotion. It's refreshingly subdued and understated, with no embellishments whatsoever.
Also read -Pride and Prejudice and Zombies review: the zom-com is exactly what it sets out to be
In short: In July 2001, Marty Baron (Liev Schreiber) became the editor of the Boston Globe. One of his first tasks was get the paper's investigative team - Spotlight - to look into Catholic priests sexually abusing minors.
Initially, the abuse looks like a bunch of scattered incidents. But as the team digs deeper, it stumbles on the truth: that both the abuse and the cover-up were embedded in the system.
From 13 original priests found guilty in the Massachusetts diocese, the number expanded by 2002 to include 249 priests and 1,000 victims. The impact of these findings went global and eventually led to the exposure of more than 670 pedophile priests around the world.
Michael Keaton, as the Spotlight team's editor and leader, Robby Robinson, leads the cast with dry wit and quick intelligence; his performance anchors all the others. Mark Ruffalo is marvellously twitchy and dynamic as Mike Rezendes, one of the unit's reporters; his teammates, Sacha Pfeiffer and Matt Carroll, are played, respectively and expertly, by Rachel McAdams and Brian d'Arcy James.
At its crux, it's about separating the unpleasant truth from the comfortable lies
At its crux, it's about journalism with integrity and separating the unpleasant truth from the comfortable lies. You have to find victims who are reluctant to come forward. You have to listen in on interviews with damaged survivors who settlements leave no paper trails. Deal with corrupt lawyers. Basically, just keep following the paper trail doggedly.
Still, considering those astonishing results, what's remarkable about Spotlight is how unflashy it is. By the end, we even realise that reporters aren't always heroes either - mistakes come with the territory, and Keaton's Robinson has to reckon with some himself.
And even though Spotlight is about priests and the heinous acts they committed, there are very few men of the cloth shown onscreen. Instead, we hear about the encounters from the victims themselves instead.
"How do you say no to God?" is one particularly powerful line used by a victim to explain how a priest trapped him both emotionally and spiritually.
Also read - Neerja review: A near-flawless exploration of courage in the face of darkness
Performances with depth
The impeccable cast is the backbone of Spotlight. In a movie that is stuffed with still-action conversations, it's the likes of John Slattery, Liev Schreiber and Billy Crudup in supporting roles who carry the story through till the very final frame.
Slattery brings his exasperated charm from Mad Men into the role of managing editor Ben Bradlee Jr. Stanley Tucci is sensational as the oddball attorney Mitchell Garabedian.
Spotlight is up for six Oscars in five of the big categories - I wouldn't be surprised if it won it for editing at all.
The verdict
Spotlight isn't a big, flashy movie, but it's a beautifully told story that says something important about our world. It is a movie I think everyone should see.
RATING: 4 out of 5
More in Catch -Deadpool: Foul-mouthed. Gore-fest. Arguably the funniest superhero movie ever
How to Be Single review: funny, enjoyable and messy in an all too real way
Feminist Fatale: an essential lesson in feminism from the Powerpuff Girls