Sanjeev Sanyal's new book tells us why Ashoka the Great was not so great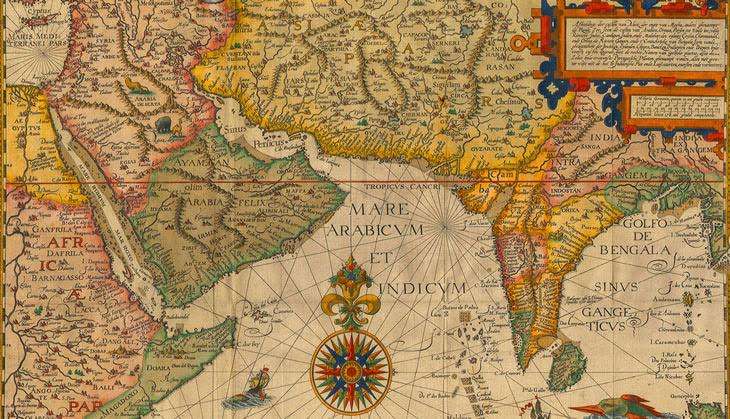 How many writers do you know who are willing to chuck their cushy jobs to travel around the world and write about it? How many writers do you know who take all existing accounts of history with a pinch of salt? How many writers do you know who take their school-going children along to see the world - because that is real education?
Sanjeev Sanyal is not your run-of-the-mill writer. He is also an economist, an urban theorist and a map collector. Sanyal collects enough material for four books before he gets down to writing a new one, and he is capable of writing on a wide range of topics - from economics to history and everything in between - and therefore, you can never predict his next. Most importantly, he keeps the tone of his books light, almost conversational, because historical accounts should be read by all, not just academics whose love for jargon is hardly a secret.
After around eight years of research, Sanyal is ready with The Ocean of Churn: How the Indian Ocean Shaped Human History, published by Penguin Random House. The book is a first-of-its-kind documentation of human history as it unfolded along the rim of the Indian Ocean.
We see the world from Sanyal's eyes - the Complex Adaptive System, as he calls it - and describes it as a chaotic place where the flow of events is influenced by a host of factors. We learn of a world that existed long before Vasco da Gama led the Portuguese fleet into the Indian Ocean in 1497-98. A world we thought never existed.
We learn that the notion - that people living around the Indian Ocean existed only as part of a supply chain of spices to Europe, with no independent way of life - is hugely distorted. We learn that Indian soldiers and mercenaries served in faraway lands since ancient times. How matrilineal customs have shaped the history of the Indian Ocean, and that Ashoka the Great, was not so great after all.
The Ocean of Churn
Revisiting History
Sanyal gave up his job at Deutsche Bank to write this book.
"I am a mad enough guy to do that. I have done this before," Sanyal tells Catch.
"I gave up my job in 2008 too when I was writing Land of Seven Rivers. I was in Singapore then. I got my kids back and we spent around two and a half years travelling around India. My kids were quite young then, they are NRI kids and a part of the project was to show them India, the country of their origin. We travelled all over. My kids missed a lot of school, but nevertheless they got a great education. I dedicated the book to my kids."
For The Ocean of Churn, Sanyal travelled extensively between 2012-2015.
"I think it is important for a writer to get a sense of the place he is writing about. Unfortunately, most writers don't do that. While the travelling was done while I was still working, I resigned in November 2015 to write the book. The actual writing took me around four to five months."
Sanyal is miffed that almost all accounts of the Indian Ocean are from western scholars and we tend to take their versions as the last word.
"One would get the impression from these narratives that the history of the Indian Ocean came into being only after the Portuguese arrived on the scene and that it effectively stopped with the withdrawal of the colonial powers. Ancient Indian mariners, Arab merchants and Indonesian maritime empires are simply left out or are presented perfunctorily in an opening chapter as background material," he writes in the introduction to the book.
However, he has a problem with indigenous accounts too.
"Their writings have introduced a local perspective to the narrative and restored some balance. However, one major shortcoming of their approach has been a narrow focus on a particular country or region rather than on the broader picture of the Indian Ocean. This is misleading in its own way as it does not fully acknowledge the interconnectedness of the region's history."
Brimming with interesting trivia about India, The Ocean of Churn is an attempt to remedy the shortcomings of both these approaches.
Ashoka, the Crook?
In the introduction to the book, Sanyal says that Ashoka's greatness is partly political propaganda and should be taken with a pinch of salt.
In the book, Sanyal writes: "The Mauryan emperor Ashoka who is often portrayed in conventional histories as a great monarch and a pacifist. However, when seen from the perspective of the coastal state of Odisha, he appears much less benign."
When asked about this, Sanyal says, "We are eternally told how great an emperor Ashoka was. Orissa is hardly ever mentioned in our history books given its maritime significance. The only time it finds a mention is because of Ashoka's invasion of Kalinga. So I decided to find out what Oriyas had to say about this."
"It is not clear if he was regretful of that because none of the inscriptions in Orissa mention his regret. If you take the Oriya view then he is quite obviously a crook."
Sanyal started investigating if the Oriyas had any record of what they thought of the invasion.
"Once I got into it I realised there is no evidence of him being a good king anyway. It is a rather made up story. There is a record of the Oriyas revolting against him. There is a chapter on King Kharavela who ruled a generation or two after Ashoka. He revolted against the Mauryas and he sacked Pataliputra and has left us an inscription which he placed in front of Ashoka's inscription to make the point that 'Look! I went to Pataliputra and I destroyed your empire'. So obviously the Oriyas had not forgotten Ashoka. They had not forgiven him."
Unfortunately, the Oriyas have not written down this history. At least in not in a systematic way. Sanyal, through his book, is trying to remedy perceptions like these.
'WTF': UFO to crash into the Indian Ocean on 13 November
Sanjeev Sanyal
India's Cambodia connection
The story of the Indian Ocean churn began with Nandi Varman II - a 12-year-old prince - who was unexpectedly invited from Cambodia to rule a faraway kingdom in India in AD 731. This led to the churn of people, goods and ideas along its shores.
Unfortunately, the only fact we learnt at school was Vasco da Gama's great voyage.
"Maritime history only attracts some attention with the arrival of the Europeans. However, this completely ignores the rich maritime history that pre-dated Vasco da Gama's famous voyage. Thus, the Cholas of India, the Majapahit of Indonesia and the Omanis are mentioned almost as footnotes. This is the equivalent of telling European history with little reference to Athens, Venice or the Vikings," writes Sanyal.
He also makes a significant point about the growing significance of the Indian Ocean - that the pendulum is now gradually swinging back.
Sanyal also quotes Robert Kaplan, who argues in his book, Monsoon: The Indian Ocean and the Future of American Power, that the geopolitics of the twenty-first century will be decided by events in the Indian Ocean rim, to back his belief.
"This is not farfetched given the demographic weight of countries like India and Indonesia, the natural resources of the Middle East, East Africa and Western Australia (yes, Australia is also an Indian Ocean country; people forget that), and the complex political-cultural mix of the region."
To keep the tone light, Sanyal makes an occasional joke in the book: "This means that the Neanderthals did not entirely die out but live on within us. Of course, this finding merely confirms what has long been suspected by anyone who has attempted to drive on the roads of Delhi."
One of Sanyal's best chapters is his last where he has rewritten the independence movement from the perspective of the revolutionaries.
His conversational style is a constant reminder that this book is not an academic tome. But, given the information that he has packed in, it can put a lot of tomes to shame. What's more - it will leave readers with a wanton craving for more.
"Debris in Indian Ocean belongs to Boeing 777"