RIP Mudrarakshas: the Hindi playwright who refused to take up a job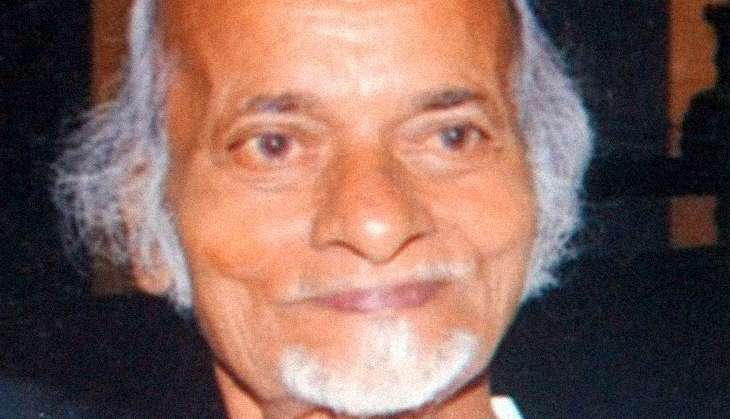 Senior Hindi litterateur and theatre artist Mudrarakshas is no more. He passed away in his ancestral city Lucknow on 13 June. The 83-year-old writer was suffering from age-related illnesses for quite some time.
Subhash Chandra aka Mudrarakshas was known for his rebellious tone, distinct style and multi-faceted literary talent. He was the most senior among the older generation of writers from Lucknow that was once famous for the trio of Bhagwati Charan Verma, Amritlal Nagar and Yashpal. The city of Nawabs was already deprived of other literary greats like Shrilal Shukla and Kamtanath and the demise of Mudrarakshas is yet another grave loss.
Also read - Hinduism has been reduced to what you can eat and what you can't
Born on 21 June, 1933, in Behta village of Lucknow district, Mudrarakshas came under the artistic influence at an early age. His father Shivcharan Lal 'Prem' was a master 'Swang-Sapera' and 'Nautanki', the popular forms of the folk theatre in UP.
Mudrarakshas became well versed with the nuances of Nautanki under his father's tutelage and was already experimenting in this form by the time he reached adolescence. This was also the time when Mudrarakshas was attracted to literature. Once drawn into the wizardry of words, he never looked back.
He vowed to never take a job
In 1955, Mudrarakshas completed his Masters' degree in Hindi from Lucknow University with a gold medal. He was offered a job of assistant editor at the Kolkata-based Gyanodaya magazine in the same year. It was a big deal for any young aspirant from a small city like Lucknow in those days.
Mudrarakshas accepted the offer and joined Gyanodaya. His talent was instantaneously recognised at his workplace. He stayed with Gyanodaya until 1958. Mudrarakshas had strengthened his reputation to the extent that he joined Anubrat as an editor in 1959. This platform also proved to be beneficial for the growth of his career.
In 1962, Mudrarakshas was appointed as script editor at All India Radio. He made a valuable contribution to the radio medium during this period while continuing his literary work. He left the job in 1976 on issues of principles and vowed never to take up any other job. He remained true to his word till the last day of his life.
Innumerable accolades
After resigning from All India Radio, Mudrarakshas left Delhi and returned to Lucknow. He spent the rest of life in this city as an independent writer. The prolific artist as he was, Mudrarakshas directed 16 plays and wrote more than 15, out of which, nine were published. Besides, Mudrarakshas also has 12 novels, five story collections, three satire-collections and five critiques to his name.
Such a wide variety of work won him several awards and honours including Rashtriya Sangeet Natak Akademi Award, Uttar Pradesh Sangeet Natak Akademi Award, Sahitya Bhushan Samman conferred by Uttar Pradesh's Hindi Institute, Dalit Ratna Samman, Shudracharya Samman.
Mudrarakshas was always a non-conformist. His famous anthologies of satires Mathuradas ki Diary and Rakshas Uvach were a scathing commentary on the contemporary scene of Hindi literature. Some of the newspapers who published his satires found themselves in trouble as people pelted stones at their offices and eventually editors had to abandon his columns with an apology.
However, Mudrarakshas was undeterred. He continued writing without fear or compromise. He extensively researched Hindu religious scriptures and came up with a masterpiece like Dharamgranthon Ka Punarpaath.
'Argue with me to understand me..'
Mudrarakshas courted controversy a few years ago when he declared Amritlal Nagar as a "third-grade novelist" from the public stage. It was a programme organised to venerate Nagar, Bhagwati Charan Verma and Yashpal. Comparing Nagar's work with some of the leading novels of world literature, Mudrarakshas stated that Nagar should have tried his luck in archaeology.
It is worth mentioning that Nagar had given the dictation of his popular novel Boond Aur Samudra to Mudrarakshas and even mentioned his name in the preface. As soon as Mudrarakshas criticised Nagar, there was a commotion among the audience. Soon, some people started shouting slogans against Mudrarakshas. Some even charged towards the stage. But Mudrarakshas remained composed and kept repeating, "Argue with me, I will explain myself." However, few people listened to his words. There were not many people in India who could take on Mudrarakshas in a debate.
Fiercely independent
Mudrarakshas was a voracious reader of Indian as well as foreign literature until the last days of his life. He was admired for his strong character. His body had become frail when he visited Lucknow's book fair for the last time. He was having difficulty climbing up the stage and people had to assist him.
The first thing Mudrarakshas said from the microphone was this, "It is difficult to believe that I have grown so weak. I have considered myself as a strong man, but now I need people's support to move. I have never been a burden on anybody in my life". It was a strange experience to hear these words from Mudrarakshas.
People had always known him exactly as he had depicted. Perhaps, Mudrarakshas had realised for the first time that the age had caught the better of him. It was also a revelation for his admirers who could never comprehend that even Mudrarakshas could be vulnerable.
However, Mudrarakshas never recovered after this incident. After a long struggle with diseases, he breathed his last at Lucknow's trauma centre on 13 June.
He must have even thinking even during his last moments, "How could I have become so weak?"
More in Catch - 'Our crisis is not economic. It is cultural' - Udayan Vajpeyi