Remembering Rajesh Khanna, Bollywood's first superstar, on his 74th birth anniversary
The word superstar was coined for Rajesh Khanna. The actor became a superstar at the age of 28 and was dethroned by the time he turned 32. He could never reclaim his throne, but in his head he remained the undisputed king of Bollywood, because "a king dies a king...whether on the throne or in exile."
The king would have celebrated his 74th birth anniversary today.
In the 1970s anything that he touched became gold. He achieved the kind of fame that no film star had ever experienced before, or, perhaps, has since. He starred in a series of hits - doing up to half a dozen films a year - but that, many believe, also became the reason of his undoing.
Though Khanna died four years ago, a lot of him had died much earlier. Tragic stories of his loneliness, destroyed by his own stardom, are many.
Yasser Usman got interested in Khanna's story shortly after the superstar passed away. He decided to piece together the Rajesh Khanna puzzle in a biography - Rajesh Khanna: The Untold Story of India's First Superstar (Penguin).
The book was a bestseller.
Usman spoke to Catch about Khanna, the superstar women were madly in love with. Khanna's shy smile, his trademark head tilt and his fluttering eyelids were enough reason for women to marry his photographs!
He talks about Khanna's charisma, his rather colourful life, his complex personality, his relationships and rivalries and his deep-seated insecurities.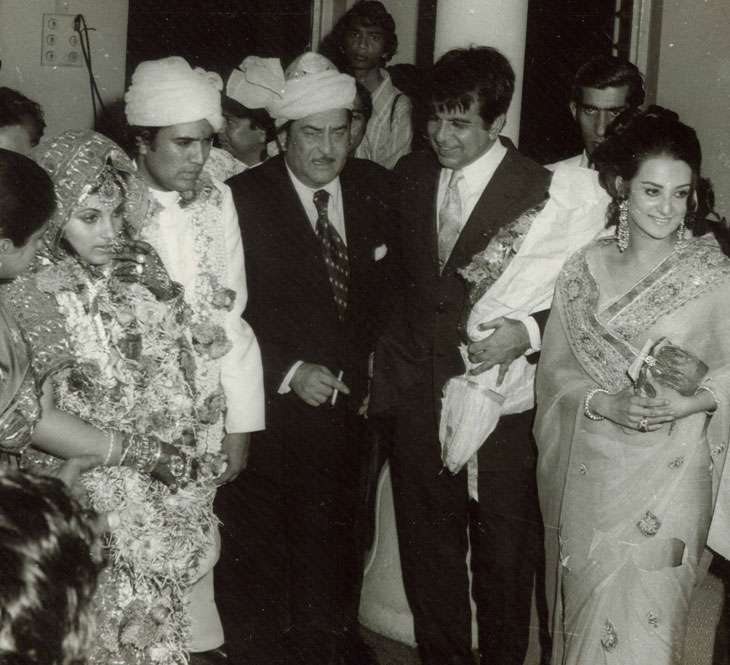 Rajesh Khanna getting married to Dimple Kapadia
Edited excerpts:
LH: How did Rajesh Khanna get enveloped in his loneliness? Where did he go wrong? Was he a victim of his own bloated image in his head?
YU: I think to understand his downfall we'll have to understand the extent of his success. In those 3 years (1969-72), it was as if Rajesh Khanna had turned into a philosopher's stone. Whatever he touched turned into gold.
We have heard stories of girls marrying his photographs. 14-15 hits in a row. Mass hysteria. There was no example of this sort of exceptional success before him.
You know, you may analyse it now, but just like there was no singular reason for his extraordinary success, there wasn't any one particular reason for his downfall. Perhaps times were changing. The rise of Amitabh (Bachchan) as the angry young man, action films had started doing well.
Rajesh Khanna was primarily a romantic star. Action was never his forte. Plus, every year an average of 6-7 Rajesh Khanna films were released. So overexposure. His trademark mannerisms had become too predictable and overshadowed his image as a serious actor.
But I think fate played an important factor. How else can you explain it?
Some of his close friends told me that the constant barrage of scrutiny on his personal life affected him badly. The coterie around him was also blamed. When the films flopped, Khanna would say, 'My films have flopped, I have not. I am still the superstar'. So this wasn't an easy situation for him to accept.
Rajesh Khanna with Sharmila Tagore
LH: Was the word superstar really coined for Rajesh Khanna?
YU: Yes, the word was coined for Rajesh Khanna. It was coined by PRO Shabd Kumar in 1970, and later journalist Devyani Chaubal popularised it through her famous column 'Frankly Speaking'.
He became the biggest superstar of Hindi cinema at the age of 28 and then lost the throne by 32. But in his mind he always remained the king. He had said, 'A king dies a king...whether on the throne or in exile!'
LH: So what was he really -- the king of romance or a symbol of tragedy?
YU: He was the king of romance who always had a penchant for enacting death scenes. Those mannerisms that later became predictable created magic initially. The shy smile, the occasional tilt of the head, the flutter of the eyelids, the earnest voice. Virtually every woman across the age spectrum was a Rajesh Khanna fan.
I think when you ask about him being a symbol of tragedy you are referring to the last few years of his life when success left him.
There are so many stories of his (bloated) ego, his spite, a larger pattern of behaviour, discussed in detail in the book. He experienced epic success and immense failure. It's a phenomenal story.
LH: Why was he such a phenomenon? Girls writing letters to him in blood...
YU: I think the films that made him the superstar - Aaradhna, Kati Patang, Do Raaste, etc. had fabulously written roles. He was projected as a winsome, cute, boy-next-door, loaded with a disarming smile and a voice laced with honesty. He had a softness that was irresistibly charming. But more than that, I think he represented both the new generation's bold attitude as well as the diffident old world charm.
Almost all the 60 or 70-year-old Rajesh Khanna 'fan girls' I interviewed for the book, told me, 'Aap nahi samjhoge what Rajesh Khanna meant to me. No matter whom he romanced on screen I always felt I was the one he was really in love with.'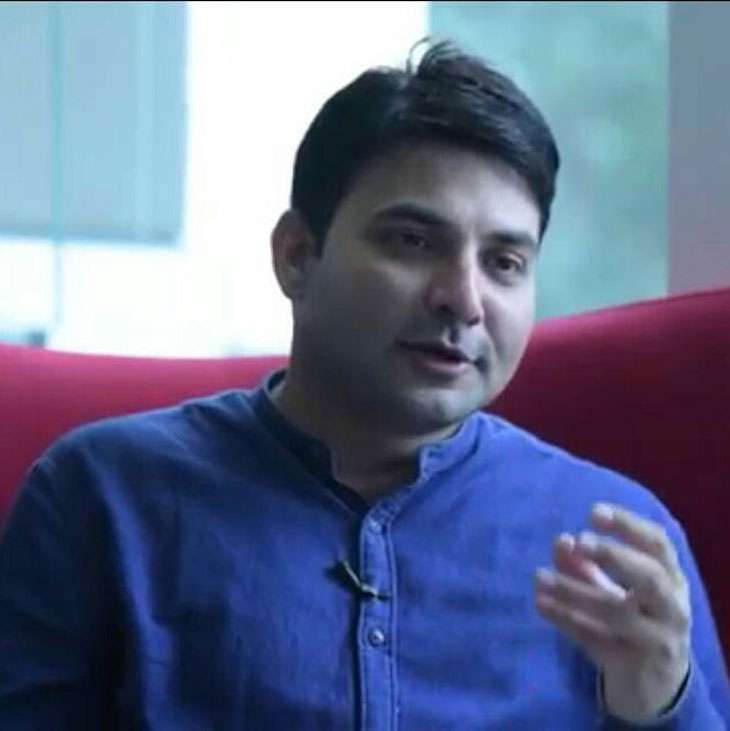 Yasser Usman
LH: You seem to have mastered the art of telling superstar stories. Both your books (on Rajesh Khanna and Rekha) are top of the charts...
YU: Yes, both have been popular stars but the reaction of the readers was quite a revelation. I think it was the storytelling, research and treatment that made the difference. I wanted to tell their stories as a cinematic journey.
All of us know Rajesh Khanna was one of the biggest filmstars ever, but what was he doing when his stardom was slipping away? What did he go through? Many filmstars of his generation including Amitabh Bachchan were able to make a strong comeback. Rajesh Khanna could never do it.
There were painful stories of loneliness his close associates narrated to me. He had himself said, "If I'd enjoyed moderate success, it (failure) would have been easier to adjust to...but falling from that height has bruised me and left me internally bleeding. The hurt is much more because I fell from Mount Everest."
Now this was an epic story of his massive success, his monumental failure, his insecurities, rivalries, relationships and everything was interconnected. It is also the story of how the Hindi film industry functioned in that era.
Meanwhile, in the case of Rekha, it was a typical underdog story. A 14-year-old girl from Chennai comes to the Hindi film industry and challenges the norms through her outspoken attitude and sexual openness.
There were incidents of exploitation, she battled it and went on to become a superstar, the diva. I think stories like this need to find their voice now, because the trend of exploitation is old, but stories of triumph are far and few. I think that is what humanises the story and also helps one pin hopes on it.
That is why both these stories connected with people.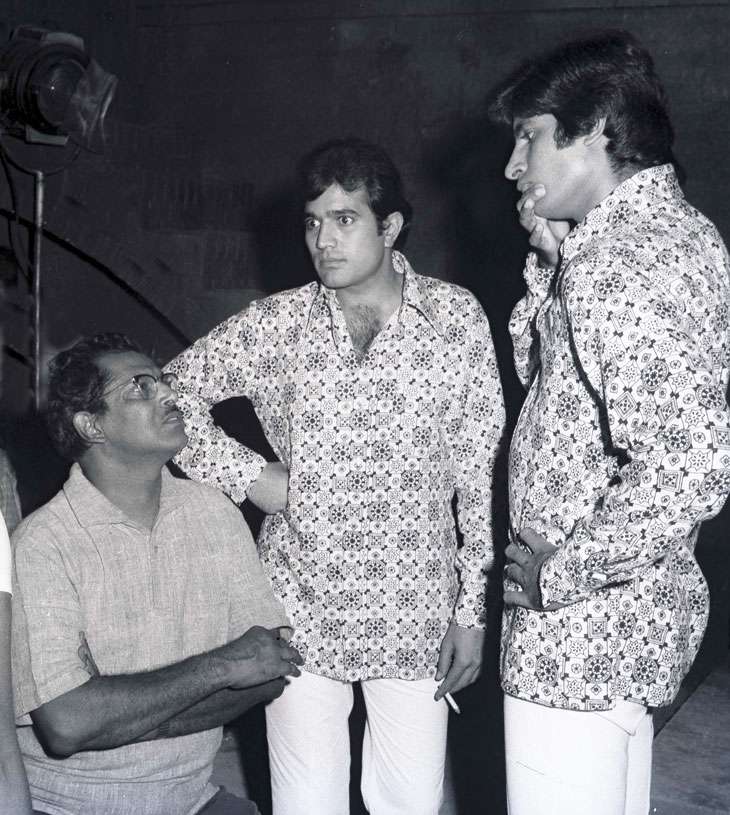 Rajesh Khanna with Amitabh Bachchan
LH: How similar or different is Rekha's loneliness from Rajesh Khanna's?
YU: You can't compare the two stories. It's lonely at the top. There were episodes in their lives when they were down and out. After his stupendous success, Rajesh Khanna had a string of flops. His personal life was in tatters.
Similarly, when Rekha's husband committed suicide, she was blamed for it and the film industry was unanimous that it didn't want her back. They called her a witch and a man eater. In show business your success is highlighted, but then your humiliation is even more magnified.
You've no close friends or family. Despite being heartthrobs and most loved stars, you are acutely lonely.
LH: Like Rekha, you never met Rajesh Khanna. What are the challenges in telling such a story then? Would their accounts have mattered? Would that have changed the storyline - your perceptions, their inputs?
YU: Yes, one can say their inputs would have definitely added a new angle and might have resulted in a richer and more nuanced account.
But then I also feel celebrities in India only want to talk about their achievements or their greatness. There is nothing wrong with that but it is more often unidimensional and boring. More like a PR exercise. They are not open to the idea of talking or writing about their insecurities, rivalries or what affected them at various phases in their lives.
Just look at the biopics we make - Dhoni, Azhar, Anna Hazare...they are only concerned with projecting a good image.
So if your subject is unwilling to talk or has passed away, should you never write about them? How do you ever write about history? In the case of both Rajesh Khanna and Rekha there was incredible media coverage.
These stars were vocal about all the episodes in their lives, including their personal lives, rivalries, setbacks.
So the challenge was to gain access to such interviews from the archives and separate the wheat from the chaff. To talk to people close to them personally and professionally and try to piece together a balanced, journalistic story in all its three-dimensional capacity.
LH: Rajesh Khanna was in complete denial of the existence of his biological parents. Why? Are his daughters too in denial of him?
YU: I don't think his daughters or the family is in denial of him. They were with him throughout the last months of his life. They talked about him in many interviews and continue to do so.
But yes, during my research I realised Rajesh Khanna never talked about his biological parents. It is common knowledge that he was an adopted child. But I noticed a stark absence of any mention of his biological family in all his interviews.
In fact, he went to the extent of fabricating stories and providing fictitious names of his sisters. I was curious about whether there was more to this story.
His Man Friday, Prashant, told me that there was not even a single photograph of his real parents in his home - Aashirwad - nor ever a mention. He had a real elder brother and he used to refer to him as his cousin. It feels that the events of his early childhood had a huge bearing on his heart and mind. I think such incidents leave a deep impact on one's psyche.