Not just a bookseller: in Ram Advani, Lucknow loses its cultural nerve centre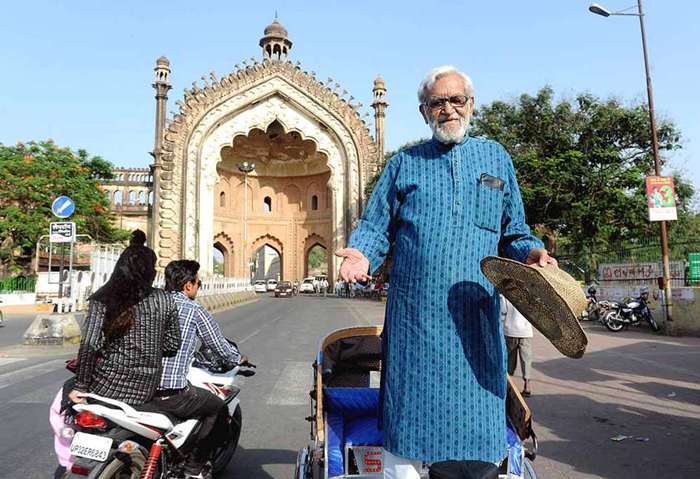 If you walked into the Lucknow's bustling Hazratganj, you'll see a cinema hall called Mayfair, with it's shutters down. You'll also see a red board, with white text that reads Ram Advani Bookseller.
If you proceed towards the store, there will be a glass door leading inwards, set beside a left framing window where books are on display. If you enter, you'll find that the bookstore itself is a squarish space, with bookshelves on the left and right, and a large book rack with magazines on display on the extreme left.
Read: Publishers can be booked for two years for failing to deposit books in public libraries
Natural light will illuminate most of those books. And you will hear very carefully curated Western classical music - not just any Beethoven - but a piano concerto by Andsnes, perhaps.
And till only few months ago, you'd also be welcomed by the proprietor of the book-store, Ram Advani, sitting by the phone on a chair, in either a resham or a chikan kurta, or - if it was winter - in a round neck sweater and coat.
He played cupid, and not only to his customers
If you were new to the store, he'd ask you why you were in Lucknow. He'd help you meet people, help you set your anchor down in the new city. But if he recognised you, then he'd have a long list of books that would interest you stacked in the back.
And he would be able to tell, from the way you looked at the book and smelt its pages, whether you were going to buy the book or not.
Ram Advani passed on this week. Quietly and in his sleep. As the news reached his admirers, Twitters was full of tributes.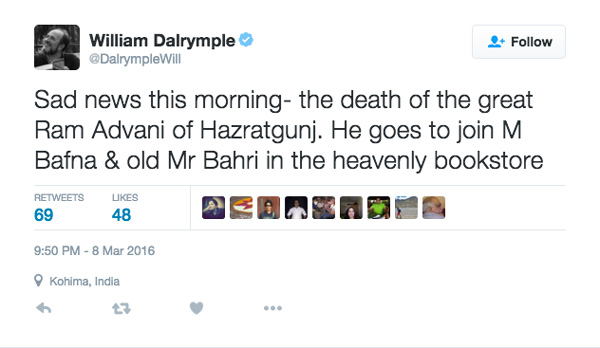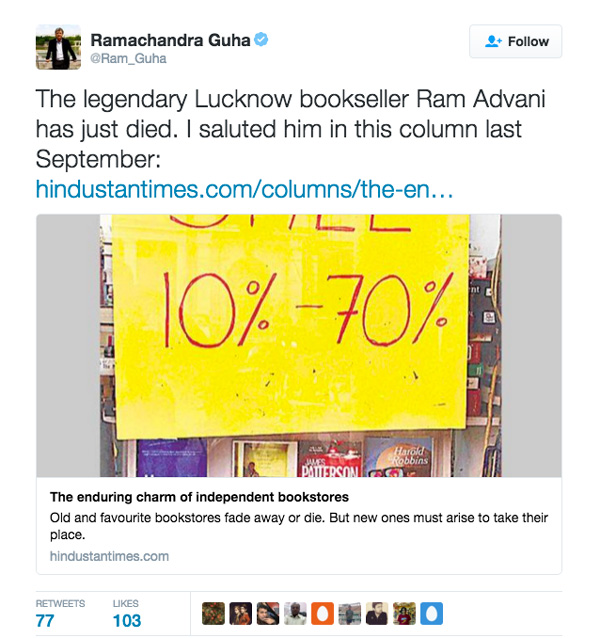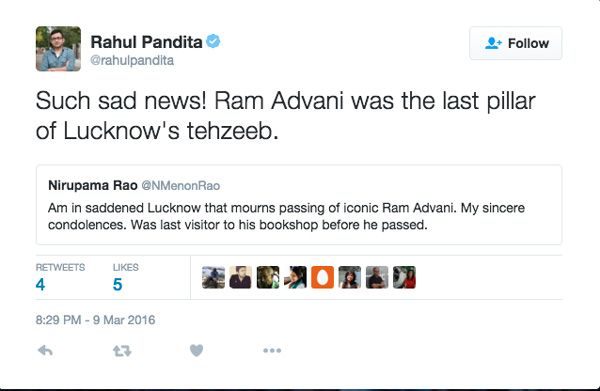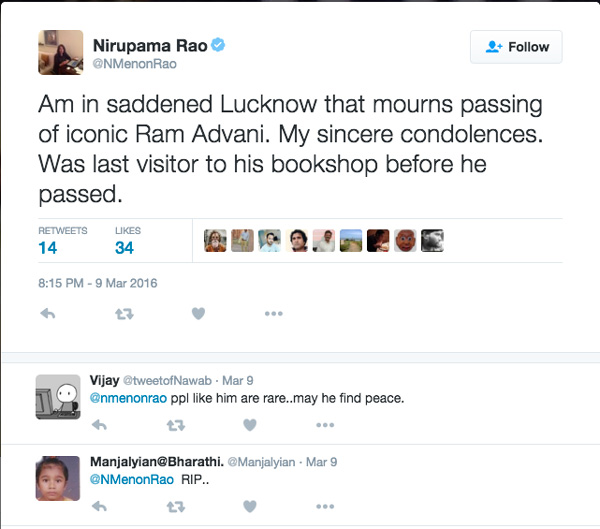 And this isn't all out of romantic wistfulness either. If you were an academic, intending to perform any research related to Uttar Pradesh, Ram Advani was your academic advisor and bibliographer rolled into one.
And if you were a hapless tourist in Lucknow, Ram Advani Booksellers would become your equivalent of a Parisian cafe- you could find someone to discuss birds, cinema, music or locomotives. However incongruous your interests, you had an eager ear willing to put you in touch with books and authors who shared it.
His nephew, Mukul Manglik, remembers one of Advani's favourite anecdotes, "He once recounted to me how a Dutchman came to Lucknow and came to the bookshop in distress. He had had all his papers stolen. With no identification papers, he moaned, "I am nobody now".
If you were a hapless tourist in Lucknow, the shop would become your equivalent of a Parisian cafe
And Advani responded, "Don't worry. You can be anybody now".
If Advani prided himself on his ability to provide a safe house for his clients, it wasn't out of sheer benevolence. It hard returned great dividends in the past.
Because that's how he met his wife.
In the early days of his business, visiting his bookshop was a respectable reason for college girls to visit the mall - even if the real destination was the cinema. His wife was one of those young women.
And just as he'd charmed his way into the hearts of authors and academics for the subsequent decades, he found a customer who shared his nuanced love for Beethoven. And married her.
When she passed away last June, he hadn't been able to come to terms with her loss. He hadn't imagined that, she, a decade younger than he was, would be the first to go. "He didn't even know where his own medicines were kept," says Manglik.
Advani found a customer who shared his nuanced love for Beethoven. And married her
But in a few months, he bounced back, if only out of love for his bookshop. On his 96th birthday, he let known to his friends, including Pradeep Kapoor, his neighbour. "I will work for three more years. I think I could retire by my 99th birthday".
His zest for mulling around his bookshop isn't surprising to anyone who knew him. The richness of Advani's knowledge only equaled the richness of his life. He has dined with Viceroys, conversed with Jawaharlal Nehru, gifted Lala Amarnath his first cricket kit (when Advani was president of the Lucknow University cricket team), provided solace to budding authors and lost tourists, and narrated all those stories to anyone who dropped by Ram Advani Booksellers.
But only between 10 am and 1pm, or 4 pm and 7 pm on any given day.
Edited by Aditya Menon
More in Catch:
On Fukushima anniversary, can we forget the dangers of Kudankulam?
Saffron journalism: Zee News & art of manufacturing anti-nationals
Your genetic makeup decoded for under $1,000. Are we prepared for the fallout?