Popular Tamil writer Ashokamitran dies at 86. Here's why he was truly unique
S Murari
| Updated on: 25 March 2017, 8:51 IST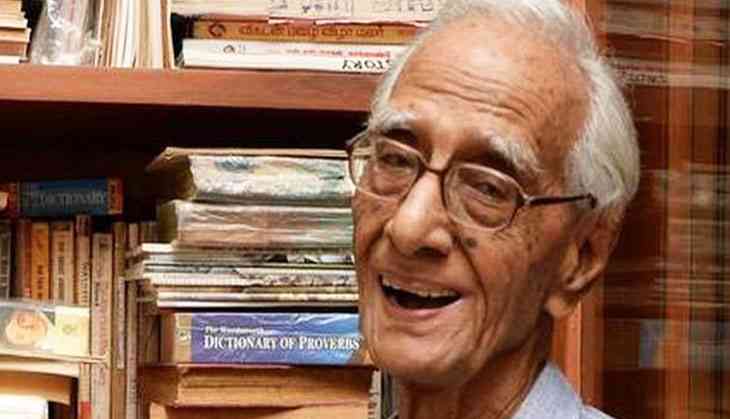 Award winning Tamil writer Ashokamitran, who carved a niche for himself in literary circles with his inimitable style, passed away in Chennai at the age of 86.
Born as Thiagarajan in Secundarabad (now in Telangana), he moved to Chennai at the age of 21. In the 1960s, he started writing in Tamil as a full time vocation and became known for his writing style that is marked by subtle humour.
Recognition came to him early when he won the Sahitya Akademy award for his collection of short stories, En appavin snehidhar (My father's friend). However, his first work to win an award, was a play Anbin Parisu (Reward of love).
He was a winner of the University of Iowa Creative writing fellowship. He had won Tamil Nadu Government prize thrice.
He vividly captured the milleu of the 1960s and 1970s and most of his works were based on his own experiences. For instance Pathinettavathu Atchikodu( 18th parallel), is an evocative story set in Hyderabad during the Nizam period as well as after Independence.
It was Ananda Vikatan editor SS Vasan who recognised his talent early on and hired him to work at his Gemini Studio. On the basis of his experiences there, Ashokamitran came out with a novel Fourteen years with the boss (Vasan) and Bioscope (a term often used in Tamil Nadu for the film world).
He also portrayed Chennai of the common folk in his works like the Ghosts of Meenambakkam. He wrote: "My life had indeed become meaningless to me. Even lack of sleep was not a concern for me; only hunger remained a sensation worthy of articulation. Once that hunger was assuaged, I would return to my inert state."
Chennai was the centre piece of another work of his, Chennai city, a kaleidoscope.
He was among the most prominent editors of Kanayazhi, a literary magazine.
He had written over 200 short stories, eight novels and 15 novellas. His works have been translated into English, Hindi, Malayalam, Telugu and other languages.
Some of his best works were Manasoravar, Still bleeding from the wound, Star- crossed, Puthiya Tamil sirukathaigal (New Tamil short stories), Indru (Today) and Thaneer (Water).