Point Break review: 8% on Rotten Tomatoes. That says it all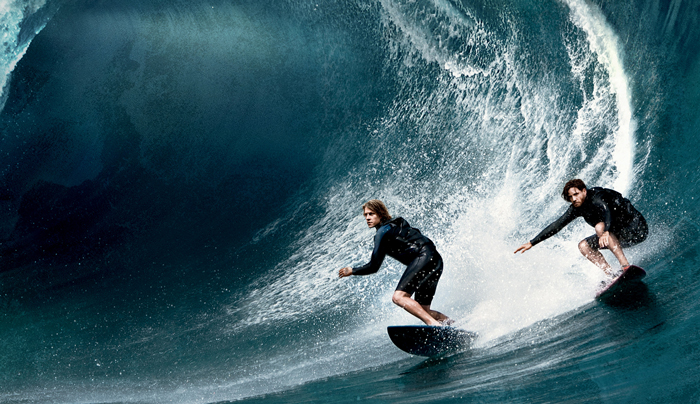 If you've watched the trailer of the new Point Break remake, you'll be struck by one line: "I believe that, like me, the people behind these robberies are extreme athletes."
You can't do much better when it comes to communicating the film's stupidity, but the "ancient proverb" that kicks off that trailer, does just that: "There are some who do not fear death for they are more afraid of not really living."
Gibberish
A remake of Kathryn Bigelow's 1991 film, this is a disaster (I'm being gentle).
It's sincere brainlessness, similar to the Fast and Future franchise thanks to all that jacked up adrenaline. (Director Ericson Core was the cinematographer on the first Fast and Furious film).
The only thing that elevates Point Break to a watchable level are the jaw-dropping, nerve-wracking visuals. There's so much going on in the way of flying, snowboarding and cliff-climbing that when it's focused solely on this, the film actually becomes beautiful and thrilling.
Also read -If you're any kind of Star Wars fan, you're going to see The Force Awakens anyway. For the rest: review here
But then people start talking again and your brain collapses.
If you don't believe me, sample this: there is a point in the movie where the characters talk about reaching the "point break." The movie its based in was called what it was because a "point break" is a particularly long lasting wave that surfers like.
Here, a character helpfully explains, it's "the point at which you break."
Hurrah.
But I guess there are worse things that watching attractive people engage in hair-raising adventures for 100 minutes of Red Bull meets Mountain Dew action.
The skeletal plot
The plot is literally just beside the point - it just takes you from one extreme stunt to another.
FBI agent named Johnny Utah (Australian soap opera star Luke Bracey) infiltrates a tight-knit group of extreme sports athletes on a hunch that they're responsible for a series of daring, global, public robberies. (See the first line).
Bracey is an incredibly poor excuse for Keanu Reeves - despite being the masculine centre of the film and all that, he's a thoroughly uninteresting onscreen presence (awesome tattoos though).
Edgar Ramirez, who steps into Patrick Swayze's role, is the only one who really makes the most of the thin material, adding a sombre note to eco-warrior Bohdi.
Eco-warriors on Red Bull. #PointBreak is a next level rush of adrenaline, but still pointless
That's because Bohdi's posse includes some interchangeable macho men - all with matching beards, thick accents and lame dialogue that make them all but impossible to tell apart.
A tonne of pseudo-spiritual mumbo jumbo follows and then the crew (including Utah) launches into over-the-top "eco challenges" that include snowboarding, cliff-diving, free-form climbing, high-elevation motocross, and wingsuit flying.
That pretty much means that every 15 minutes or so, Bohdi and his bros risk their lives, all in the name of spiritual enlightenment and raising environmental awareness.
Why?
A still from the film.
Because they are crusaders for a worthy cause. Because indulging in extreme sports will help save the world.
They're regular Robin Hoods alright: they steal from the rich and give to the poor to achieve balance with mother nature (not sure how that works). Oh and blow up, no wait, liberate gold mines.
Until, that is, the movie needs them to be Utah's villains. Suddenly, they just start killing people and stop practicing their much preached principles.
Also read -Legend review: even two Tom Hardys can't save a half-baked script
Affirmative action
The only thing not horrible at all are the eye-popping stunts. You're definitely going to feel your hurt pump faster with each dive from a cliff etc. And if you have vertigo issues you should probably not watch it (you really aren't missing much).
What makes it more real, despite use of some CGI, is that Core managed to gather a group of the best climbers, surfers, snowboarders and wingsuit pilots on earth and film them, essentially, as actors.
But despite all that awesomeness, one thing that really kills a movie is the predictability factor. And this doesn't disappoint one bit on that count.
The verdict
The fact that the movie runs out of plot long before it runs out of stunts to show off, makes Point Break a remake that really ought not to have been made.
But if adrenaline is your heroin, do yourself a favour and go to a theatre. This would be really pointless to see on a small screen.
RATING: 2.5 out of 5
Here's a bonus video of some dudes inspired by Point Break who made their own, incredibly awesome short film:
More in Catch -In the Heart of the Sea review: a not so well-spun seafaring yarn
Angry Indian Goddesses is a movie that can spark a revolution