Nasir Husain: The god of Bollywood's fun, froth & fluff no one speaks of
The name Nasir Husain is unlikely to ring a bell for many. But his films and music will.
How many times have you witnessed the crowd going wild when Bachna Ae Haseeno is played at a pub? Can you count the number of remixed versions you've heard of Chura Liya Hai Tumne Jo Dil Ko? And that anthem that is played at almost every graduation party - Papa Kehte Hain Bada Naam Karega.
Say hello to Nasir Husain.
The filmmaker who never really got counted amongst the greats of his time such as Mehboob Khan, V Shantaram, Guru Dutt, Raj Kapoor or Bimal Roy who were chasing Nehruvian socialist agendas in their films albeit with an eye on the box office.
The dominant narratives in Hindi cinema then were a comment on social inequities. Films such as Do Bigha Zamin and Mother India were seen as classics, and their makers were seen as the gods of Indian cinema.
Husain's films were young. He didn't bother to merge social consciousness with box office trappings. His focus was on music, masti and modernity.
Akshay Manwani takes us down memory lane in Music, Masti, Modernity: The Cinema of Nasir Husain (HarperCollins) and long before you finish reading it you want to give Husain a standing ovation for his struggles and his genius.
Of course, Manwani himself would have dismissed Husain as a frivolous filmmaker but for an indirect nudge from scriptwriter-lyricist Javed Akhtar.
Akhtar was hosting Nasir Husain in his show Classic Legends. In it, he touched upon various aspects of Husain's career and at the end of the show remarked - "it is time that someone spoke about Nasir Husain and told people what his legacy is".
This book, Manwani says, is a modest attempt to address Akhtar's plea.
#CatchFlashBack: When 'Who Is Aamir Khan?' trended in the era of no Twitter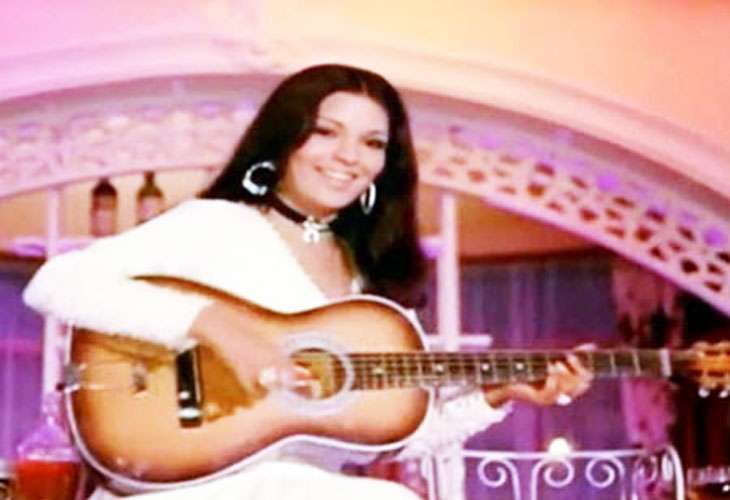 Zeenat Aman's first big hit Yaaron Ki Baarat was directed by Nasir Husain (File Photo)
The Struggle
Aamir Khan owes his career in Bollywood to Nasir Husain who was his father's older brother. He launched him in Qayamat Se Qayamat Tak. The film picked up almost every award including one for Aamir - the best male debut of the year.
Nasir Husain or chachajaan - as Aamir called him - did not like to launch "rishtadaar" (relatives) in his films. But he made an exception with Aamir, his assistant in films, only after Javed Akhtar remarked, "Woh ladka kaun hai (who is that boy)?...Yeh mera assistant hai (he is my assistant) ...Yeh aapka assistant kyun hai? Isko toh aapka star hona chahiye (why is he is your assistant? He should be your star)."
Unlike Aamir, Husain did not have a connection in Bollywood when he moved to Mumbai in the late 1940s. He had won a prize at a story writing contest in Lucknow and he believed he had a chance in the film industry. Husain wanted to chase his dream and prove to people that he wasn't quite the "badmaash, gunda, lafanga" or the black sheep that they thought he was.
Husain was that kid who barely scraped through his exam - with a 33% average, quite an embarrassment for his father, a history teacher, and the only graduate from his village. His father's early death freed him of the guilt of watching films or exploring a career in films.
His first assignment was to co-write dialogues for Chandni Raat (1949), a film he was perhaps never credited for. His work was liked and he became a writer for Filmistan Studio.
His characters in films were often extensions of him - "badmaash", "shareer" or "shaitaan". One of his first films as story writer - Munimji put Dev Anand in the top league.
"'Munimji' gave Dev Anand a new image, a dashing romantic hero, who flirts with the heroine but with a certain class and who sings with a certain style," Manwani quotes Javed Akhtar as saying.
More importantly, in his films women were as witty as the men.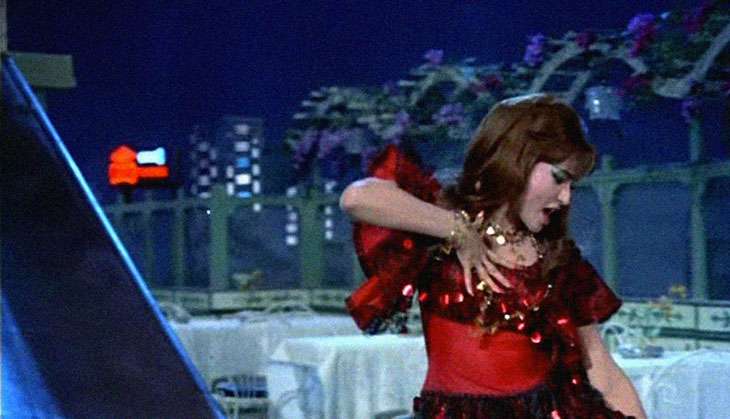 Helen dancing to Piya Tu Ab To Aaja in Nasir Husain's Caravan (File Photo)
'He was Shammi Kapoor'
Husain is credited with creating the contemporary, modern, dashing hero. First Dev Anand. Then Shammi Kapoor.
In his first film as director, Tumsa Nahin Dekha (1957), Shammi Kapoor's career, which was till then floundering, overshadowed by his brother Raj Kapoor, took flight. It was Shammi's maiden hit.
Shammi was confused by the audience's constant hooting and clapping. He feared yet another flop. 'He asked me, "Nasir, kya hua, log gaaliyan de rahe hain kya? (Nasir, what's happening, are people jeering?)
The Hindi film hero before Tumsa Nahin Dekha bore the weight of the world on his shoulders, writes Manwani. He did not have time for fun. All his energies were directed towards achieving the end that would free him of his burden. Nasir Husain changed that.
In Tumsa Nahin Dekha the jobless Shankar (Shammi's character) is not too perturbed when his uncle reminds him of his mother's long struggle in providing for him.
In Nasir Husain's world, the lack of a regular job or a mother's toils don't hold the hero back; neither does his uncle worry for too long. The hero's Teflon-hide and his penchant for flippancy deflect all problems.
In essence, Shammi Kapoor's onscreen persona was an extension of Nasir Husain's.
Aamir Khan remembers his chachajaan as a favourite with all the kids in the family, taking them for sudden adventure trips while playing The Beatles.
I think for me his films have this same quality. They are spontaneous, full of adventure, romance, fun, music and the outdoors...and highly entertaining...like a sudden freak holiday...and then, there is a always a journey in there somewhere.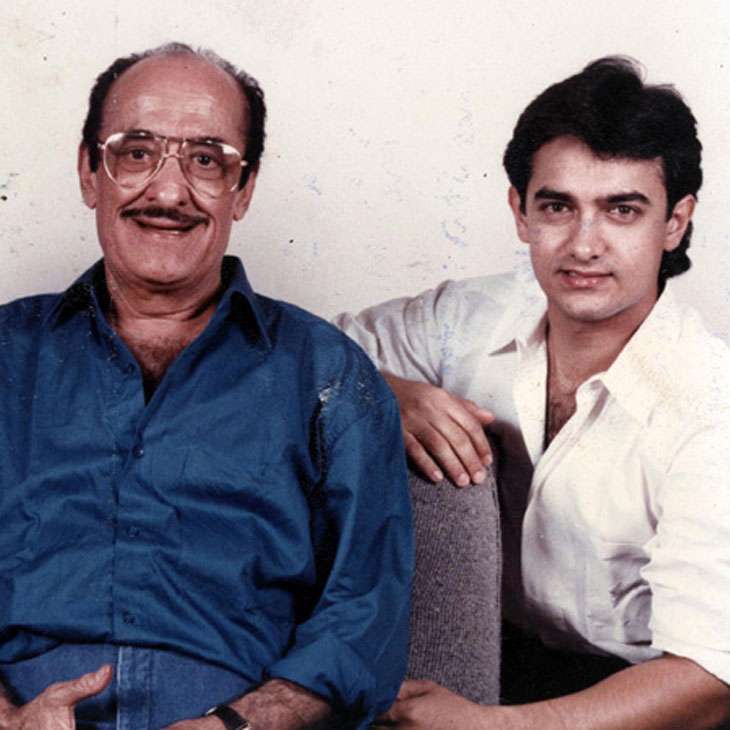 Nasir Husain with nephew Aamir Khan (File Photo)
The Nasir Husain formula
Shammi Kapoor told Nasir Husain's son, Mansoor, once, "He came to Bombay with one file under his arm. He had one script in that file and he consistently used that script again and again."
Rishi Kapoor told Manwani that Husain himself said something similar to him: "I brought this one story with me from Lucknow, which I rehash, update and remake." And in all his stories he stayed away from cities (also villages) and made up his own world.
Javed Akhtar tells Manwani.
The city is real. So he would make his own world where he was the God, the commander and the king. He would make his own culture of 'kunwar sa'abs' and 'thakur sa'abs'. It was for him to decide how life was running there and what the norms of that society were.
The point is his formula worked. The same story, the same "gunda", "lafanga" dialogues. One film after another. One hit after another.
The only time he did not follow his formula the film flopped. That film was Baharon ke Sapne dedicated to "Mahatma Gandhi, the apostle of peace and non-violence". But the film gave Bollywood its first true superstar Rajesh Khanna.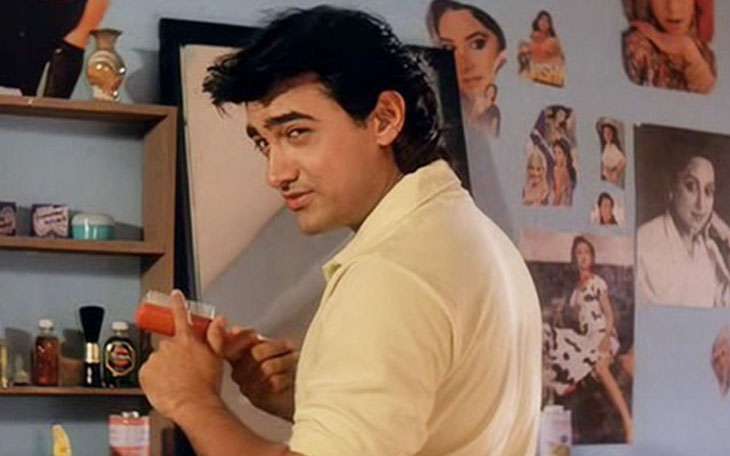 Aamir Khan in Jo Jeeta Wohi Sikandar (File Photo)
The Froth & Fluff
Younger filmmakers love him. Some emulate him too.
Aditya Chopra says the song Ruk Ja O Dil Deewane from Dilwale Dulhaniya Le Jayenge is a tribute to Nasir Husain.
"Ruk Ja O Dil Deewane' is very Bachna Ae Haseenon", he says.
Filmmaker Karan Johar has copied the Nasir Husain formula in some of his films. The song Koi Mil Gaya from Kuch Kuch Hota Hai is an ode to him. His brief to Jatin-Lalit was clear -- he wanted a Nasir Husain song.
Karan Johar calls him an underrated genius and says he himself is from the school of cinema that Nasir Husain belongs to.
He tells Manwani:
We are trying to be too clever now. We are trying to make too much sense. We don't break into song and dance as easily as we used to. The brain has superseded the heart. Logic has taken over abandon.
The times are a-changing and Johar does have a point - there's little room for fluff and froth.
However, when Nasir Husain was asked by Randhir Kapoor why he doesn't change his storyline, he said, "Each time you come (home), you tell me, 'Nasir Sa'ab you must serve us that same delectable biryani from last time. Why do you always ask for the same biryani and not something new?"
"I love the biryani," said Randhir Kapoor.
"That's precisely the point. People like my stories, so why should I give them something else."
In Bollywood, "anything that is lofty, heavy, making strong social statements or dealing with intense tragedy is always placed on a high pedestal. Fun, frolic, music, melody, good times are always considered frivolous."
That's why no one talks of Nasir Husain's legacy.

This Christmas, SRK and Kajol are back as Raj and Simran with Dilwale