MTV's Big F is television at its tackiest - and its most game-changing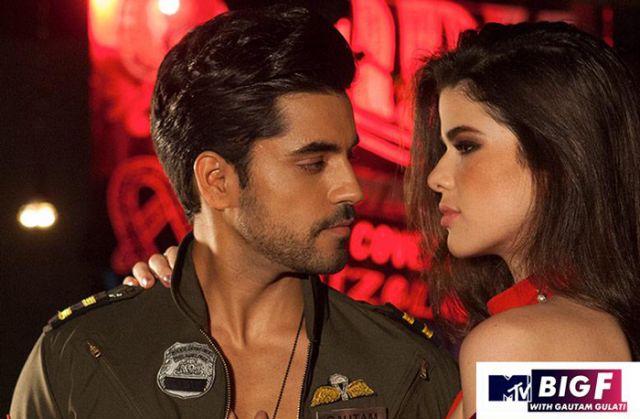 It's sleazy, tacky, fraught with terrible acting and worse production values. It is also about as subtle as the Komolika refrain in Kyunki Saas Bhi Kabhi Bahu Thi.
But Big F, a new television series on MTV, is doing something new. And under the bawdy camouflage, it's also doing something right.
Here's a quick list of episodes that have aired so far. And the lessons they have sought to impart:
Lesson 1, Episode 1: Arranged marriage to a misogynist? Say no.
Lesson 2, Episode 2: Slut-shaming a successful woman? Say no.
Lesson 3, Episode 3: And fat-shaming? Also say no.
Lesson 4, Episode 4: Reminder about saying no to slut-shaming.
Lesson 5, Episode 5: Say no to being exploited by men.
Lesson 6, Episode 6: Say yes to alternate sexualities.
Lesson 7, Episode 7: Reminder about saying no to marrying a misogynist.
The reason we refer to them not as themes, but as lessons, is because at the end of every episode, Gautam Gulati delivers a sermon dissecting the characters and explaining rights and wrongs.
Read- Twinkle Khanna: a Bollywood girl crush worth having
Gulati is the host of the show. You may know him as the winner of Bigg Boss 8. Or, you may not know him at all, because his tryst with Bigg Boss does appear to be his singular claim to fame.
But this choice of host is telling of whom the show is setting out to address. It's a show for serious consumers of Big Boss, Roadies and Splitsvilla, but with a deliberately-cultivated moral compass.
Breaking vamp
This is not a moral compass of the Ekta-Kapoor or Sooraj Barjatya kind. There is no pious blushing bride. There is no kindly mother-in-law helping in the kitchen, or a bhabhi who will teach you the khaandani rivaaz.
The women in the show are alternatively successful, ambitious, or struggling to feel empowered. They're also sexual and demanding. There is a married woman who has an affair with a pilot on an airplane; another who admits to a slew of one-night stands. Then there's one young woman who - along with the perennially slipping pallu - expresses her career ambitions and a desire to study further, and eventually acts on them.
This is a breed of morally-conflicted, sexually-forthcoming, brave woman that Indian yuppie television hasn't seen before. Because ambition, an informed sexuality and desire to fulfill one's own needs is something that has so far only been the domain of the serial vamp. Or the unlikeable female character on reality TV who feigns love to avoid elimination, because she's just so aggressive.
Rarely before has an ambitious or aggressive female character been likeable on mainstream Indian TV. But in Big F, she is. Which makes even cringe-worthy dramatic pauses and sequences where women perennially fall into the arms of broad-chested men, entirely novel.
Soft-porn clickbaiting
MTV appears to be under the impression that a series about female empowerment would not have any mass appeal. Which is why they've packaged the Big F to look like it's some sort of soft porn (it's not). Take the names of the episodes. Does Size Matter (which is an episode about fat-shaming, not so much about the size of the male member) and One Night with Raima Ma'am (which is really about Raima Ma'am's struggles with misogyny at the workplace).
They're deliberately designed to elicit a wink and nudge.
Also read- #NoGirlPower: this lesbian ad is as straight as it gets
The trailers depict long limbs, voyeuring men spying on ladies getting dressed and couples getting steamy. The YouTube thumbnails of episodes are all of couples in positions traditionally called compromising.
But in fact, said action never comprises more than a few seconds of the entire episode.
MTV's Big F is a bizarre Vagina Monologues meets Splitsvilla. And that's intentional
The show is supposed to be about "Forbidden. Firsts. Fantasies."
But the forbidden fantasies the series explores aren't of the sexual kind at all - they're at once more banal and more meaningful. The show is really about women fantasising about successful careers, being able to marry men of their own choice or simply being able to like themselves.
This is a textbook case of clickbaiting of course. The series simply wants to hide its ungainly feminist agenda behind a few scenes of couples kissing.
Which begs the question: does no one really want to watch a show about empowering women? Does MTV need to tuck its feminist agenda under a lesbian kiss? Is the sexual padding that the Big F received that crucial to its success? The answer to these questions lies in a Yash Raj production called A Man's World - another not-so-subtle series that aims to educate television yuppies about the evils of patriarchy.
A Man's World, it turns out, with none of the titillating kisses, nor women emerging from the shower, raked in ten times as many views as the Big F. In half the time. (A Man's World has received over a million views per episode. The Big F has averaged less than two hundred thousand).
Which ought to be Lesson 8, Episode 8, Gautam Gulati. Feminism doesn't have to be masked as soft porn to sell.
More in Catch:
The Stage could have been fun. Till Monica Dogra began to fat-console
Watch: here are 5 short films that will change the way you see HIV/AIDS
Indus valley civilization taught us diversity. Not Hinduism: Ashis Nandy
Expert advice: despite Cong demands, govt mustn't agree fixed GST rate