Khajuraho temple art meets Indian censorship through Akshita Chandra's work
Catch Team
| Updated on: 10 February 2017, 1:49 IST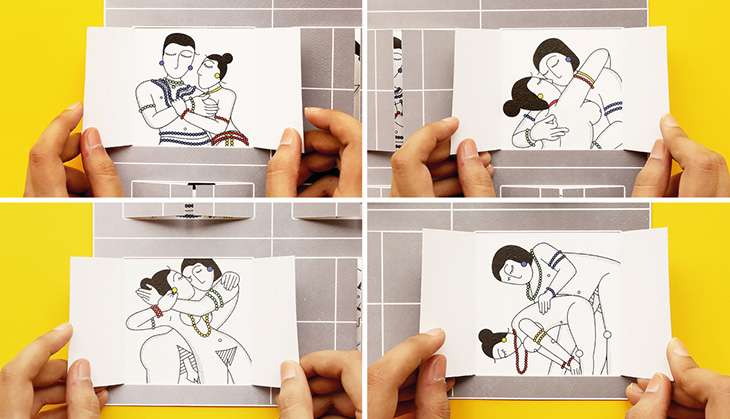 Is it a bird? Is it a plane? Nope. It's just the dark shadow of censorship looming large and wide over every artist around in India. Censorman, if you will.
Writing a book? He'll censor it. Getting cosy with your partner? He'll beat you up. Making a film? He'll go medieval on your shameless, sanskar-less rumps. It's this all-pervasive vibe of censorship that India's suddenly in the death grips of, which forms the centre point of young Akshita Chandra's brilliant series of artworks.
Also read - Rape jokes from survivors - courtesy Canadian stand-up Heather Ross
Akshita who?
Akshita Chandra
Akshita Chandra is a fourth year visual artist studying at the Srishti Institute of Art, Design and Technology, Bengaluru. As part of an art project, Chandra tried to "explore what is considered to be obscene and what is acceptable, highlighting the struggle between people and censorship/moral policing."
She took images inspired from the temple art of Khajuraho and juxtaposed it with most forms of contemporary censorship that's made news across India. The result? Artworks that are interactive so anyone can physically engage with it. "The idea was to make forms that invites the viewer to partake in the narrative with tactile elements to help 'uncensor' the pieces that then reveal what is underneath and resolve to some understanding of censorship/moral policing which is left open for them to form," she explains on her Tumblr.
Also read - By outraging over Tanmay's video, India's the real Bhat of the joke
"As part of one college project, we were supposed to include elements from history. But I wanted to make it relevant to our times and ground it in the contemporary somehow." Chandra adds that, "I also knew that I wanted to work around the theme of moral policing in society and, after discussion with some of the faculty, I arrived at the final concept." The fact that she chose to create physical cutouts was informed by her desire to make the whole artwork more tactile, and the project more participatory for any viewer.
Each artwork took about a week or so to finish and the whole project was finished in four months. Given how most art projects are prone to arbitrary attacks from right wing groups, does she feel apprehensive? "I know a lot of people may not agree with what I have to say." But is she prepared for any backlash at all? "I don't know, hopefully it won't happen." We hope so too.
Also read - Is Nihalani crazy? Udta Punjab is the anti-drug PSA this country needs