JLF 2017: 4 authors on the power of a memoir & the importance of remembering
Jhinuk Sen
| Updated on: 11 February 2017, 5:46 IST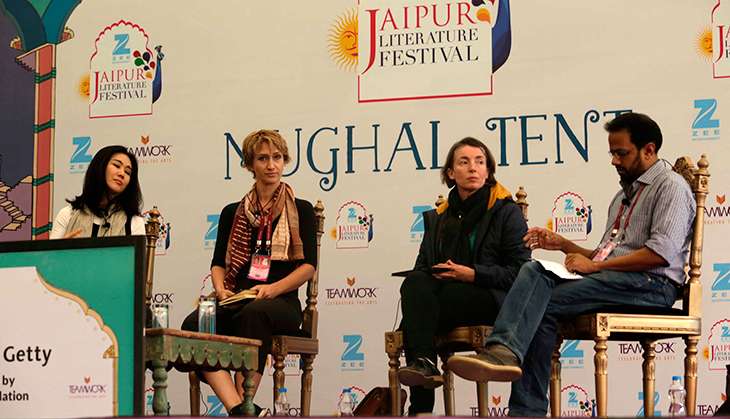 If you could write about you, would you?
And remember - "...It's a ME-moir, not a YOU-moir!"
The memoir straddles a very thin line in the literary world. Almost invented, and therefore almost-fiction, but quite not, therefore life writing - complex in its scope of honesty and history.
In a session titled Writing the Self: The Art of Memoir, authors Bee Rowlatt, Emma Sky, Hyeonseo Lee & Rosalyn D'Mello in conversation with Samanth Subramanian, discussed the beauty of memoirs at the Zee Jaipur Literature Festival 2017 (JLF), Day 3.
While author Bee Rowlatt in her memoir In Search of Mary goes on what Independent describes - "Suffering from a 'mum-life' crisis, Bee Rowlatt decides to retrace (Mary) Wollstonecraft's footsteps, taking her baby along too..."; Emma Sky is a woman in an all-man world of the US military in her memoir The Unravelling.
Hyeonseo Lee traces her impossible journey out of North Korea to freedom in The Girl with Seven Names and Rosalyn D'Mello talks about her little love-life with a lover thirty years her senior in A Handbook for my Lover.
4 authors, 4 lives
Four authors with very, very different life stories to write and talk about, came together to lay bare the problems and the limitations of writing a memoir.
"I try to avoid the idea of the memoir," said Rowlatt and brought up what author Paul Beatty said about disliking 'labels' as she mentioned that she was asked by her publisher what 'shelf' she would be on.
Rowlatt called her memoir an escape and said that she wrote it for completely selfish reasons - an adventure. After years of being trained in cut-to-the-nerve style of journalism, she has snootily looked down on 'first-person journalism', but two books later, with herself featuring so prominently in both, her perspective has changed.
Memoirs need the 'me' but, authors do NOT like labels or shelves, JLF has made that clear.
Emma Sky spoke about her time in Iraq and said that she had not thought of writing a memoir while she was there, her notes were written as 'meetings' and often there were days she had nothing on record. But most importantly for Sky, the decision to write a memoir instead of turning historian was because - "I can't be a historian because I am a participant in it."
A memoir requires intimate involvement, history needs cold, factual distance.
Though Sky says that she did send little drafts to all the people she wrote about asking for approval of the way she had shaped their narrative, she says she did it because The Unravelling is not just her story. That story belongs to the US Army and to the Iraqis in equal measure.
Hyeonseo Lee's book The Girl with Seven Names, out of all the four books being discussed at the session is perhaps the hardest book too write (and also perhaps read). Described as a "North Korean defector's story," Lee said that she has written about "stories that I don't want to remember at times".
Women and memoirs
Lee has kept the names of her North Korean relatives out of the book, so as they are safe from political prison camp, and The Girl with Seven Names is still not available in China, but she knows that it is a life, and memories that come with it, that she has to live with for the rest of her life.
But forgetting is as essential to the memoir as remembering is, and perhaps only in retrospect can we, authors and readers, find those exact, poignant memories that they need to keep alive in word.
Rosalyn D'Mello's memoir breaches that barrier between the public and the private as her book A Handbook For my Lover lays bare a love story replete with intimate details.
D'Mello revealed that she had initially wanted to call her book 'fiction' but prompted by her agent, she decided to call it what it was - a memoir.
The 'label' of fiction was that last layer of protection that the author chose to peel away to come out honest, but vulnerable.
The moderator of the session, Samanth Subramanian, asked the authors if this generation of 'mini-memoirs' being tweeted and shared on social media diluted the art of the genre or not.
Rowlatt denied it vehemently adding that books need and demand a greater magnitude of involvement and thought that a tweet or a status update does not and cannot merit.
When it comes to writing about the self and putting it our to the all-discerning public, authors, especially women authors put themselves at the risk of backlash that their male counterparts do not have to deal with.
For example - D'Mello has been asked by journalists - "What did your parents say?" and she wondered if men would have been asked that question.
Perhaps they would not. And that is perhaps exactly why women authors should keep stripping down the narrative barriers with a few memoirs more every time a question like that comes their way.