If you love music, you cannot miss the Udaipur World Music Festival
Catch Team
| Updated on: 20 February 2017, 17:03 IST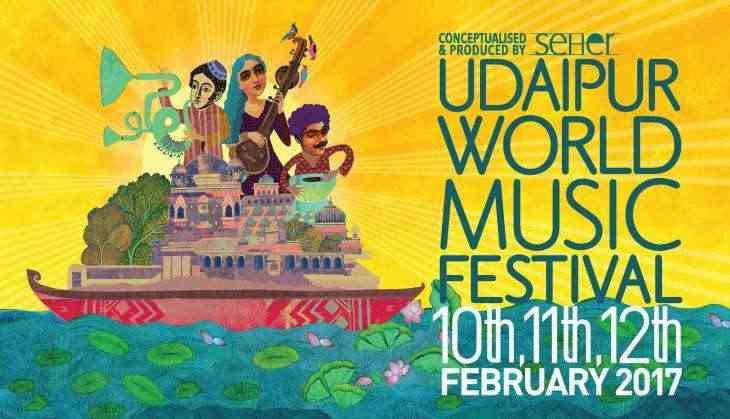 Udaipur's much-awaited World Music Festival kicked off last night with a befitting curtain raiser at Delhi's Taj Mahal Hotel. To be held from 10-12 February, the musical extravaganza will involve over 150 artists from 16 countries.
Festival director Sanjeev Bhargava welcomed the audience to the second edition of the festival, this one a day longer than the last, and seemingly grander too. Bhargava's short introduction to the festival was followed by a musical performance by Delhi-based band MAP, with Manta Sidhu on vocals, Jishnu Banerjee on guitar and Reuben Narain on drums.
What's different
"In 2014, we'd done a festival called Jayantika," Bhargava shared. "[Vasundhara Raje] loved that and asked us to start a destination festival in Udaipur, and let Udaipur become a hub for world music in India, in Asia."
At the 2016 edition of the Udaipur World Music Festival (UWMF), Bhargava said they hosted a crowd of over 25,000 people, across different venues, in two short days. This year, a 3-day affair, includes a unique Rajasthani folk music welcome party at both the newly renovated railway station as well as the Udaipur airport.
"We're showcasing Rajasthan," a proud Bhargava tells Catch. "This would be the first time [we're doing this] and the Udaipur station is refurbished. You should see it!"
Nathu Khan Babu Khan Bagadwa & group from Bikaner, and Hakam Khan & group from Barmer would be performing for the festival attendees who will flock to Udaipur from across Indian and overseas.
The two other unique aspects to this year's festival are a) an exclusive lec-dem on Baroque music by a French group at MMPS school on 12 February at 11AM, and b) Macedonian Balkan gypsyband Kočani Orkestar's performances on the streets of Udaipur.
Kočani Orkestar, Bhargava says, would "go around Udaipur to popularise the festival."
The other curious thing about the festival is that while it's free for all, on both mornings of Day 2 and 3, there are exclusive invitee only sessions at the Jagmandir Island Palace.
On being asked why he made the distinction, Bhargava says, "It's an exclusive, meditative program which is by invite only. It's part of my curation."
What's in store
The 16 countries from where we'll see artistes at UWMF 2017 include United Kingdom, Italy, South Africa, Senegal, Canada, Armenia, Turkey, Macedonia, Mozambique, Norway, Iran, Cuba and Switzerland.
Day 1 opens in the evening at 7pm at Gandhi Ground with Iranian American Singer Azam Ali and Niyaz's spiritual Electro Sufi World Music. This will be followed by the well known Kailash Kher and his band, Kailasa.
There's also a collective of musicians from Mozambique, Norway, Sweden and Zimbabwe-Monoswezi- with a new spin on traditional African songs.
Day 2 starts at 3 PM at Fateh Sagar Paal for the public with poetic renditions by Ablaye Cissoko from Senegal who will collaborate with the Constantinople Ensemble from Canada for the first time in India. This is to be followed by Kabir Café, an Indian collective whose performance is based on Sant Kabir's writings.
In the evening, Gandhi Ground will play host to Indian rock band Parvaaz and South African World Music band Hot Water. The final performers for the evening are a Bangalore based folk fusion band, Swarathma.
On Day 3, from 3 PM onwards, Fateh Sagar would host Swiss-Cuban musician Yilian Canizares who will perform Brazilian songs, Afro-Cuban rhythms and Jazz renditions. This would be followed by Indian band Advaita dishing out their popular numbers.
Italian band Officina Zoe with their Trance Therapy Music of Taranta would move the stage to Gandhi Grounds 7pm onwards. After this, guitarist and composer Dhruv Ghanekar's new project Dhruv Voyage will play some folk tunes. The finale for UWMF this year though would be a performance by the London Community Gospel Choir who do a fusion of gospel with funk, jazz and reggae.
So, have you booked your tickets to Udaipur yet?
If you need more details on the festival, follow this link.