Holi 2018: This is why the festival of colours is celebrated in India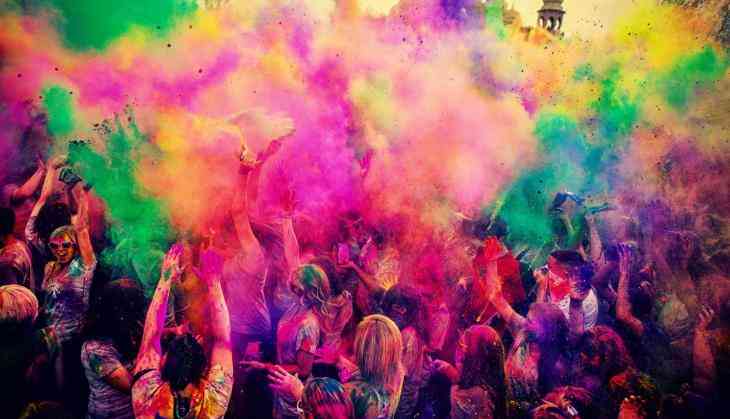 Holi is a festival of colours and is widely celebrated in India. It is a Hindu spring festival that is only festival that is celebrated in Nepal other than India. The name Holi that comes from the name 'Holika' sister of demon king 'Hiranyakashyap'. The evil king forbade his son Prahlad from worshiping Lord Vishnu. However, he used to worship Lord Vishnu despite his father's denial.
The angry demon king ordered his son Prahlad to sit on a pyre of woods along with Holika, the sister of the king. Holika had a immunity to fire 'unburnt' in spite of that she burnt to death and miraculously Prahlad was saved alive. The demon king's son Prahlad was a big devotee of Lord Vishnu and he asked for help to the lord during the event.
Since then, the burning of Holika is celebrated as Holi- a victory of good over evils. Holi is celebrated after the full moon in the Hindu month 'Phalguna' which fall generally between February and March. The exact date of the festival is determined by the Hindu Calendar and its arrival varies on the Gregorian calendar.
The festival of colors is celebrated for at least 16 days in the Brag region of India, a birthplace of Krishna. The first day is known as Holika Dahan or Chhoti Holi and the second as Rangwali Holi, Dhuleti, Dhulandi or Dhulivandan.
The special dishes are been prepared and served during the festival, like Gujiya, Dahi Bhalla, Kanji Wada, and almond milk called 'Thandai'. The festival of colors is also popular for a saying "Bura na mano, Holi hai!" which means "do not mind, it's Holi."
The use of synthetic colors during the festival of Holi is a concern for some people. However, many prefer playing with water and some homemade natural colors. Natural colors are derived from indigo, sunflower, and marigold flowers.