'First Folio': rare collection of Shakespeare's works found in Scotland home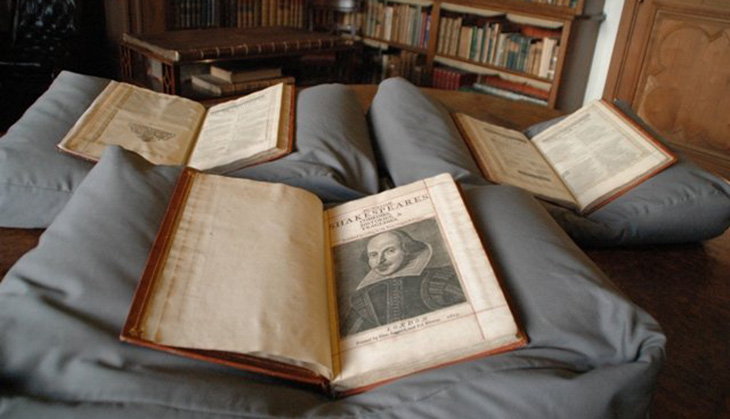 A nearly 400-year old copy of Shakespeare's "First Folio" - the first collected edition of the Bard's plays published a few years after his death - has been found in a home on a Scottish island.
Originally titled "Mr William Shakespeare's Comedies, Histories & Tragedies" - the three volumes of the edition, of which only 230 copies are known to exist, has been described as a rare and significant find. 
Its worth can be gauged by the fact that a copy owned by the Oxford University sold for £3.5m in 2003. 
Emma Smith, professor of Shakespeare studies at Oxford University, confirmed to the BBC that the "goatskin-bound" edition is authentic.
400 Years Ago...
The discovery comes days ahead of Shakespeare's 400th death anniversary. The Bard is believed to have died in 1616 on his birthday - 23 April.
As part of the commemoration, 10 stamps featuring famous phrases from the playwright have also been published by the Royal Mail.
Famous lines from Macbeth, Romeo and Juliet, The Tempest, Julius Caesar, Much Ado About Nothing and Hamlet have been inscribed on stamps.
**There was a star danced, and under that was I born.
"Much ado about nothing"
**The fool thinks he is wise, but the wise man knows himself to be a fool.
"As you like it"
**Love is a smoke made with the fume of sighs.
"Romeo and Juliet"
The "First Folio", printed seven years after Shakespeare's death, is important because it was a compilation of36 plays - 18 of which would otherwise have never been recorded.Without this publication, there would be no copy of plays such as Macbeth, Twelfth Night, Julius Caesar, As You Like It and The Tempest. Prof Smith, author of Shakespeare's "First Folio: Four Centuries of an Iconic Book", says it is uncertain how many copies were produced.
While some people put the figure at about 750, there are at least 230 copies known to exist. Another copy was found in France about two years ago.
Original & Fakes
There are plenty of editions of Shakespeare's works floating around. Some fakes.
And authentification of copies isn't the easiest of jobs.
Prof Smith talks of a 19th century craftsman John Harris who produced high quality reproductions.
"He was hired by the BritishMuseum to replace missing or damaged pages or sections of old books, including for 'First Folios' - and was so skilled that it is uncertain how much of his work might now be accepted as authentic," says Prof Smith.
Therefore, even the officially catalogued "First Folios" may not be actually authentic.
A large majority of Shakespeare's plays are said to have been lost as they were never printed. In that sense "First Folio" is important.
The preservation of much of Shakespeare's work depended on the publishers of the "First Folio" copying,collating and editing from whatever hand-written scripts and first-hand memories were still available in the 1620s.
The text was collated by two of Shakespeare's fellow actors and friends, John Heminge and Henry Condell.
Heminge and Condell edited and supervised the printing. They divided the plays into comedies, tragedies and histories, an editorial decision that has come to shape our idea of theShakespearean canon.
As Shakespeare's reputation grew,the value of the "First Folio" increased - with the book becoming prized in the eyes of collectors.
Prof Smith is sure there are quite a few copies of First Folios tucked away in libraries and waiting to be discovered.