Here's every Bollywood female protagonist from 1980-2015. It's depressing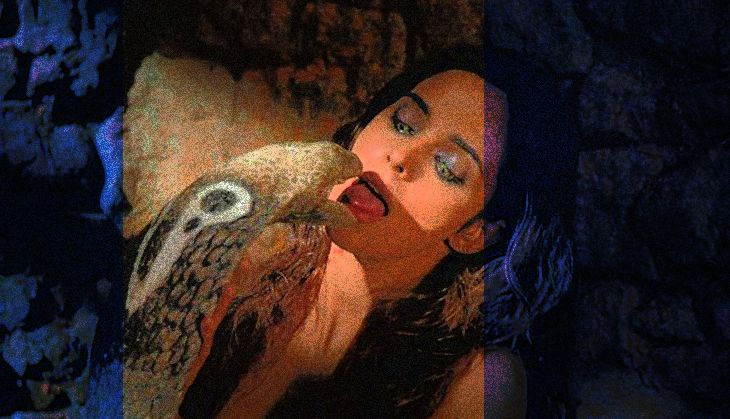 We've just plotted every. Hindi. film. with a strong female protagonist in the past three and a half decades in a single graph. 
Because we know that you've sensed that Bollywood's changing. That of late, there are fewer female characters objects to be saved from Man on Road channeling his inner Shakti Kapoor. 
Fewer female actors objects designed to make the male protagonist appear more desirable by association. 
And fewer instances of women objects on posters to distract from the poor fashion choices of the hero. 
But you also know that a sense is too little. You demand cold, hard, numbers. 
So we trawled the internet for you, compiled a comprehensive list of all Hindi films, from 1980 to 2015, with women in lead roles. 
They include films like thisss.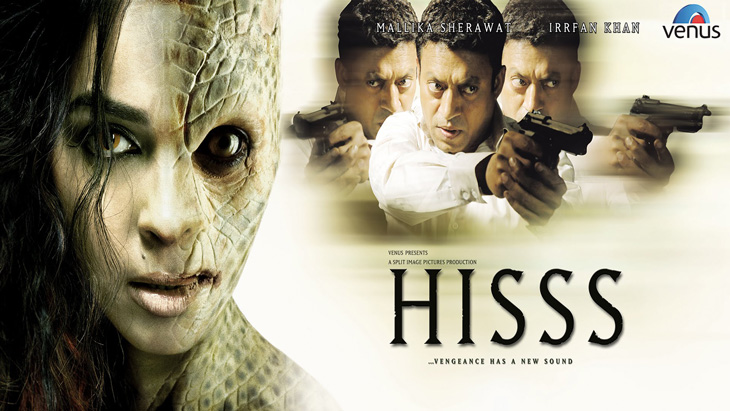 And this.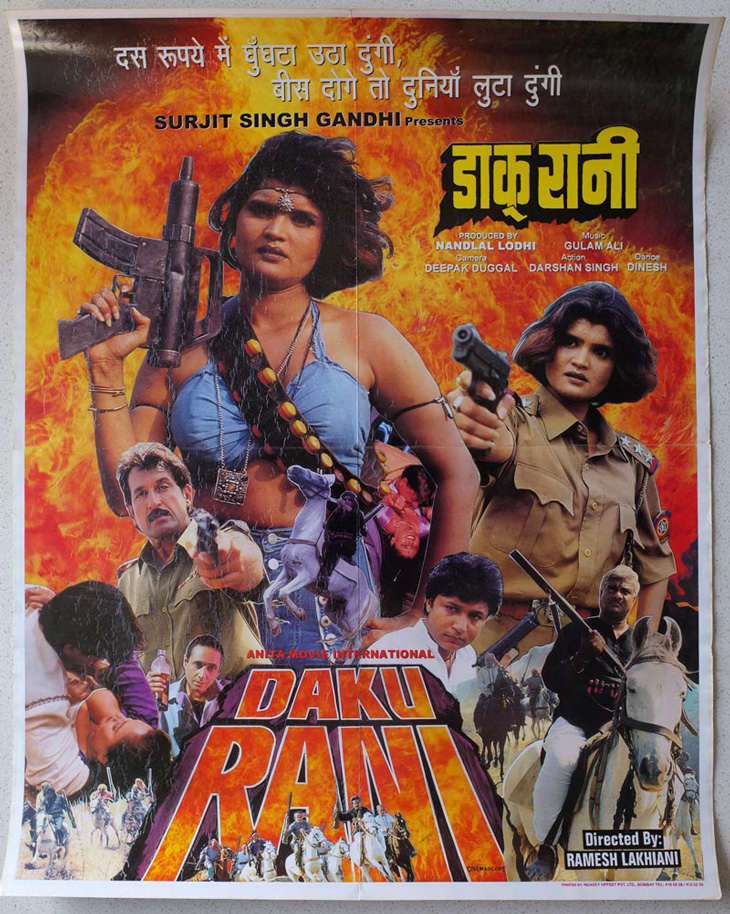 And also this.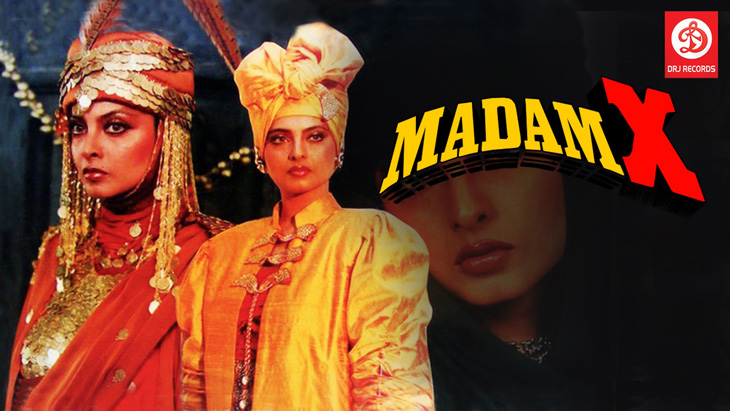 We plunged the depths of hell. To find that in 35 years, we've made 125 films with women protagonists. 
That's 3.6 films a year. 
The films we've chosen are those with the female character(s) at the fore. This does not include films in which the male and female protagonist share equal screen time; only films that are the converse of conventional Hero-with-decorative-heroine. For example, Neerja would qualify. PK would not. 
For those who believe there's been a substantial shift this decade, hold your breath. At our very best (2010), we made only 9 female-led films.
That's less 5% of the overall number. 
Here are all those films, by year, plotted on a graph. Ta. Da.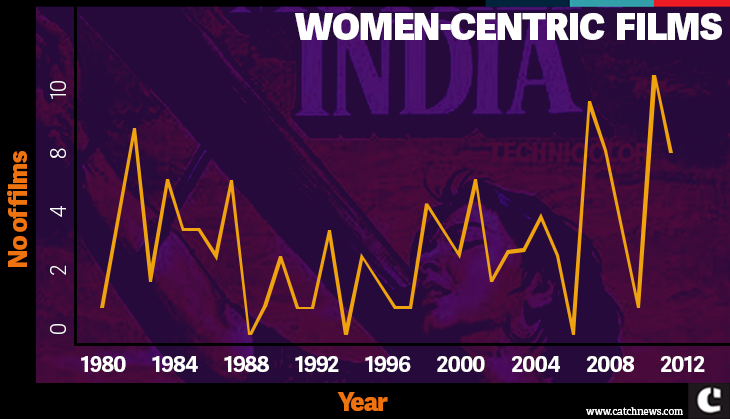 Arya Sharma/ Catch News
These were our (unscientific) parameters
The requirements:
1) That the films be in Hindi. 
2) That they feature on an IMDb page. 
3) That the plot follows a female character more than any other. 
For a closer look, these are the films, listed by year:
2015: Dolly ki Doli, NH10, Margarita with a Straw, Piku, Calender Girls, Angry Indian Godesses, Kajarya
2014: Highway, Gulaab Gang, Queen, W, Lakshmi, Revolver Rani, Bobby Jasoos, Mary Kom, Mardani, Khoobsurat
2013: Gippi
2012: Jalpari, English Vinglish, Heroine, Kahaani
2011: No One Killed Jessica, 7 Khoon Maaf, Monica, Memories in March, Luv Ka The End, That Girl in Yellow Boots, The Dirty Picture
2010: Mittal v/s Mittal, Rokkk, Toh Baat Pakki, Aisha, We are family, Hello Darling, Hisss, Mallika, Kaalo
2009: - Nothing. Zilch. Prove us wrong please
2008: Fashion, Saas Bahu or Sensex, Meerabai Not Out
2007: Aaja Nachle, Laaga Chunari Mein Daag, Red Swastik, The Blue Umbrella
2006: Chingaari, Umraao Jaan, Dor 
2005: 7.5 Phere, Naina, Water
2004: Chameli, Ek Hasina Thi
2003: Hawa, Main Madhuri Dixit Banna Chahti Hoon, Matrubhoomu, Samay, Pinjar 
2002: Filhaal, Makdee, Mitr, My Friend
2001: Chandni Bar, Daman, Lajja, Zubeidaa 
2000: Fizaa, Astitva, Gaja Gamini, Kya Kehna, Astitva  
1999: Godmother 
1998: Mehndi 
1997: Mrityudand, Aastha  
1996: Army, Aurat, Aurat, Aurat, Fire
1995: -
1994: Anjam, Bandit Queen, Madam X, Woh Chhokri 
1993: Damini 
1992: Zindagi Ek Jua 
1991: Antarnaad, Haque, Swayam
1990: -
1989: Chaalbaaz
1988: Biwi Ho Toh Aisi, Khoon Bhari Maang, Zakhmi Aurat, Savitri, Kab Tak Chup Rahungi, Sherni 
1987: Daku Hasina, Ijaazat, Mirch Masala 
1986: Angaaray, Insaaf Ki Awaz, Nagina, Aakhir Kyun
1985: Aakhir Kyun, Durgaa, Jhoothi, Khamosh
1984: Abodh, Andhi Gali, Bhavna, Khandar, Lorie, Parama
1983: Chhatpati, Mandi 
1982: Arth, Anokha Bandhan, Aparoopa, Lakshmi, Log Kya Kahenge, Nikaah, Umbartha, Namkeen 
1981: 36 Chowringhee Lane, Chakra, Umrao Jaan, Sameera
1980: Khoobsurat Yes. We've saved at least one film student his doctoral thesis. That student is welcome. 
Disclaimer: We may have missed a few because they're not recorded on IMDB, but it's likely to be a statistically insignificant number. And of course, definition of strong female character can vary. But only if you've never met a strong female character in your life.
Still think we missed a biggie? Let us know in the comments below.
Edited by Payal Puri
More in Catch:
India gets its own GPS: here's all you need to know about the IRNSS
Explained: how #AgustaWestland deal turned into a scam
Gujarat: activists silent, ex-cops challenge PP Pandey's elevation as DGP
Rare moment of camaraderie: Rahul and Buddhadeb share stage in Kolkata