Chapter & verse: poetic encounters for the love of language & culture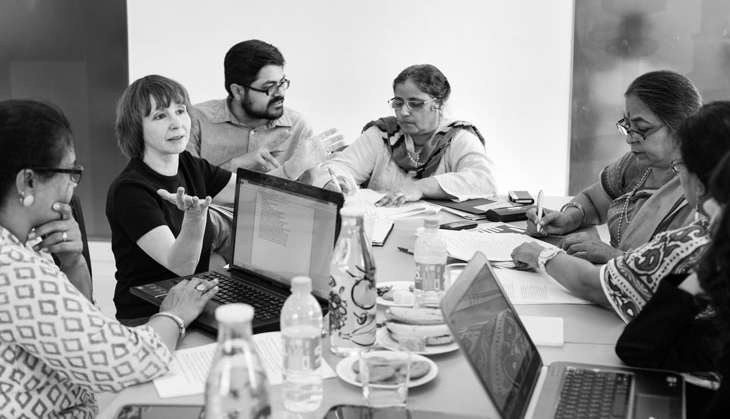 Five countries. 20 languages. 51 poets. 187 poems. 280 translations.
These numbers pretty much sum up the two-year long Poets Translating Poets project -- at least mathematically speaking. But how does one measure the beauty and the wisdom of such a project?
Having successfully transcended the boundaries of language and culture through the act of translation and poetry, the project culminates next month. Initiated by Goethe-Institute Mumbai along with Goethe-Institutes in South Asia - this was a dream project. Not the kind where poets are forced to sever ties with the world and burn the midnight oil to zero in on the right word.
This was about poets meeting at residencies across South Asia and brainstorming for the right word. Poets from Bangladesh, Pakistan, India, Nepal and Sri Lanka meeting at various venues across South Asia to be introduced to German poetry; and Germans being treated to their works originally written in Urdu, Nepali, Bangla, Hindi and other South Asian languages.
The final chapter of this project will be written in Mumbai between 24 and 27 November. Ideas of diversity, identity and multiculturalism will be explored through poetry, nudging at the boundaries between poetry and other forms of art, at the Poets Translating Poets Festival.
Yawan Rai
Poetic justice
Catch spoke to four poets whose works were translated into German, and who helped translate German poetry into their vernacular.
Rajendra Bhandari is a Nepali poet who teaches the Nepali language and literature in Gangtok. He fondly remembers the residencies he attended and the times the poets were lost in translation.
Bhandari was assigned to translate German poets Judith Zander and Christian Filips' works. Armed with the transliteration of the German poems in Nepali, Bhandari decided to embrace the rhythm of German poetry.
"The linear or word to word translation was done by Michael Chand of Kathmandu. It was directly from source language (German) to target language (Nepali) and no third language was employed. I really liked this method and felt that little was lost by not employing English," Bhandari tells Catch.
"We reached a much deeper level of understanding because of this. We struggled to find appropriate words, fitting syntax and suitable equivalent poetic expressions for each others languages while discovering parallel versions throughout our days together."
Bhandari describes the exchange as interesting.
Citing an example, he says, "In one of my poems I wrote - 'how far is Nirvana from the kerosene queue?' German poet, Judith did not have a clue about queuing up for kerosene!"
Another instance was when Bhandari was surprised to find German poets mostly writing about "loneliness, micro human sensibilities and existential riddles".
Nevertheless they became good friends in no time.
"The Poets Translating Poets programme has gone a long way in expanding my understanding of translation. It has left a lasting impact on my sense of enjoyment of another foreign language and poetry in other languages. I came to understand that reading a foreign language poem means treading into another culture, another worldview, another sensibility and another sense of aesthetics."
Shah Rukh Khan pens down a poem for women, credits Zayn Malik for inspiration

Yawan Rai
A New Flavour
Dawngi Chawngthu, a Mizo poet, had to spend time wondering which of her poems should be translated into German.
"I kept three things in mind. Firstly, the poems were recent and preferably short. Secondly, the diverse audience, I selected poems that I believe would have universal appeal and resonate with readers around the globe. Of course, I could not resist adding my favourites. Thirdly, I focused on the themes and deliberately chose themes that are close to my heart: struggles of man and his place in society portrayed through nature," she tells Catch.
She says rhyme schemes and genres have never held her back but shape, size and structure have.
"I am artistically mindful of raising an idea or feeling to a structured image."
One of the poems she eventually selected for translation is The Other Side. A poem written as an ode to a small pond at the India Habitat Centre.
"Among the many fish that swam around idly, one particular fish caught my eye. He swam around eyeing the lotus flowers that rose above the water. That one fleeting look was enough to trigger off a chain of thoughts."
Her poem The Mask was also translated into German. It is a love poem.
"The poem is about the realisation that nothing is absolutely transparent in human relationships and that we hold back some portion of ourselves and that eventually we all wear masks, either to protect ourselves or to protect others," she says.
The Dhaka Connection
Shahnaz Munni lives in Dhaka. She says the project was a great experience for her. Her poems in Bangla were translated into German.
"This bilateral exchange will play a role in developing a relationship between two cultures. My poems, which were translated, were written at different times and on different perspectives," Munni tells Catch.
On her part she translated the poems of Hendrik Jackson. "I feel he writes poems from a very deep space. I translated his poems with great pleasure."
Before being a part of the Poets Translating Poets project, she had translated very few poems, but now she wants to keep up with the translation of literary works.
Jameela Nishat, an Urdu poet from Hyderabad, started writing poetry at an early age. Her first poem was published in the year 1970, and her first book, Lava, a collection of poems, was published in 2000. She featured as a feminist poet at 100 Thousand Poets for Change Conference held in Italy last year. She also runs Shaheen Collective and Shaheen's Women Resource and Welfare Association to serve the cause of Muslim women.
Nishat says the translation process made her think objectively.
"It helped me understand the German poets' intellectual journey and to be a part of their dreams. Some poems inspired me and my dreams became as complex as their poems. It is a journey from subjectivity to objectivity and vice versa," she says.
A lot is usually lost in translation, but not in the Poets Translating Poets project which seems to have retained both the essence and beauty of each language. That's the immeasurable wisdom of this project.
This poem about why women mature faster than men is going viral for the right reasons