A mediocre spiritual guide: a journalist recounts his encounter with Sri Sri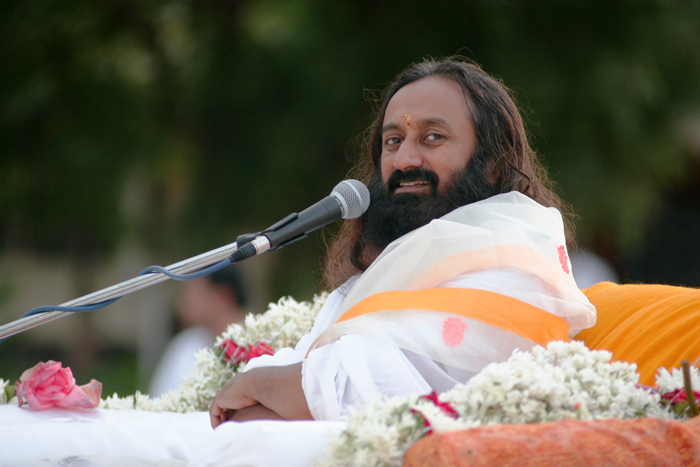 The assignment
In 2012, I went to Aachen, Germany, to interview Sri Sri Ravi Shankar for a German media outlet
My boss was expecting me to bring her something good by asking tough questions
The encounter
My first question to Sri Sri was how could spirituality bring about social change. He invoked Gandhi and gave a roundabout answer
With every subsequent question, Sri Sri seemed to be getting angry
More in the story
How a follower tried to bully me for asking Guruji some tough questions
My takeaway from the interview - Sri Sri is nothing but a mediocre guru
The year was 2012; the location, Aachen, Germany. I sat at one end of the room, his devotees sat at the other, and in the middle sat Art of Living founder Sri Sri Ravi Shankar.
At the time, I worked for the Bonn-based Deutsche Welle, a German media organisation, which wanted to do an interview with the immensely influential and popular figure. My Indo-German boss, Priya Esselborn, was sure that I would bring her something good. She had an impression that I would not hesitate to ask tough questions, and could wring something out from Sri Sri that could spice up the story.
Check out- Mega stench after mega show: smell of urine and garbage abound on Yamuna bank
With a friend in tow, I landed up in Aachen on a cold day in September to meet Sri Sri, and we were taken to a castle-like hotel, where many Indians stood waiting for Guruji to arrive.
Aachen lies in the western part of Germany, bordering the Netherlands and Belgium, and I found out that about 90% of the devotees lined up to meet Sri Sri were IT professionals settled in Amsterdam, the capital of the Netherlands. To break the ice with the followers, I too passed myself off as an admirer of Guruji.
I was disappointed to learn that most of the followers had little knowledge and understanding of India and Indian culture. It appeared as though in trying to reestablish their connection with their roots, they had lost their rationality; that they were more intent in running after a mirage of spirituality and pseudo-Indianness.
The man arrives
Soon, the hotel lounge was buzzing with conversation and broad smiles, which suggested that Sri Sri had arrived. Everybody started rushing towards the main entrance, while I sat on a sofa in the lounge, watching the tamasha unfolding with the detached objectivity of a journalist.
People were jostling with each other to touch his feet. And his blessing was dramatic too - hitting the followers with a rose and putting garlands around their necks.
I interviewed Sri Sri Ravi Shankar for a German media organisation in the city of Aachen in 2012
I tried to get a good look at my 'subject', and he didn't appear too impressive: a short man with a dark complexion, clad in a white dhoti and what looked like a shawl draped over his shoulders. His walk lacked any grace and gravity, and there was no glow on his face that one could associate with a spiritual leader.
Soon, he disappeared, going off to his room on one of the upper floors of the hotel, while I remained rooted to the spot. My mind was buzzing - what should I ask him?
The interview
I got the chance to meet Sri Sri in his room. He was sitting on an aasana-like chair, while mediapersons had to sit on the floor.
Guruji was sneezing constantly, but seemed more concerned about his look on TV. He rolled his eyes in a particular manner to give his replies that extra edge.
Also read- Between the lines: NGT didn't stop #AOL event, but there's more to its order
Meeting the German press seemed a piece of cake for him. He seemed pleased about his answers.
Then, when my interview with him began, I decided to make things uneasy for him. His face hardened and his eyes turned motionless. Maybe he thought 'this boy' was spoiling his party. But his evasive answers convinced me that this man had nothing substantive to talk about.
My first question to him was: "It is written on your website that spirituality can bring social changes. How?"
His reply: "Why not? Mahatma Gandhi was spiritual. He used to do satsang every day. He sang - 'sabko sanmati de bhagwan'. Because of this, people gathered and a big movement took off."
My second question was about his participation in the Anna Hazare Jan Lokpal movement. He answered using vague terminology, mixing the motive of the movement with his 'ambition' to clean the Ganga and the Yamuna.
My third and fourth questions seemed to touch a nerve, and he seemed about to burst out in anger.
In response to my question about the main problems of contemporary India, he said: "Bhrashtachar aur durachar (corruption and sex crimes)".
Sri Sri was sneezing constantly, but seemed more concerned about his look on TV
I decided to make it harder for him, and one of his disciples standing at the door glared at me after some more uncomfortable questions. Soon, I was asked to wind up. Sri Sri didn't want to talk to me anymore.
The interview exposed the truth of Sri Sri's wisdom. This is what he thought about Mahatma Gandhi, the freedom struggle, and present day problems. His answers simply proved that he was a mediocre salesman of spirituality. Nothing more.
A show of strength
After the interview, the journalists and devotees were asked to attend a session of meditation and yoga. But it was not a yoga session. It was a show of Sri Sri's spiritual strength, influence and wealth.
He performed some abstract yoga aasanas, meditation and bhajan. His followers seemed completely mesmerised with his charm, and artificially-attained melody of his voice. They were dancing to his tunes.
When I was putting on my shoes to leave, one man tried to bully me. But I do not remember his words.
What I do remember is the mediocrity of Sri Sri. The fact that he is at the top of the spiritual ladder creates an interesting parallel with the other mediocre people running the country.
Followers may see him as a great spiritual leader, but just look at his eyes - you won't find anything; neither the compassion of Buddha, nor the grace of Gandhi.
(The views expressed here are personal and do not necessarily reflect those of the organisation.)
More in Catch:
Paranoia gone wild: the incredible case of 'terrorist' toddlers
What rocked Rajya Sabha: Agri income worth 16 times India's GDP
Myanmar gets its first civilian president. Htin Kyaw has a tough journey ahead
With This Ring: the boxing film that took sweat, blood, tears, and 10 years