A glass apart: Meet Vijay Kowshik who blows life into glass
Vijay Kowshik is a quiet man. He is from that (now redundant) school of thought that would rather let his work do the talking. So it's easy to miss him at the art gallery at IIC where his art is on display. He has chosen a far corner for himself, so as to keep the spotlight on his art, his glass art.
Kowshik is the pioneer of glass art in India - be it blown, fused, slumped or what have you. He has crisscrossed the globe to help restore or create glass art. Glass is the medium he uses to express himself - his angst, his confusions, his innermost feelings. No wonder then that the exhibition is titled "Parsing - The Mind's Eye".
Like all great artists, Kowshik has decided not to label any of his creations. You are free to read, re-read, misread. As you struggle to read, the pieces mock at your ignorance and your inadequacies.
Kowshik is unrelenting. He drops a hint here and there. But that's about all, as you stare at glass replicas of famous people, at marine life, at masks. Masked men squealing with pleasure, stifling a woman's cries, killing her bit by bit.
The only time Kowshik decides to be generous is when he shows his "Interactive Glass Installation". He even rolls his fingers down the installation to play it and encourages you to do the same.
It's difficult not to admire his installation. I stretch my luck and ask him about a colourless glass portrait that I can't take my eyes off. "It is B.C. Sanyal," he offers.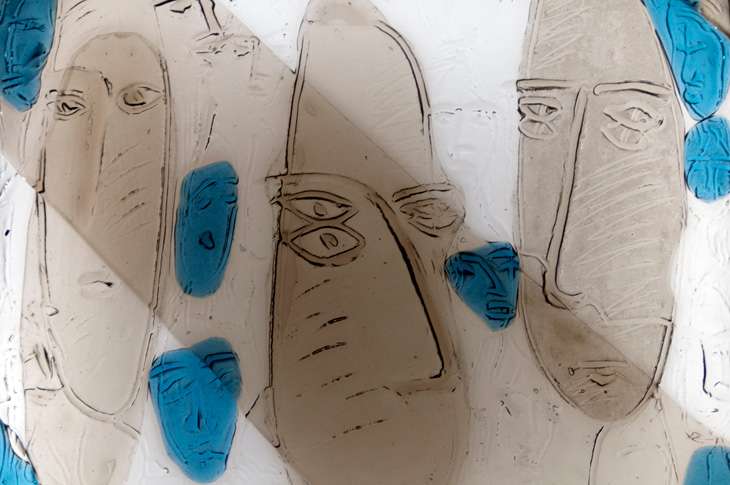 Knowing Kowshik
Sanyal was one of his mentors apart from K.S.Kulkarni, Biren De, Jaya Appassamy, Ram Kinker and Sharbari Roy Choudhary.
Kowshik was lucky to know most of them, as both his parents - Pushpa and Prof Dinkar Kowshik - were artists. Creativity runs in his genes and he learnt early to figure out what the box was all about and think out of it. Though his initial forays were in ceramics, he subsequently started learning glass techniques during his travels to France, Hungary, Italy Slovakia, Sweden, USA and Japan.
His creations are expressions of his "agitated psyche striving to extract experiences from the collective consciousness".
"The medium of expression is ceramic, but glass is my main motivation. The works juxtapose my feelings through the plasticity of the material at high temperatures," he says.
"This amalgamation evokes a strange quality of thrill and joy while creating. The play of light through glass, with refractions and reflections, gives a strangely mysterious quality to the creations."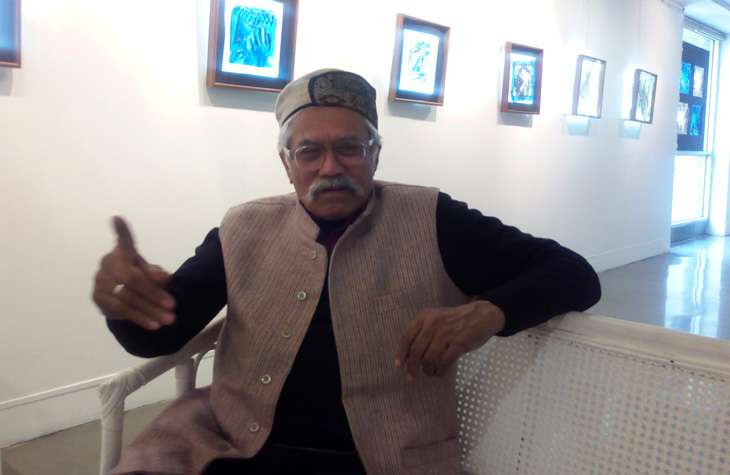 Vijay Kowshik
Disconnecting with Art
Kowshik talks about how sometimes it is not easy for him to disconnect with a piece of art.
He points towards the portrait of B.C. Sanyal. "That's one piece I can't let go off. Often people are willing to pay whatever I will command, but I always say no."
Prod him a little and he admits that often it is not difficult to disconnect with a piece. "Once the piece is complete, I disconnect. It doesn't belong to me anymore," he says.
But does it hurt when the wrong person, the one with lots of money but no sense of aesthetics, buys his art?
Kowshik's answer borders on ambivalence because he is thinking this through. It's possibly fine for someone with money to buy his works, but not all of his works. Some are special. He would not part with them. Like B.C. Sanyal.
He is happy how his life has unfolded as an artist.
"There were ups and downs, there were moments of despair, but I always landed myself an assignment in the end. I remember I was out of work for a while and then I got a Rs 2 lakh cheque to restore glass works in a church in Shimla," he beams.
Kowshik is fine running on faith. After all, it's got him this far.