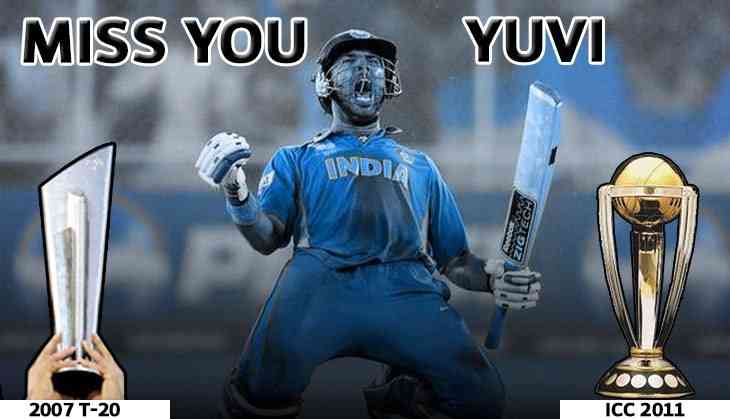 After a career of 25 years in cricket the superstar of Indian cricket, Yuvraj Singh has finally made retirement from international cricket. The star player announced his retirement in a press conference on Monday, 10th June and as soon he announced his retirement, the celebrities from Indian including Cricketers and actors took social media to 'Thank' their favourite player.
His ex-teammates like Sachin Tendulkar, Gautam Gambhir, Virender Sehwag, Rohit Sharma, Virat Kohli, Harbhajan Singh and others came on social media to thank the person who became a reason to them to celebrate the World Cup win.
As @YUVSTRONG12 calls it quits on his glorious career, we rewind the clock and look at his most iconic cricket moments. Thank you for the memories Yuvi 😎🙌🙏 #TeamIndia #YuvrajSingh

Full Video Link ▶️▶️https://t.co/JrrP5LYPbK pic.twitter.com/IhHJXeR6Vy

— BCCI (@BCCI) June 10, 2019
Thank you for all the amazing moments, @YUVSTRONG12. My best wishes to you for everything ahead, Yuvi pa!😊#YuvrajSingh

— Ajinkya Rahane (@ajinkyarahane88) June 10, 2019
Every cricketer dreams of hitting 6 sixes in an over or becoming player of the tournament in world cup. In short, everyone dreams to be #YuvrajSingh..@YUVSTRONG12, You have been the True champion on and off the field...
All the best Yuvi Paa for the second innings... pic.twitter.com/c1zyqUz23U

— IamKedar (@JadhavKedar) June 10, 2019
Yuvraj Singh Retires | Special Message as International Cricket Loses a Match Winnerhttps://t.co/JVURwPUy5b

— Shoaib Akhtar (@shoaib100mph) June 10, 2019
What a fantastic career you have had Yuvi.
You have come out as a true champ everytime the team needed you. The fight you put up through all the ups & downs on & off the field is just amazing. Best of luck for your 2nd innings & thanks for all that you have done for 🇮🇳 Cricket.🙌 pic.twitter.com/J9YlPs87fv

— Sachin Tendulkar (@sachin_rt) June 10, 2019
Congratulations Prince @YUVSTRONG12 on a wonderful career. You were the best ever white ball cricketer India had. @BCCI should retire Number 12 jersey in the tribute to your career. Wish I could bat like you Champion #Yuvrajsinghretires #ThankYouYuvraj #ThankYouYuvi

— Gautam Gambhir (@GautamGambhir) June 10, 2019
Players will come and go,but players like @YUVSTRONG12 are very rare to find. Gone through many difficult times but thrashed disease,thrashed bowlers & won hearts. Inspired so many people with his fight & will-power. Wish you the best in life,Yuvi #YuvrajSingh. Best wishes always pic.twitter.com/sUNAoTyNa8

— Virender Sehwag (@virendersehwag) June 10, 2019
Let us tell you that Yuvraj Singh was Man of the tournament in 2011 World Cup when MS Dhoni-led team India won the title after a long gap of 28 years. Even in 2007 T-20 World Cup, Yuvraj Singh did an amazing all-around performance that made India win the first T-20 World Cup in South Africa.
My Warrior Prince - A true fighter on and off the field.. your stories will forever live on.. love always brother @YUVSTRONG12 #sixerking #Brother ❤️❤️❤️❤️🤗🤗 #Legend pic.twitter.com/YN7580q8bY

— Harbhajan Turbanator (@harbhajan_singh) June 10, 2019
Congratulations on a wonderful career playing for the country paji. You gave us so many memories and victories and I wish you the best for life and everything ahead. Absolute champion. @YUVSTRONG12 pic.twitter.com/LXSWNSQXog

— Virat Kohli (@imVkohli) June 10, 2019
I'll miss your hilarious expressions on the pitch Yuvi Paa 😂😂😂 Have a happy retirement. You've earned it 😘 pic.twitter.com/8ppFEjNE93

— hardik pandya (@hardikpandya7) June 10, 2019
Thank you, Yuvi paaji for all the guidance, support & love. ♥ You are one of the best left-handed batsmen I have come across. I always looked up to your style & batting technique, have learnt so much from you! Wish you prosperity & success in your new journey. Rab rakha 💪🏻 pic.twitter.com/AQH4LkgS0Q

— Shikhar Dhawan (@SDhawan25) June 10, 2019
You've been a constant source of support and inspiration with countless memories and countless hearts won. 🙏🏻 Congratulations on your glorious career and all the best Yuvi paa! 🏆 @YUVSTRONG12 pic.twitter.com/YngoxWiCOg

— Jasprit bumrah (@Jaspritbumrah93) June 10, 2019
Yuvi paji! I still remember when I played my 2nd test match against Pakistan in Bangalore and u were there I was quietly sitting in a corner as I was youngster, so you approached me and said-tension na le enjoy the journey of test cricket! 😝All the best for future!! @YUVSTRONG12 pic.twitter.com/OKXeAYZJp7

— Ishant Sharma (@ImIshant) June 10, 2019
#Congrats @YUVSTRONG12 bhaii .you was phenomenal throughout you extremely beautiful journey. You taught us how to perform like a king. No 1 in india cannot forget your insane six sixes. it was honour to share dressing room with you..best wishes #kingyuvraj #kingsneverdie 🇮🇳 pic.twitter.com/RKiu2LPDEy

— praveen kumar (@praveenkumar) June 10, 2019
It's been an absolute pleasure playing with Yuvi. You will go down as one of the greatest players in the history of the game. You have been an inspiration to us with your resilience,determination & above all the love & passion you showed towards the game. Good luck @YUVSTRONG12 ! pic.twitter.com/vlXUdkgJSz

— VVS Laxman (@VVSLaxman281) June 10, 2019
Your 1st innings in Intl cricket was along side me & to have seen you grow into one of India's finest ever players was just amazing.
Your career is an example for every young kid and I wish everyone looks up to you for inspiration.
Best wishes for your life ahead, @YUVSTRONG12. pic.twitter.com/Bj3E9bcfpA

— VINOD KAMBLI (@vinodkambli349) June 10, 2019
.@YUVSTRONG12 you've been one of our finest southpaws and I enjoyed playing alongside you. Good luck bro for the life after retirement. It's exciting too😌 pic.twitter.com/mg2gUZ44OP

— R P Singh रुद्र प्रताप सिंह (@rpsingh) June 10, 2019
End of an era! Yuvi pa, ur ability with the bat, the glorious 6s, the impeccable catches & the good times we've had, will be missed beyond years. The class & grit u brought to the field will be an inspiration forever. Thank u, @YUVSTRONG12 Have an equally remarkable 2nd innings! pic.twitter.com/ZWNeC9WkZL

— Suresh Raina🇮🇳 (@ImRaina) June 10, 2019
You don't know what you got till its gone. Love you brotherman You deserved a better send off. @YUVSTRONG12 pic.twitter.com/PC2cR5jtLl

— Rohit Sharma (@ImRo45) June 10, 2019
Yuvraj Singh's career and the journey has always been a big inspiration to many, after starting his career with a high note, Yuvi ended up winning the World Cup 2011. However, his journey and life turned into a shocking event when he found battling himself with a serious disease like Cancer. Then his journey of coming back from Cancer to the cricket ground became an inspiration to the whole India.