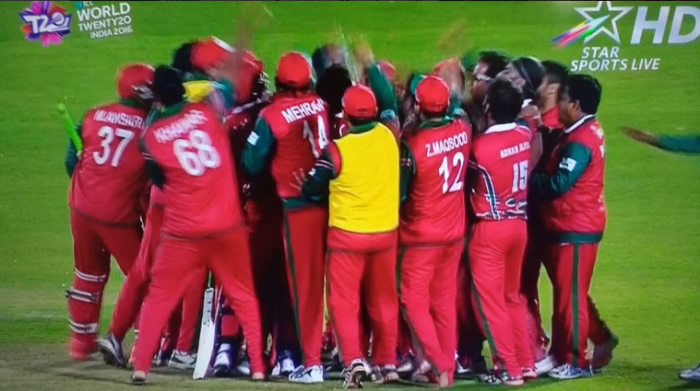 Who says matches between associate nations are a boring affair? Ireland and Oman have just proved that old chain of thought wrong by playing out one of the most thrilling matches of the ICC World T20 qualifiers so far.
Set a target of 155 to chase, no one knew what to expect from Oman - newbies at the international circuit.By the end of the match, they'd certainly left their mark. And they created a little bit of history while they were at it.
For when Sultan Ahmed was on strike and hit the Irish for a 20-run over in the 16th over, it looked like Oman were going to pull off a surprise historic win.
With 14 runs to get off the last over, Irish bowler Sorensen bowled a beamer in the very first ball which went for a four. Suddenly, nine runs were required off six balls.
Next ball - bowled! But it wouldn't count for anything as it was a free hit. Five balls, eight required.
Next came another four - four balls, four runs required.
And as the batsmen crossed over for a single in the next ball three were required off three balls. A wicket in the next ball followed. Oman were reeling. Three required off two balls.
But nobody could imagine what happened next, even in their wildest dreams. The batsman missed the ball that was bowled to him, but so did the wicketkeeper standing right behind. The ball crossed the boundary rope, and history was created by Oman.
Omani captain Sultan Ahmed summed it up in a short and poignant manner after the match was over:
"I'm speechless after the win. If we beat Netherlands and Bangladesh in the group, then we are through."
The associates have certainly proven that they are not going to be easy to play against in the tournament.