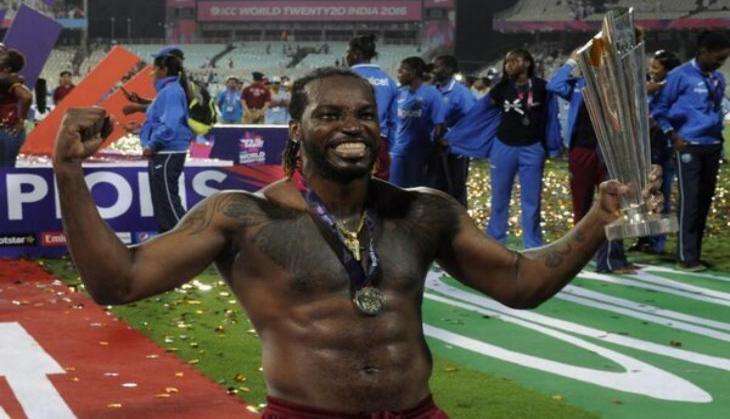 After joining Royal Challengers Bangalore (RCB), swashbuckling West Indian batsman Chris Gayle got an opportunity to stay in its owner Vijay Mallya's beachfront mansion in Goa where he spent five days as "the king of the villa" and also rode the latter's three-wheeler Harley-Davidson.
Gayle mentions this in his autobiography "Six Machine: I Don't Like Cricket...I Love It", published by Penguin Random House.
While playing for RCB in the IPL, Gayle heard of Mallya's villa from team manager George Avinash. Incidentally, there was a five-day break between two matches and Gayle was quite keen to go there though his teammates weren't.
"What to do? George pipes up again. 'Believe me, big man, you should definitely check it out.' Oh-kay . What could possibly go wrong? So I decide to go by myself. Fly down there, picked up in a sweet car and driven to Candolim, come down the driveway and whaaat?
"It's bigger than most hotels. It's cooler than any house I've ever seen," writes Gayle.
Speaking elaborately, he says, "It's James Bond, it's Playboy Mansion, it's the land of plenty in white concrete and glass. I'm trying not to stare, but there's so much to stare at that there's only room in my mind for one thought: 'Chris, this gonna be interesting...'
"I've got the entire villa for myself. I'm getting a tour. Wherever I go I've got two butlers walking with me at all times. Me alone, like a king! I go in the first pool. I go in the second pool. I walk the lawn, in my robe. I go back in the pool with a Kingfisher beer and then I stay in the pool and the Kingfisher beers keep coming, which makes sense because the one place they're not going to run out of Kingfisher beers is in the Kingfisher villa."
He took a golf cart and drove around. When the cook wanted to know what he would like to eat, Gayle asked him the menu. The cook replied, "There is no menu, sir. You are the menu."
"This is new for World Boss. Seems there is World Boss and Universe Boss. Whole new worlds. Bosses of things the boy from 1C St James Road, Rollington Town, didn't even know existed. No milk and Nutribun, although if you wanted milk and Nutribun they'd bring it to you," writes Gayle.
He got a chance to go into the villa's private movie theatre and into the garage, which had so many cars, a Mercedes so big he couldn't even work out what it is.
"But it's not the cars that catch my eye, it's this big bike, three-wheeler, Harley-Davidson. And I get the story about how Vijay Mallya got the bike."
Gayle then goes on to narrate: "He's driving through the States, and he sees a guy riding it. He tells the guy he wants the bike. And he's the boss, the Mallya Boss. What he wants, he gets. So he asks the guy how much it would take to sell it, literally climb off it right there and give it to him, and the guy names his price, and Mallya counts out the bills and buys it. Has it shipped back to India, and then down to Goa and the villa."
Gayle straightaway jumps on the bike. "I've never ridden a motorbike before. I've never seen a motorbike with three wheels. But one of the butlers shows me how to drive it, and I start riding it up and down the driveway, which because this is the Kingfisher villa is the size of a racetrack.
"Brrrrm! I feel like the Terminator, screeching around with my shirt open and my shades down and nah, no helmet, because it's warm and it's a Harley and it's the Kingfisher villa and I'm the king of the villa, the Kingfisher king, and woohoo, who knew this thing could go that fast?" Every morning when Gayle woke up, he was asked what he would like to do.
"'Would sir like to ride an elephant?' 'You got an elephant here?' Now even Vijay Mallya doesn't own his own elephant. But he's good friends with a man who does, so soon I'm riding an elephant, which has less of the speed of the Harley but all the same swagger."