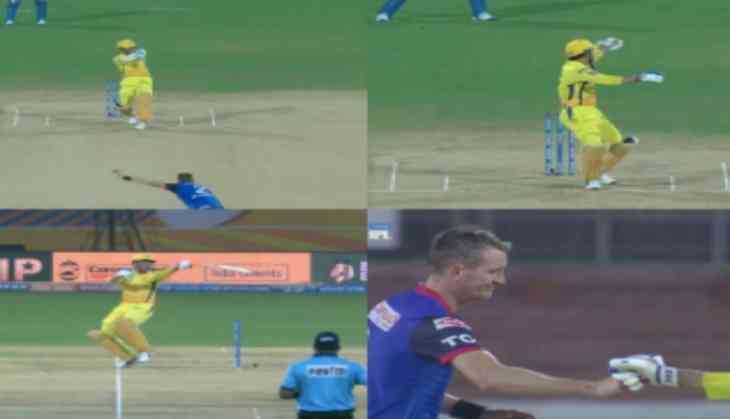 MS Dhoni smashed a one handed six without even looking at the ball after AB de Villiers did the same against Kings XI Punjab. Dhoni performed this amazing feat against Delhi Capitals' Chris Morris when the pacer bowled a beamer to him.
The incident took place in the 19th over when Chris Morris bowled a 136.3 kmph beamer at MS Dhoni. Dhoni hit the ball without looking at it and surprisingly it crossed the boundary rope. After the ball, Morris came to Dhoni and apologised for the beamer by doing first bump.
MS Dhoni came after a week's break to join his team as a captain and scored a fantastic 44 off just 22 balls. Dhoni fell ill and did not play a game against Mumbai Indians which CSK lost by 46 runs. It was their first defeat at home this season, CSK won six out of the seven matches they played at Chepauk stadium. Chennai played their last home game at Chepauk yesterday.
Chennai Super Kings gave a beautiful parting gift to its fans as they defeated Delhi Capitals by a mammoth 80 runs. MS Dhoni was declared the player of the match for his all-round performance as he also played a part in three dismissals.
Chennai Super Kings will play against Kings XI Punjab on the last day of the league stages on May 5.
Also read: Gautam Gambhir was insecure and negative, says former coach, cricketer responds