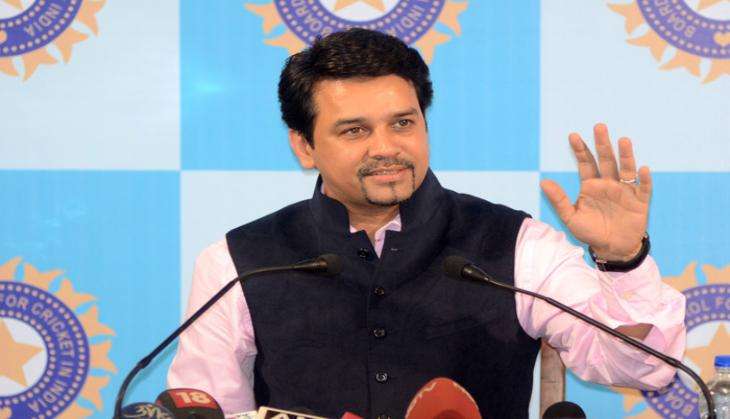 Late on 18 September, BCCI President Anurag Thakur stated that unlike his predecessor Shashank Manohar, he is not "interested" in any ICC post and that his sole focus at present is to protect the rights of Indian cricket.
Hinting out at Manohar, Thakur said, "One who had to go to ICC have already gone long back. I have no interest and I am happy here with BCCI and nothing is more important for me than India. We have to protect the rights of India. If you don't think about India then it will be difficult to think about any other country. Today there is India, so world cricket is growing," Thakur said.
Thakur has been at loggerheads with Manohar over allocation of USD 135m for Champions Trophy, two-tier system and centralised marketing of the broadcast rights of bilateral series.
The BCCI President said, "There is no confrontation with ICC. For the benefit of cricket across the globe whatever steps need to be taken, BCCI have taken those. If the account or budget has been passed and India, the country which has the biggest market, is not included in the finance committee and all of a sudden you come to know about it then you have to look into it."
"Today other countries need more money than India. When we are asked to cut our shares then we suggested that ICC should cut down on their event cost. If BCCI has been successful in hosting tournaments whether IPL or World Cup and cutting down the event cost then it is also equally important for other organisation to look into this matter. We are here to help."
Out of the USD 135m allocated for Champions Trophy, ICC will be building an office in London which will be handed over to the England and Wales Cricket Board (ECB) once the tournament is over.
Thakur said, "ICC has held tournaments in various countries and in no country they have built any infrastructure and so it is upto the ICC to decide whether they want to built or not so does that mean that if India hosts the Champions Trophy or World Cup 2023, there will be Rs 100 crore spent only to build infrastructure. I mean all we are trying to say that there has to be some justification in the money spent because it belongs to 105 countries."
Thakur invited the Lodha Committee to watch how BCCI hosts the domestic season.
"I would also like to request Justice Lodha to come along with the members and see how the domestic season is going to start and how BCCI hosts world's largest domestic season, how we have been successful in hosting the international games," he said.
"Anyway they have been unable to visit the state association offices or BCCI headquarters, most of the meetings are held in five star hotels, so I think there is time, the domestic season is going to start, so I want them to see how BCCI organises so many matches in a year."
Talking about revamping domestic cricket Thakur said, "We wanted to see how the Duleep Trophy experiment goes. We have seen such a large crowd this year. So we need to think how we can focus on domestic cricket, do we need to shift them to new venues or it should have day/night matches. So we have to analyse that and we will take a call in some months."
"We need to find out why nobody watches Test cricket. ICC feels who will come to watch Tests from 10am-5pm. Where as, we in India want to organise the 13 Tests in such a way that more people come to watch Tests.
"We have to create a balance between Tests, ODIs and T20s and that is what BCCI is doing. We have to see how we can bring the young generation, who watch T20, to follow Test cricket.
"Whether it has to be day/night or we need to shift to smaller venues, all that we will understand when we have these 13 Tests this season. I am sure Kanpur will be a great success. We will see lot of things coming during the season," he said.
Talking about the issue of two-tier Tests floated by ICC, Thakur said, "If the smaller nations does not play against bigger nations then Test cricket in that country will anyway die."
"We have never spoken about bringing two-tier system. We have always stood by smaller nations whether it is Sri Lanka, Bangladesh, Pakistan, West Indies or Zimbabwe because only 10 full members are playing it.
"We've to ensure that Asia becomes stronger. Afghanistan is doing well, Nepal was doing well but they have been suspended, US too has been suspended by ICC."
--PTI