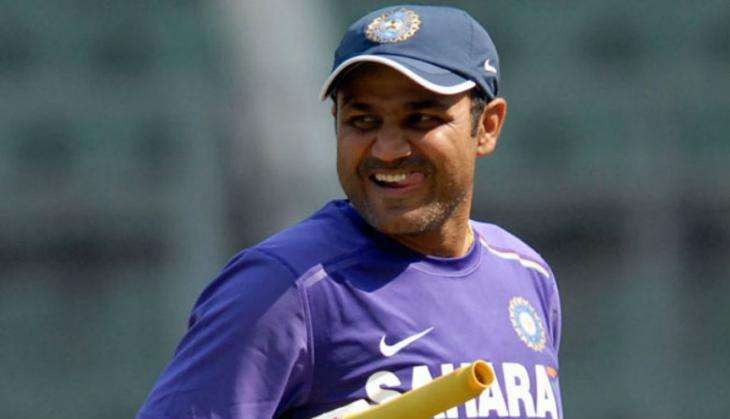 Virender Sehwag, during a second season launch of the Goregaon Sports Club's premier league in Mumbai, on 24 November, opened about the trick he used when he scored his second triple hundred against South Africa during a Test in April 2008.
"Once when I was batting in Chennai on 300, I forgot the lyrics of song. So I called Ishant Sharma, who was the 12th man for that game, to the field and told him to get the lyrics of the song from my iPod, and he did that. Obviously, everyone thought that I had asked for 'drinks' from Ishant, but sometimes, the 12th man can be used in this way too! The song was 'Tu Jaane Na '."
On being asked what song played on his mind while facing Rawalpindi Express Shoaib Akhtar? "Aa dekhen zara, kismein kitna hai dum," Sehwag was quoted by TOI as saying.
"Before facing a ball, I used to keep thinking about whether to hit the ball for a four or a six. To avoid thinking too much, and maintain my concentration, I started singing."
Even after retiring from the game of cricket, Sehwag still makes his presence felt off-field, courtesy his witty one-liners on Twitter and during commentary in a match.
Talking about his married life, Sehwag was quoted by TOI as saying, "I would never argue with the umpire, because he could give me out anytime. Similarly, I would never argue with my wife. An umpire would still forget what happened, but your wife would remember what exactly did you say when you fought with her."
He further opened up about his playfulness on-field, "Looking at David Shepherd's big tummy, I once asked him how heavily pregnant it was. He kept laughing throughout the day. On another occasion, I asked Steve Bucknor, who had given a few wrong decisions, his age. When he told me it was 55, I told him that it was time for him to retire."
Sehwag also said that he advises his kids to do shadow practice instead of watching TV. According to a report in TOI, Sehwag said that he will be pained if someone breaks the record of highest individual score of 319 in Tests.