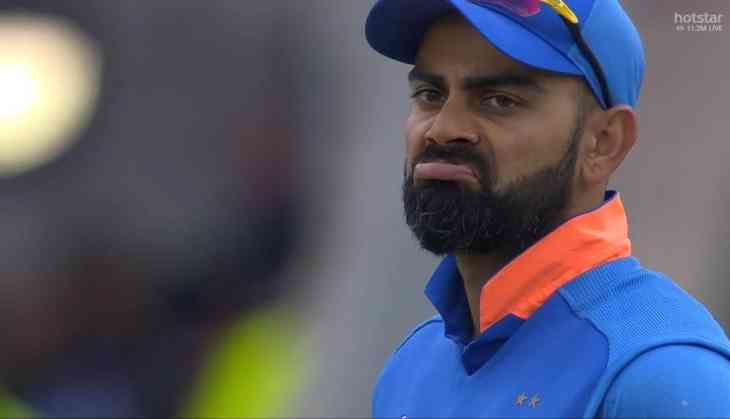 India is under threat of losing their semi-final game against New Zealand as they batting order collapsed. New Zealand bowlers looked good from the start of the second innings as they took wickets in regular intervals.
There is an interesting trivia about the Indian skipper Virat Kohli. Virat Kohli has played three World Cup semi-finals so far and in all three he was dismissed for a single digit score. In 2011 World Cup, India was playing Pakistan in the semi-final and Virat Kohli was dismissed for just 9 runs. Though India won the match and went on to win the World Cup against Sri Lanka.
In 2015, India was playing against Australia and Virat Kohli was dismissed for just 1 run. India lost the match and was out of the World Cup. In 2019, India is playing against New Zealand and Kohli is dismissed for just one run. India is looking in trouble and New Zealand is the favorites to win the match.
As far as today's match is concerned, Indian bowler's restricted New Zealand just under 240 runs after the play resumed today as yesterday was a wash-out. Indian batsmen couldn't withstand the lethal pace attack of New Zealand as they lost 4 early wickets.
Rishabh Pant and Hardik Pandya were looking good but Pant lost his wicket while playing a big shot. Pant was dismissed by Mitchell Santner for 32 runs. Hardik was also dismissed by Santner for 32. India still got 120 runs to chase and MS Dhoni and Ravindra Jadeja are the only proper batsmen left.
Also read: Last time Virat Kohli and Rohit Sharma got out for single digit in ICC event India lost the game