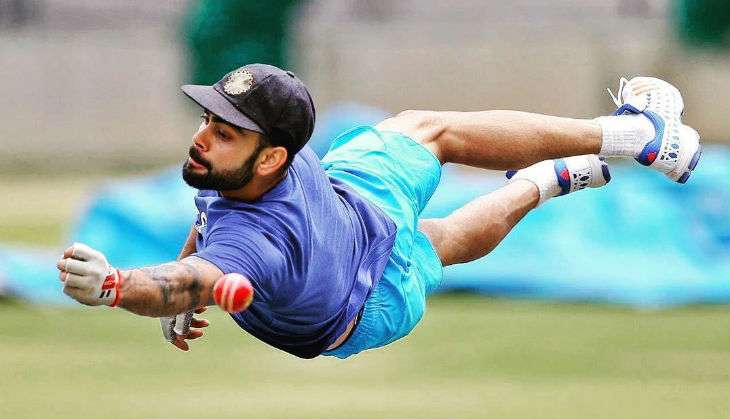 Indian skipper Virat Kohli's dedication for his game and the level of fitness that he has achieved is admired to a great extent by the cricket fraternity and the aficionados.
The journey from being a 'just another batsman' to become the 'run-machine' was not a bed of roses for Kohli. After realising the importance of fitness to stay ahead in the game, the star player got himself indulged in rigorous fitness training for which he had to sacrifice his favourite butter chicken and other fast food.
According to Kohli's childhood coach Rajkumar Sharma dishes like butter chicken and kathi rolls used to be a part of his staple diet.
"Kohli once told me, if I don't set the benchmark as captain, who else will? Even as the world looks on in wonder, I know the boy behind the man. He used to gorge on butter chicken, rolls and all sorts of fast food. But today, it finds no place in his diet," said Sharma while talking to the CricketNext.
Never stop working hard. Every day counts #NeverStop pic.twitter.com/4JrPNTBdQs

— Virat Kohli (@imVkohli) September 28, 2016
"In fact, he is so particular about his diet, that even when he comes over to my place, he won't have packaged juices. You either give him fresh fruit juice or you don't. Carbs are a strict no-no and there are no binge days in his routine anymore," he added.
Cricket lovers remain in awe of Kohli's batting technique. His ability of stealing quick singles and to convert those singles into doubles even at crucial times has got him many more admirers.
"Talent was never a problem with Kohli, but then, the effect of the gruelling fitness regime is that he has more stamina and can keep picking the singles and doubles and turn the singles into doubles. He doesn't tire down and hence the need to play risky shots go out of the equation. Whatever be his work schedule or travel scene, he always finds time to hit the gym," the coach said.
Talking about the dedication that Kohli has exhibited over the years the coach said that he is impressed the way the cricketer as evolved.
"See, it is easy to do these things for a short or particular span of time. But to make it a constant routine and life style is what makes me proud. The kind of sacrifices he has made at this young age is something that even we can't at our age. It takes a lot of devotion and focus to restructure your lifestyle to this extent. He has cut down on carbs and doesn't even have rotis now. It is either grilled or boiled food for him. Even his coffee is without sugar and definitely no packaged juices for him," he said.