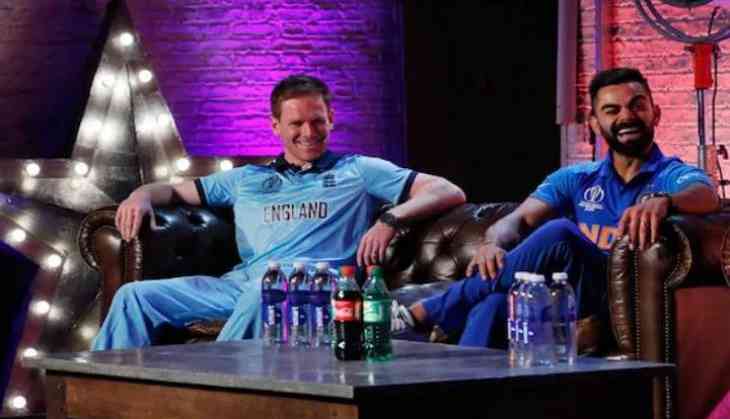 In the past few years, one-day international cricket has seen may high scoring matches and it seems that reaching 500-run mark is not so far away. During a press conference of captains yesterday, Virat Kohli revealed the first team who can touch the milestone.
Virat Kohli believes that the current England squad can cross the 500-run mark judging by the pace they have been playing. While pointing at England skipper Eoin Morgan Virat said, "I was just going to say it really depends on these guys. They seem to be obsessed with getting to 500 before anyone else."
Currently, England holds the highest one-day international score of 481-6, which they scored against Australia last year. It is expected that World Cup in England and Wales is going to be a high scoring tournament as the home team recently beat Pakistan by 4-0, scoring 300 plus runs in every match.
Kohli, however, concluded by saying that chasing 260-270 will be very hard in a tournament like the World Cup. Kohli said, "It is going to be a high scoring tournament but back home too I said 260-270 will also be as tough to get in a World Cup as chasing 370-380. I don't see many high scoring games in the latter stages of the tournament, initially some teams might get on a roll but later on, you will see 250 defended as well. That is the kind of pressure World Cup brings."
The World Cup will start from May 30 in England and Wales, host England will play against South Africa in the tournament opener. The final will take place on July 14.
Also read: Sachin Tendulkar has a batting number for MS Dhoni in World Cup 2019