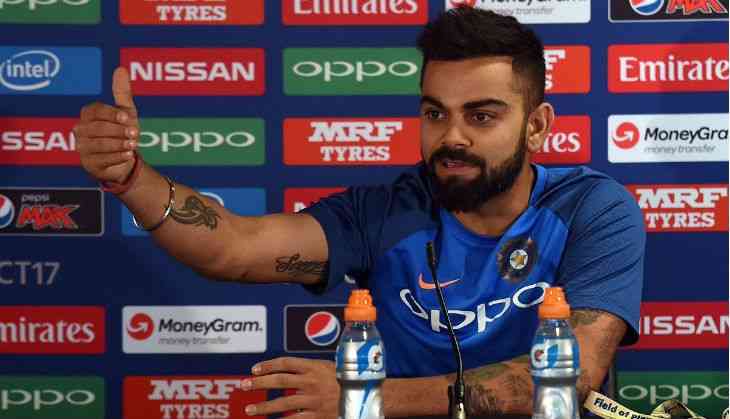 Ahead of the three-match Test series against Sri Lanka, newly-appointed head coach Ravi Shastri has called on Virat Kohli's men not to take the Dinesh Chandimal-led team lightly and focus on maintaining the side's status as the world's top Test playing nation.
Pointing out that Lanka has a great track record at home, Shastri insisted that they are not going to take things for granted and would try to perform to the best of their abilities.
"You have to respect the team. If you look at their track record at home, it is as good as any side in world cricket, if not right after the best. We will not going to take them lightly. We are not going to take things for granted," Shastri told the reporters.
"We would like to be consistent. So, that we keep that No.1 position in place. Above all, we will look to improve because if we don't look to improve then there is no point in playing. We will get to try and raise the bar in every series we play," he added.
Echoing similar views, Kohli said, "It is good to have balance in the side. If you are number one side in the world. You should be able to adapt to all the conditions put in front of you. And that is something we have done in the past. We would definitely like to embrace being uncomfortable. We enjoy being put under pressure and having conditions that might not suit us. We certainly have a time to decide to counter."
The skipper also admitted that while it was unfortunate to lose an important player like Murali Vijay because of injury, there were other players who are hungry to perform well after not playing Test cricket since February.
"Every player comes into the team wanting to perform or wanting to do well. So, injuries are unfortunate part of sport. Any sport in the world if you see; injuries are something which can be controlled and sometimes it can't be controlled. Vijay was back. He went to rehab, came back, played a game and felt that he was not well. Credit to him that he conveyed it to the selectors that he won't be able to be match fit. Because there is a lot riding on the Test match," Kohli said.
Earlier, Shikhar Dhawan had replaced Vijay in the squad for Test series in Sri Lanka starting July 26 at Galle.
Besides Tests, India are also slated to play five ODIs and a one-off T20 International against Sri Lanka .
-ANI