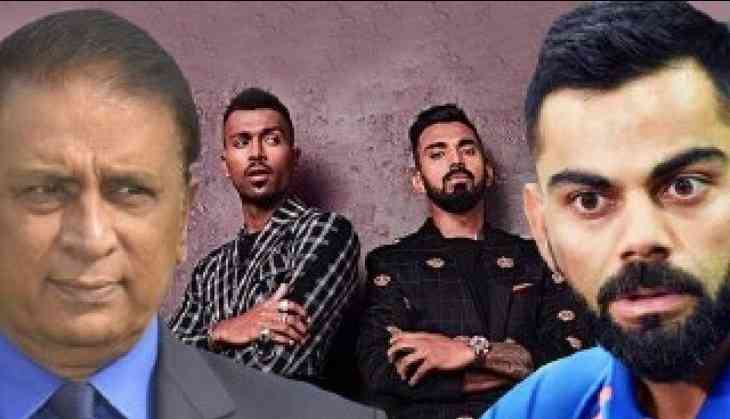 Indian captain Virat Kohli on Friday said that he doesn't support Hardik Pandya and KL Rahul for making misogynistic comment on women during a TV show, Koffee with Karan. Kohli said the availability of both the players for the ODI series against Australia depends on any action that the BCCI might take.
Virat Kohli in a pre-match press conference said, "We as the Indian cricket team and responsible cricketers don't align with those views, those were individual opinions. We are still waiting for a decision to be made."
"From the Indian cricket team's point of view, this changes nothing in our beliefs in the change room, it does nothing to the spirit we have have been able to create. Combinations will have to be thought of once the decision comes out," Kohli added.
Meanwhile Sunil Gavaskar in an interview to a TV channel said that, it is not going to effect the bench strength as the Indian team is already looking strong and will definitely win the three-match ODI series by 3-0. Gavaskar said that the absence of Hardik Pandya and KL Rahul won't change anything for team India.
The Board of control for cricket in India (BCCI) seems to have taken the case of Hardik Pandya and KL Rahul quite seriously. While Hardik Pandya has already written a response to BCCI's show cause notice, saying he regrets what he have done and won't do it in future. Earlier he as also apologised on his social media account.
Hardik Pandya was surrounded by controversy after his misogynist and sexist remark on women. Karan asked some very personal questions, while Pandya did not hesitate to answer any of those, he raised many eyebrows with them.
His most disturbing remark was about his family being open and how he came home after losing his virginity and said, "Aaj karke aya hu (I did it today)." He also recalled taking his parents to a party where they asked him which woman he was seeing, and he pointed at all of them one by one and said, his parents were proud of him for having 'scene' with multiple girls.
KL Rahul and Hardik Pandya are currently on national duty representing India in Australia. While KL Rahul showed a streak of poor performances in the recently concluded Test series which India won by 2-1, Hardik Pandya is yet to play a game. India and Australia will play a three-match ODI series starting from January 12.